#066 knickerbockers paint's president


Ichiro Tsumakura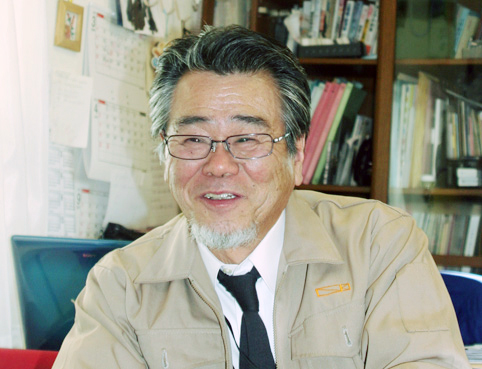 We like encounter with person most!
Because all begins in there

 It is knickerbockers paint Nerima is town of animation, but it begins to insect pro which broadcasted first Japanese TV series "Astro Boy", and to have wholesaled paint for animation in various animation companies. Scenery of Studio Ghibli which Japan is proud of to the world is paint of this company!

 "The person in charge of insect pro comes to factory and hears in those days when we made up color to want you to discuss many times. We were asked to "we are looking forward to hearing from you with art art" by Kazuo Oga who was famous for setting of Studio Ghibli
 We enter the company approximately 40 years ago, and Tsumakura talking about this takes office as president for the fourth generation in 2007. After that we performed various "reform" that we matched in the times.

 "At first we repainted all wall of factory in oneself. Of course I process some paint of company in all the members overalls, too, and human being of factory uses both business and office worker, too. Because we can sense color development of company's paint, habit including noviya tenacity bodily by doing so"

 It seemed to be, "at first oneself should change to change something" that Tsumakura noticed while it changed old constitution that remained in company. It is past the sixtieth birthday, and this flexibility is still rare talent!

 "Always positive thought. If "idea is given, we try immediately," but are motto. We want young person always to think about new thing. Therefore there was some suggestion; and "at first do all!" We say this. Because you should make adjustment if not good"

 We made company motto only after collecting words of all the employees, and doing in the 61st year and we had an interview regularly and heard feeling of employee. It "is encounter with person to like the first. As it is said, all occurs from there, posture to value communication with person can call.

 "There was communication from Kudo, professor of university of fine arts by connection of acquaintance several years when graffiti of town was in problem ago and cooperated with project representing picture on the graffiti of JR Toride Station. We slip slipperily and can describe in nothing when we paint exclusive graffiti prevention coating agent in with color on the picture which we finished. Town becomes beautiful brightly and can maintain for a long time…. We are very glad"

 There is present of canned coffee from inhabitants, and communication seems to be born again when we work when we become close. We say that encounter there leads to the next work. Connect person and person with openhearted personality that Tsumakura is easy to talk about; must help.


---

Than man-made film
We love "taste" of freehand drawing

 Knickerbockers paint which established graffiti of each place anew by collaboration with beautiful outline beautifully in this way. For example, Kitamachi fire department door, shutter of Kamiigusa mall delight fan with paint of Gundam. We seemed to finish pictures of the Marunouchi Line Tokyo Station yard in three hours at midnight.

 "We had neighboring nursery school, kindergarten ten draw picture with work of underpass of Wako-shi and extended it to 50 times and described as touch of child again. When it is method to print on film, expense is increased by 10-fold, and there is not taste above all. We love "taste" to have of freehand drawing

 Besides, we express their "taste" at various places when we are asked by neighboring person and finish outer wall for art and paint CT scanning that infant is afraid of in Ibaraki Prefectural child Hospital with peaceful picture.

 Though it "is company to pursue profit, at first it is important to become feeling of partner. It is success with a word of "thank you". We do good thing and do not expect the reward, and it thinks that the world improves from one person to another including company"
 This mind of Tsumakura leads to animal protection. We take care of race horse which retired and go to "tokigawa HORSE CARE GARDEN" for volunteer with employee twice a year now.

 "We forget work and are used to pure white when we take care of animal. There is thinking to want to give chance to watch the different world, and young person to learn pain of person"

 Tsumakura having come to like animal in Tokyo ten shepherds (!) Influence of father who kept to, goat very much. And after all daughter says, "we want to keep horse in garden!", too. Love to creature which human being included seems to be incised on DNA of Tsumakura.

(April 5, 2012 update)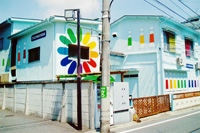 Wall of factory which we repainted together.
It is any company or is clear at a glance!
We were able to appeal to neighborhood
(photo courtesy: knickerbockers paint)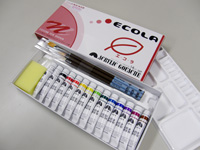 The first opaque picture in watercolors paint domestic in 1951
It is knickerbockers paint to have developed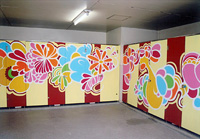 Restroom of Sagawa High School,
It is makeover so brightly!
That, by the effect, deviation value improved, too?
(photo courtesy: knickerbockers paint)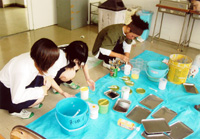 Be made up mainly of student of Sagawa High School
We performed complete change of restroom
(photo courtesy: knickerbockers paint)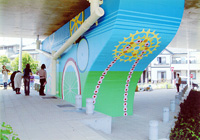 In the underpass where it is apt to become dark
If there is bright picture
In feeling that there is under the sky
(photo courtesy: knickerbockers paint)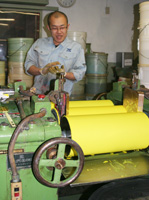 On roller different in number of revolutions
We let go through and mix. By color
The number of times to mix is different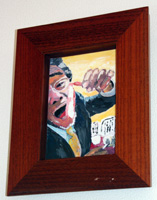 Print photograph on cloth,
When we color with paint from the top
Anyone can create self-portrait!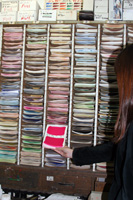 Even as for same material and quantity
The same color may not appear.
There is the skill of craftsman,
We compare with sample and make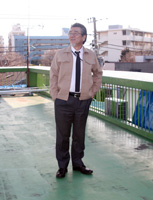 At the time of factory complete change completion,
The roof that did banquet in 120 people.
By the way, we withdraw to roof five times
As we painted with special paint,
It is about "pleasure summer!"
Profile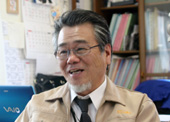 Ichiro Tsumakura
Knickerbockers paint's president
1947, Hirosaki-shi, Aomori birth. We move in Tokyo soon after birth. Business dealt with regulation cap of elementary course of Gakushuin University in hatters. We leave the office afterwards in late 20s though we enter KOMATSU mill. To the head office which arrowhead which it swallowed up in Ginza, advertisement for help of knickerbockers paint got into eyes accidentally, and was in Yurakucho at the time of with the foot. There was nobody in night after all…(laugh). Is adopted as business by knickerbockers paint and is entrusted predecessors in the family line afterwards in 2007, to representative director. We move the head office to Nerima-ku in 2010. Restaurant "Momotaro" original in the shop favorite in Kitamachi called "place where we should live!" in and public cooking "Japanese red pine." Shop to persuade into tongue of Tsumakura who got fat both in Ginza.