#069 comic artists, illustrator


Wadapen。 san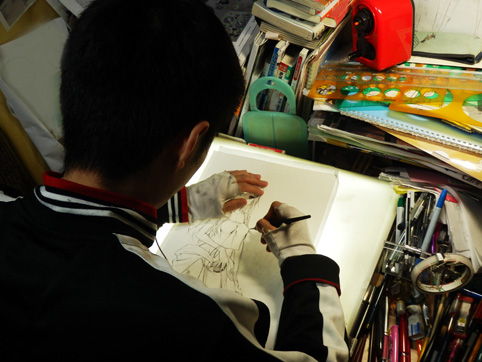 "We are ordinary" of Nerima
We arise sympathy from local reader

 Do you know comics called "Tokyo bicycle girl?" According to the title, Nerima becomes stage in story that four girls make a tour of Tokyo by bicycle. What came up by two volumes Sakuradai overpass, Toshima Sarasvati, the Shakujii River, the cherry blossoms crossroads, Mt.Fuji-shaped mound…When place of, familiarity is attractive some other time, it is very fresh. A lot of rare information "that we did not know though we live near!" is comic which can rediscover Nerima.

 It "is the greatest reason that took up Nerima that lives in Sakuradai ever since we went to Tokyo (laugh). Nerima "is the, so to speak, most common" in 23 wards. But we thought that we had you sympathize with reader who lived in district. Around "house, there may be anything if we look for" When we should be able to draw feelings called this"

 It is wadapen。 of author that talks about this san. We say that "hodoyoi sense of distance" that car is not too fast, and can move than foot is charm of bicycle. You seem to always take a walk through Nerima by bicycle, too.

 By "coverage, it is point that enters way which never usually goes, shop not to choose daringly. Then we arrive at strange alley, and interesting thing is found. (laugh) which came across what we could not talk about here a lot"

 It seems that it is one viewpoint, and familiar scenery is different…. Wadapen。 which surrounds town in viewpoint only by composition What is charm of Nerima that sanga yearns for?

 "dattandesu where "there are many elderly" the first impression. But it is evidence that is easy to live that the elderly are fine. It is interesting place that there is crab when we look in drainage of the Shakujii River, and a lot of creatures which do not become known of true shape are"

 In Vol. 2, ranch of 23 wards of one and only, Koizumi ranch come up.

 "We were impressed with story of Koizumi very much…. Impossible problem seems to include poor complaint from neighborhood around Hokkaido. Tokyo is told that human relations are thin well, but cannot but be concerned adversely because we smell. Rather Koizumi seemed to feel area and the need to lead adversely triggered by that"

 Through coverage, we keenly realized connection with people and person…By comics, we step until such a problem. By the way, after showing full version, Koizumi seemed to be delight saying "we show everybody in agricultural cooperative!".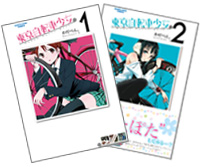 "Tokyo bicycle girl." This
"Monthly comics ground star"
We are similar and are publishing serially.
Vol. 2 releases on July 12, 2012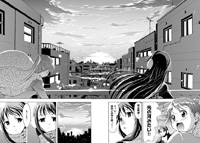 Scenery from Sakuradai overpass,
We do not seem to come when it becomes comics!
"Is like river of light; from toiu lines!"
Impression of author is handed down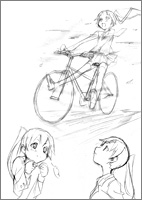 One of the main characters,
Rough sketch that there is Shimano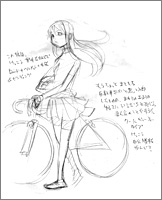 Another main character, Kato.
They of Nerima-ku
In "ball High School full of private institutions"
Setting that we pass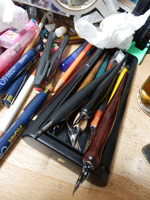 Pen of work tool
Using to line drawing.
The remainder works with PC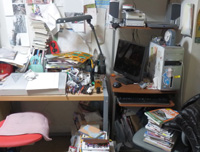 As for the desk, materials pile up!
It is always secondhand bookstore and library,
Materials of history
We seem to be reading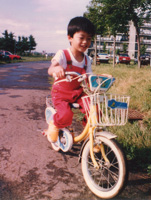 "It becomes hard to report incognito"
For reason called this, there is no photograph publication.
Instead of bicycle boyhood
Have photograph (laugh)
Profile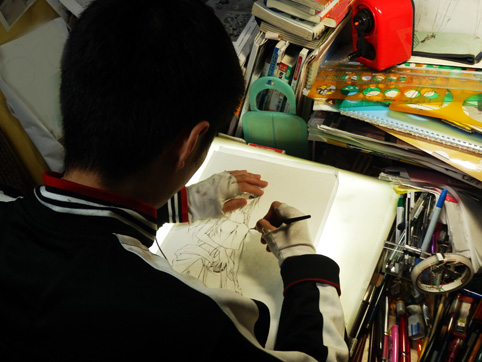 Wadapen。 san
It was born in Gifu for 1,979 years. In 1999, we enter animation production company of Ekoda. We are in charge of the original picture, drawing supervision. From 2008, we are playing an active part as free-lance comic artist, illustrator. In two points where we moved by Sakuradai residence only once from Kamigyo those days, next (laugh). Place favorite in Nerima is Sakuradai overpass. Place of memory lost in meditation to canned coffee one hand well for the company era. It was little-known spot spot where fireworks of Toshimaen were seen to go along the line in those days. Favorite shop is shanoaru of Ekoda. A lot of people in the same profession seem to calm down very much. When boiled down, come, if "is not good here, is over…That it is "trump" called ".