#070 Koizumi ranch third generation


Masaru Koizumi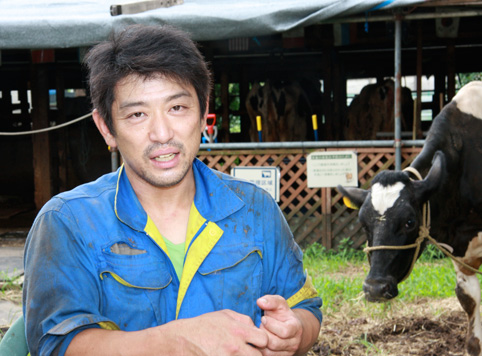 When you are glad, you may be pleased obediently
Live experience to know from drop of life

 It takes only 10 minutes from Oizumi-Gakuen Station to walk. It is Koizumi ranch of "23 wards of only ranches" that car street opens scene which is calm if stinking feeling nostalgic for slightly in many residential areas.

 "Unnecessary nickname points out 23 wards of one and only (laugh). I just inherited the back and was just stayed as father did his best"

 It is Masaru Koizumi of the third generation that laughs at this without worry. We change completely with second generation, *shichi of single-minded craftsman spirit and are sociable in good talkers. It is forward for various approaches in order to infiltrate Koizumi ranch into area. We participate in "nerimanoneri walk" Oizumi course and accept with parent and child in dairy farming experience and exhibit homemade ice at "Nerikore".

 When "milk delivers to factory, we mix with each local thing and process, and is sold. But we can make ice cream with milk only for Koizumi ranch. Because it is "drop of life" which milk works for me from morning to evening, and there is and "is drop of soul"

 Opportunity that made ice was parent and child dairy farming experience that we began six years ago. If precious connection terminates in once, we install meeting-style direct sale place if it is a waste. Contact to match for person voice through ice from there was born. Almost as same as beef, end-to-end of words of Masaru is full of postures to value area.

 "We have children learn importance and teamwork of life in dairy farming experience. It is the times of gluttony, but milk wants you to understand thing that calf drinks when we have you divide. As today's children are used to stimulation, we have an impression with a few feelings. We want you to experience live impression to be frustrated for when joy is regrettable when we are glad"
---

"Work to protect family"
Importance of place to come back through that we learned in Switzerland

 In the morning from 6:00 at night until half past 10 holiday only 2 times in month. It is very the life of a dairy farming ray…We seemed to hate beef in the days of kato omoi breath and child!

 To "high school student, both insect and child disliked animal and were unpleasant guy even if I do say so myself (laugh). We were scared and did not put cowhouse either. We were not in trouble in bubble in those days in workplace either and were going to become police officer or tour conductor…. Murmur that father is when "we cannot pay tax if you become office worker" incidentally if you help with mowing for bait at the time of second grade at a high school in riverbed of Arakawa. We noticed, "there is only oneself" practically

 Therefore Masaru who woke suddenly enters pro-agriculture university. Furthermore, we achieved studying abroad for dairy farming to Switzerland.

 If "learned at university, but technique just comes back in the parents' house, "having to do why to here" Dairy farming seemed to dislike this. Because we can come back if determined if it is the country that chose Switzerland (laugh). Host family contributes to the fact that you were able to like agriculture"

 It "was, "family was same" to have been big. A word of Swiss father to "work to protect family" affects bottom of heart in large quantities. Even if work goes well so much, we cannot live if there is not house to go home. When it is oneself who cannot live without families. We learned from Swiss father when we could try hard though it was grassy-smelling idealism as there was thing which you should protect"

 Thus, Masaru who met textbook which lived has begun to work after returning home at Koizumi ranch. Afterwards, it is marriage, the eldest son birth and the wind. However, from enthusiasm to "have to do something about this ranch" and thought of status of work = man, we seemed to work 365 days without holiday.

 Although "we enrolled in dairy farming helper system, we have not used. It was said, "it is guy such as fossil" from friend (laugh) and asked helper for three years and came to be absent twice a month. When when "daddy takes a rest, and, thank you", son said, we are ashamed as father…. We go for a drive in families and go to conveyor belt sushi restaurant and feel happiness in trifles now"

 When Masaru is small, father works quite a long time earnestly. There were eating out, others that we had trip, memory that played catch. Son shows change of this time.

 "The eldest son touches with beef than old me, and milking is good, too. We are in the third grade we already surpass me" (laugh)

 Is promising, the future prospects?

 "We do not want to open handle loudly. We just think, "let me keep cow here" humbly. We want to be careful with local community in this sense. "Hello for the third generation!" We should be able to make community with people and person having this call out casually"

(August 1, 2012)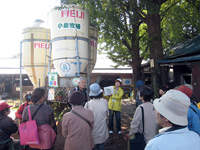 State of "nerimanoneri walk"
(March, 2012)
We explain beside inhabitant of a ward guide
*shichi of the second generation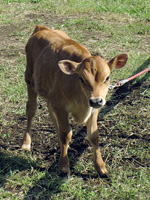 At the time of "nerimanoneri walk,"
There was such a cute calf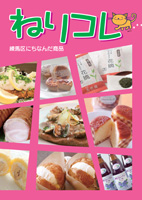 Of 2011 version
"Nerikore" pamphlet.
2012 version
We are going to distribute from the middle of October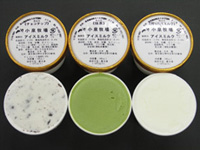 By the advice of teacher of Oizumi Elementary School,
We applied for "Nerikore".
Of fresh milk taste
Ice cream is the most popular!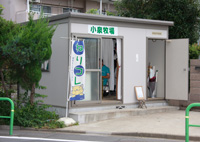 In building of house opposite across ranch and road
We sell ice cream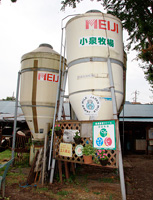 Silo is Landmark of ranch.
Feed of dairy cows enters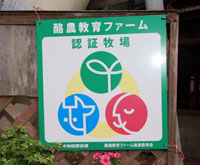 In 2003
We join
dairy farming education farm
.
We take class for two years,
With friend
We work hard at study of teaching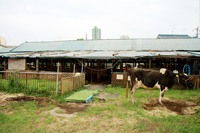 On the other side of cowhouse
We see high-rise apartment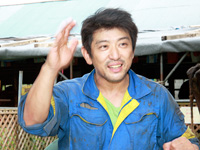 It is Masaru with full of humor with smile.
We value family, work, area
We were drawn into the hot talk!
Profile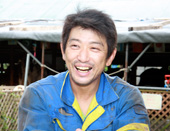 Masaru Koizumi
It was born in 1970 and is born as the eldest son of Koizumi ranch second generation, *shichi founded in 1935. After the graduation from high school, we enter Yatsugatake center agriculture Shih Chien Univ. school. Dairy farming studies in Switzerland after the graduation and begins to work at Koizumi ranch from 1992. With 45 beef, we are working hard with two employees now. The highest tool including Facebook is conjugating.

Koizumi ranch/2-1-24, Oizumigakuencho
Facebook