#072 Ekoda universe sponsorship


Ryushin Mitamura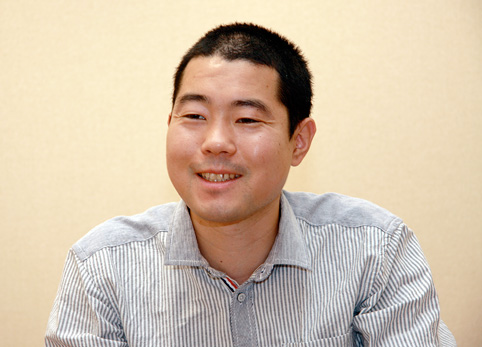 "We want to make Ekoda the town of art"
This energy sweeps over town?
 Ekoda where Nihon Univ. art department, Musashino Academia Musicae, Musashi University and three unique universities gather. Ryushin Mitamura who started Ekoda universe saying "we want to make such Ekoda the town of art." We are very busy in preparation for exhibition held from October 7 now.
"We put subtitle which reflected the times every time, but did in meaning called "birth" this time with "BIRTH OF ECODA". Energy like newborn baby. We are glad that we are not inexperienced when we have you arrest as hope"
 Plan to have visitors make an excursion as for Ekoda universe as exhibition hall in the town whole area. This year cafe and bicycle parking lot (? In 15 venues including), 21 sets of artists are going to participate. Mitamura who is in charge of general plan, and participates as artist by oneself. But that the beginning of graduate school graduation wanted to make gallery.
"We wanted to do work about art. As we had financial problem to make gallery, "let's make ritsu teyo, the contents by plan!" Think about this. "geijutsusaietsugosaiyu art Triennale of the earth" is in Niigata, but thought to want to try like that is in the root
 Mitamura gathered friends and, in search of gallery and shop which cooperated, held the first "Ekoda universe" in last year. It is great attemptability and executive ability.
Though it was not "one step to month", "it was tough before we did it first. It is said which "we cannot imagine" to people wanting you to cooperate in open state even if we explain hard, "we do not know well" (laugh) and. Because there is not photograph of work and is only arunoha words"
 Effort and enthusiasm moved many people!
 While being undertaker, Mitamura who is artist. Work begins with sculpture and goes over to picture, many divergences including picture.
When "sculpture says, we carve tree, and is there image making with clay? But concept spread now and knew that we could regard even dance and photograph as "sculpture" and came to consider "is it good about anything if it was creative thing?". Consistent theme wants to give work social nature so far though there is not. We do not convey factor that is minus and want to increase people becoming happy. But we think that the truth does not need to exhibit as oneself is undertaker in Ekoda universe"
 Work of Mitamura who talks so while smiling wryly is seen this time in five venues. It is a pleasure what kind of work comes out!
---
We might hide in Ekoda!
Aim, and is it Shimokitazawa, Kichijoji? !
Cooperators who are essential for holding of "Ekoda universe." Meanwhile, it is Kazuo Tajima of "gallery Koto" that supports from beginning. We established gallery in thought to "want to make cultural space" after the retirement at the age limit last year in Ekoda.
 When Tajima "was doing picture and exhibition of grilled dish, Mitamura visited. Thought including plan of town planning by art just matched when we talked. We wanted to support by all means and decided to provide venue free. I was able to get to know various people through event, and Ekoda universe thinks that is event to connect people and person with; as for that is; say.
 More "there may be Ekoda in the town of culture where people gather from the whole country more like Shimokitazawa and Kichijoji. Tajima who continued saying we thought that there were various difficulties, but got over to Ekoda universe and want you to continue. Please support from now on!
 Mitamura "is glad of there having been new human relations to artist, people, member of the executive committee of town, these three persons. And we say can you contribute to local activation to some extent as art fans gather from outside of a ward?hotly calmly. We felt possibility of Ekoda universe and the town of Ekoda pressingly in that!
(October 1, 2012)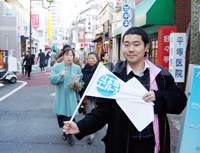 State during 2011 eco-uni-tours
(photo courtesy: eco-uni-executive committee)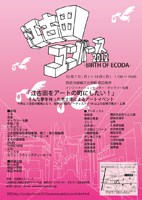 Poster of Ekoda universe 2012
It is held for from 7 to 14 on October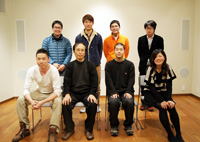 The staff group photo
(photo courtesy: eco-uni-executive committee)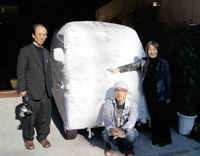 Eco-uni-2011, work of Shinobu Terada.
We are placed in public space,
We attracted passersby's attention
(photo courtesy: eco-uni-executive committee)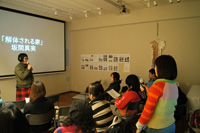 State of picture event of last year
(photo courtesy: eco-uni-executive committee)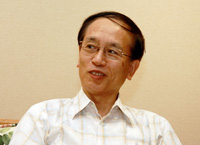 Owner of "gallery Koto"
Kazuo Tajima.
Of Mitamura excellent; come
It is understanding person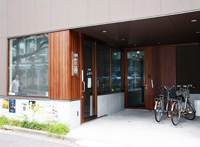 The appearance of "gallery Koto."
For Mitamura
Place most favorite in Ekoda!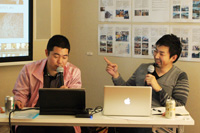 Talk event
"End-of-year party art project briefing session 2011 in Ekoda universe"
Speaker: Ryushin Mitamura (artist), Tatsuya Kuji (researcher at Kobe Design University)
(photo courtesy: eco-uni-executive committee)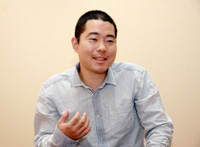 Mitamura whom child likes,
With local education and welfare spot
Collaboration is elaborating a plan, too
Profile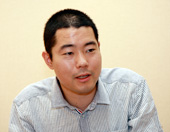 Ryushin Mitamura
It was born in Yokosuka for 1,980 years. We are living in Ekoda. Nihon University Graduate School science of arts graduate course is a graduate. Science of arts doctor. After graduate school graduation, we are in charge of general plan of "Ekoda universe" which we planned by oneself. Artist who uses kickboard habitually, and has DJ of Internet radio "FM ryushindo", the "art management association" art soldier, various faces including Buddhist priest of Nichiren sect.

Ekoda universe formula homepage