#Representative of 073 Oizumi swallow physical education clubs


Miyake Izumi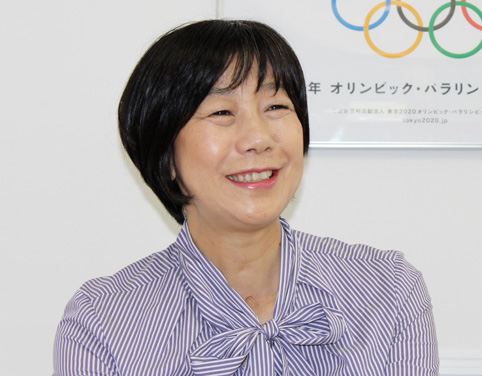 First Japanese private gym
We send student out for Olympics!
 From the Oizumigakuen north exit, walk Gakuen-dori St.; and ten minutes. There is "Oizumi swallow physical education club" where new facility was just completed in July. In fact, it is here, first Japanese private gym.
"Father who was physical education person has begun to think that he wanted to contribute to postwar revival. We gathered six neighboring children at first, and it was only marathon and keep-fit class, but there was swimming lesson early in the morning four years later, too. As there was not sense of values to pay money in the times called "thing to learn physical education at school", and to exercise, it seemed to be very unusual. I played one way of sports, but it is swimming to have liked the first. We practiced for Olympian every day"
 It is Miyake Izumi of representative that talks about this brightly. Silk Eko of mother acted as Representative Hazama after the death of father, one of Kaoru for 18 years. Meanwhile, Miyake who supported all the time seven years ago to representative. When we arrived, discretion seemed to be flow that it was natural to be representative for Miyake who got close to sports.
 It is the stage, the Olympics of dream for athlete. It produced Olympian until now. Masaki Ito (Kanazawa Gakuin University club) from swallow club participated in the London Olympics carried out, and Miyake rushed to support this year in the field, too. Medal was expected, but result is precious; the fourth place!
"He came to club from 2 years old. We thought that the person was not satisfied with result of the fourth place, but waved hand after the end toward the seat and have been filled with tears in figure doing thanks well unintentionally. He/she sometimes comes, but still says that it will be, "it may be sent back to 2-year-old Masaki" then. Children say "great older brother", too and are delight
---
It is important matter of course, to be able to do it
To become bread of the long life
 Miyake who told many children sports for many years. However, clearing that, at first, important one says hello and prepares shoes…We talk about this when to do commonplace steadily. In the children who passed each other in club, everybody introduced himself/herself well!
 It "is impossible to teach only technique. It is impossible even if we say anything if heart does not grow up properly. Even if first-class athlete meets where, he/she says hello properly by all means. On the contrary, such a person who cannot do ordinary thing does not leave in first rank"
 About recent children, drop of athletic capability is pointed out, but Miyake seems to feel that we are running out of "communication power".
 Beside "the front desk, there was sale case of ice cream, but, for around ten years, was not called out to the front desk children. "Give ice" and cannot say ga and beat desk of the front desk with a 10 yen coin steadily (laugh). In the current times, we hardly do the exchanges with staff. So house decided not to put vending machine to create opportunity of communication"
 It is swallow style that lets you challenge that even sports lesson is slightly difficult. It treats child with adult equally, and it reaches end-to-end of words to trust children above all.
 Even if "child is just indulged, we are not glad. Adult is the same, too. It is only parent that thinks, "there is not such a difficult thing", and child wants to challenge. Even if it fails, it repeats small failures, and it is the most important to get over"
 There is "player course" to be full-scale athlete in club, but Miyake asserts, it "is not the last purpose that gives results that thing and meeting to appear for the Olympics are enough" for here.
 When "only that becomes all, it is free fails when it was not good. There is not meaning even if we cannot become player if we think that it was good to do the best, and there is not. We want it to be to people who can answer in the affirmative by oneself even if we advance to another way, and can try hard with dream in the next life"
 State that there are meetings on the weekend, and taking a rest is very Miyake who is not produced, but not to bother at all saying "workshop is fun." Please please everybody through sports from now on!
(November 1, 2012)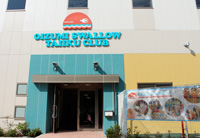 Of Oizumi swallow physical education club
The appearance of pastel color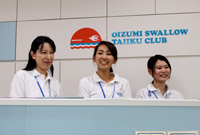 As for the staff of the front desk
Smile is wonderful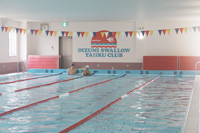 25m pool.
Drinking water can do it, too; is special
Because we use water,
Even child of sensitive skin is reliable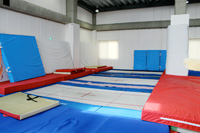 Trampoline is three in total.
Ito donates one of those.
Height is 8 meters to ceiling
World standard!
Under Tai chi chuan lesson.
Such as ballet or calligraphy classroom
There is culture school, too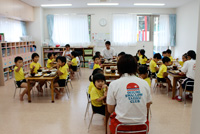 Kindergarten is added, too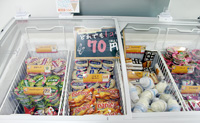 Fun after exercise,
Ice cream!
Is it kana - which can say "give"?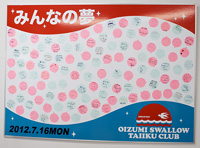 "Dream of all" that was set up on wall
Footballer, patisserie,
Have dream of all realized!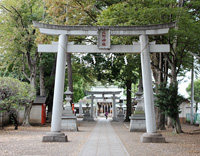 Favorite place of Miyake
With "Oizumi-Chuo Park,"
It was "Kitano Shrine".
We go for New Year's visit to a Shinto shrine with all the employees,
The front of meeting does victory prayer
Profile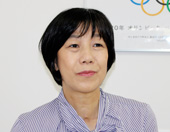 Miyake Izumi
The current representative of first Japanese private gym "Oizumi swallow physical education club" which your parents founded in 1961. "It is fun brightly and tells all people pleasure of sports from baby to the elderly in motto lively". To swimming, exercises, trampoline, child school, culture school such as calligraphy and molding. by Ieyasu Tokugawa that "person that human being pleased most human beings prospers" as for the favorite words. Hobby is overall sports. Hobby except sports is reading and long-distance drive when we make an expedition to district.

Oizumi swallow physical education club formula homepage