#074 Nerima mom comics room "yonkoma" representative


Ayako Ueki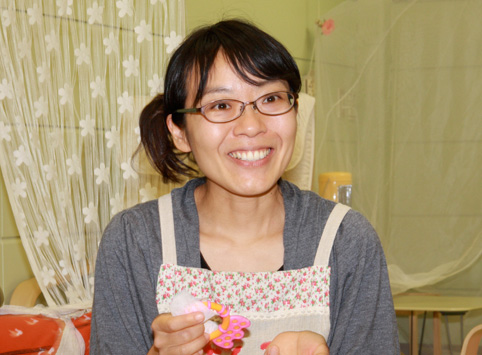 Place that mom can return to "oneself"
You do not need to talk with somebody forcibly

 It is a 4-minute walk from the Nerima Station north exit. The world's first (?) "yonkoma" is place to stay of mom and baby who put comics of this when we easily explain. From child care the garden plant's experience, we opened "yonkoma" saying "moms will make sincerely funny place".

"The eldest son was child who never slept and was life a lot until the end of for the first child care. Even natto is not stirred (laugh). We cannot go out of house without information about child care being collected in such situation. We gradually felt stress and loneliness and had no room for mind that we dragged cheeks though son was pretty and did pickpocket pickpocketing, and "pretty ..." did

 Garden plant which talked about serious state at the time brightly, and was embarrassed. It is super niche industry which limited user of "yonkoma" to mom with pregnant woman and baby until before high high, but a lot of feelings of mom glance are included in the style.

"The center is mother not child. Mother could spend time for own pleasure and wanted to do place that did not need to talk with somebody forcibly and girl's mind in stimulated place. As place that compared notes of child was in the community as "mother of ○○", we considered when we did not compete. When we had no to spare most, good terms are uneasy, and there is that we were not able to go to such a place in person. Mothers who did not go out of house for fear of train and crowd until we come here are plenty"

 State that it is not without conversation at all when we see though there is at place that you do not need to talk about forcibly. That, depending on day, events such as belly dance class or cards meeting are held, too, and strangers make friends when we notice.

 "These comics are interesting. Oh, I read, too. Triggered by toka, like that, conversation begins naturally. As for domestic story and sometimes story of politics, of course story of child. Event rolls with laughter so that I cry with free-for-all together. It is really important to laugh. Probably mother whom I do not think cutely, and baby is troubled with now is tired a little. We want to come here and to regain oneself laughingly"


---

We begin to move to new development in the second year
Aim is the world. Serious! (laugh)

 "yonkoma" which takes pride in from Nerima, world first o. It seemed to be full of anxiety whether you could do for other side of confidence to "be absolutely interesting even if we symbolized Japanese comics culture and saw worldwide!", one year from opening.

 "Visitor was always uneasy when you could get along only in kana, word of mouth and net which came. At last it became some surpluses in the fifth month and was relieved. We may come to have a lot of reservations, and person coming from other prefectures have recently. As well as "me, I wanted all such place!" Hey, we were convinced. From the next year, we want to lay emphasis on business activity over company! We want to expand service and want to secure own income as business. As it is with pretty clothes, or I want to help child put on" (laugh)

 Garden plant which talks about the next aim as manager while peeping face of mom in this. Even if there are anxiety and trouble, there is aim called "the world" and tells that it was got over thanks to coming visitors with smile.

 It "is one of me that do here, but visitors support me who am unreliable. All, thing like classmate who cried together, and did a lot of stupid things laughingly. "Save mother", or, not audacious thing, person whom both mom and I have disability in wants to prove when all are happy, and there is such a business to be used to;

 "yonkoma" should spread through many places while utilizing local space stores!

(December 3, 2012)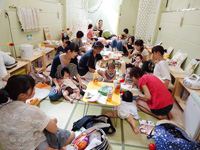 We read comics and,
We talk and,
There is sometimes cards meeting, too
(photo courtesy: yonkoma)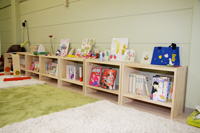 More than 500 comics in a row!
Bookshelf is low, and even earthquake is reliable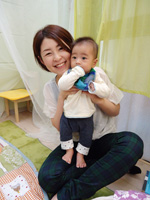 As for the baby as for mother
Relaxation ...!
(photo courtesy: yonkoma)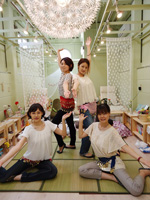 Exercise scenery of berry dance club.
By day access department
There are English useless parts, too
(photo courtesy: yonkoma)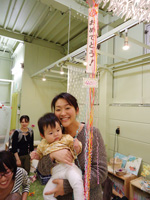 The strongest ☆40 times of visit moms
(photo courtesy: yonkoma)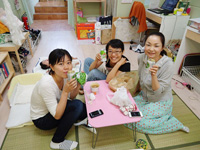 With non-alcohol
It swells and!
(photo courtesy: yonkoma)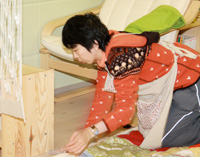 Snail with mental disabilities
For two days a week, we are in charge of cleansing.
It is draw girl of "yonkoma"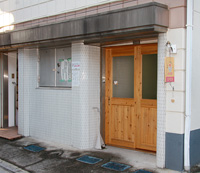 Of pretty sliding door
"yonkoma" entrance
Profile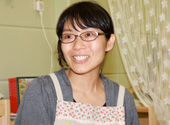 Ayako Ueki
Representative of Nerima mom comics room "yonkoma." We encountered bicycle accident just after childbirth and we closed idea of "yonkoma" which we hit on in the case of home rest incidentally and applied for "Cabinet Office community employment creation business" competition that was short notice and placed. We allot 500,000 yen of the prize money for a part of the fund and utilize space warehouse and open "yonkoma" in December, 2011. In comic book more than 500 possession, the most favorite comic artist steps on Yoshinaga. Dream give glory to cover of U.S. TIME. Place favorite in ward "Toshimaen" and "nursery school where child goes" to. Ueki seems to be healed every day by gentle teachers. Mother of 2 children.

Nerima mom comics room "yonkoma" formula homepage