#076 strawberry farmhouses (nerima berry exchange meeting member)


Kazuo Kato, Kiyoko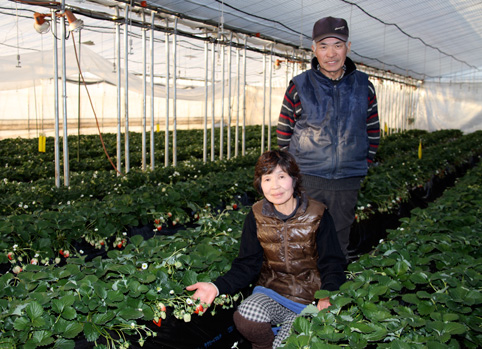 Strawberry is very sensitive!
As for the consideration to delight eating person
 Strawberry from Nerima which fresh and young sweetness spreads through to fill the mouth! By spring popular berry Festival of Nerima, article sold directly having just finished being produced is quite popular. One of the exhibitors in Oizumi 150 years (!) Fifth generation of farmhouse spreading out, Kazuo Kato. With Kiyoko of wife, Atsushi (atsushi) of the second son, we run business.
Kazuo "nerima berry exchange meeting" that "began in new business society is sponsorship, but is studied as we can meet person of various industries. We make strawberry compete"
 Style of reciting is full of sincere thought to agriculture.
Kazuo "strawberry is very sensitive. It is hot in the summer and is hard to be colored like last year if it becomes suddenly cold in winter. As well as heating, the sunshine is indispensable"
Kiyoko "fall into a error for taste every year to take good care. We tried kind in various ways. It matches soil and calms down to acidity and Tochiotome one kind which harmonized of sweetness now"
 After seeing the house, strawberry field which made big grain even with two 120 tsubos spread out. Hive is placed in the center and we rush about and are pollinated.
"We may have of Kiyoko throughout the year because it is house. It is from 6:00 and is earlier in the summer in winter. As for the slack season for farmers, there was time to spare in old days, but does that we sleep among job now" (laugh)
Kazuo "decrease, and farmers become hard to compare notes. We stock information from supplier mainly now"
 Let alone crop, all the pack filling does manually, too. Work to cut down is totally like puzzle while preparing size. As there is person who does not know flower of strawberry, we seem to pick up one flower on pack. It is consideration that person who bought becomes glad of!
---
Planting is family going out together strawberry…
Family tie that agriculture concludes
 It was the Katos and, mainly on wheat, we made daikon, tea, cloza oil and performed indigo dyeing in old days.
Kazuo "wheat field was prickly, and was itchy, but skylark sang, and was quiet…. It snowed, and nearly 1 meter made ski with bamboo and has slid down slope"
 Kazuo to miss so when we hear about the child era. We climbed a tree and seemed to play around with neighboring friend including bamboo stilts. "Community" of children older than age that senior took care was nature and the in love time.
 What inherited farmhouse at the age of 32 years old. We worked till then in agricultural cooperative.
Kiyoko in what "was said, "caretaker is all right", and should have married into…. (laugh) that we sent child of 1 year old and a half to market of Kanda 100 cases on truck if we noticed"
Kazuo when "it was now, it has become gag" (laugh) as for "the caretaker"
 In addition, we help by family going out together in the busy season for farmers. They plant strawberry, and all the members gather. To grandchild including bar code reckoning let help since was small. As for being invited to social studies class of elementary school of such a grandchild, and having talked about cabbage. In addition, it is Kazuo of all energy throw in all when we instruct farming helper, enno volunteer as lecturer while we are busy.
 From relaxed negotiations of two people, connection with area has a glimpse and soaks. Family and area that agriculture connects. It is to continue being connected with people who live there from generation to generation to protect soil spreading out.
☆"The seventh berry Festival" is scheduled
We pick up in latest sweets and morning using strawberry which Kazuo Kato, Kiyoko puts great deal of effort and brought up and sell strawberry on the spot.
The holding date and time: Saturday, March 16, 2013 from 10:00 to 13:00
Venue: JA Tokyo aobakogure village      (2-12-17, Oizumigakuencho, Nerima-ku)
(February 1, 2013)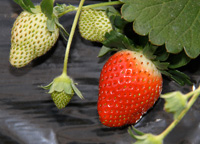 We put great deal of effort and were made
"Tochiotome."
From the end of December ichibanka
It begins to be produced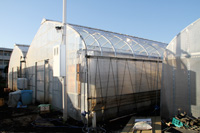 There are two houses of strawberry.
What began house cultivation
For more than 20 years
We do not seem to use pesticides as much as possible
We keep in mind.
Be in hive
We let you pollinate naturally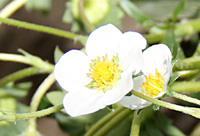 Flower of pretty strawberry
Pretty!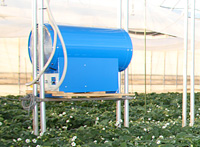 To let photosynthesis activate,
It was installed in house
Device of carbon dioxide (CO2)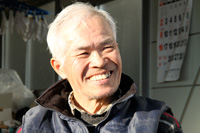 Being said, "it was delicious"
The gladdest,
It is Kazuo in this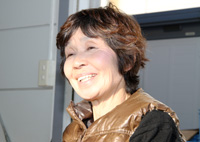 With husband who is shy person,
Conversational wife.
Just affinity!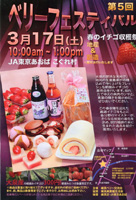 Berry Festival of last year
Profile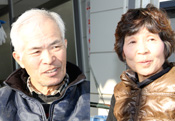 Kazuo Kato, Kiyoko

Kazuo Kato
In 1946, we are born as Oizumi as the eldest son of three brothers of one man two woman. Father inherits the death, the fifth generation at the age of 32. Thereafter agriculture is straight. We cultivate vegetables and fruit of 50-60 a year kind now. We bring up precious strawberry from Nerima. In busy interval, we hold an additional post of nerima berry exchange meeting, various positions including Nerima-ku agriculture committee's vice-chairperson. Place favorite in Nerima is Obihiro Rocky Oizumi shop of ramen shop. It is favorite course of standard that we take grandchild to barbershop and buy toy, and stop at ramen restaurant.

Kiyoko
We are from farmhouse of Asaka. We marry Kazuo at the age of 25. We are blessed with three boys. By the way, grandchild is male line family called three men, too. For rest "that there is not when we do not make", couple enjoys trip all together. We visit all of japan while it is said that foreign countries are impossible as 2 nights are limits.

[nerima berry exchange meeting]
Meeting to organize in farmhouse in ward, 11 companies including Japanese and Western confectionaries. We work on blueberry and the making of sweets of product in ward using strawberry. In berry festival to hold in August and March, we perform announcement, spot sale of new product.