#078 nerima Hikarigaoka Cherry Blossom Festa practice chairperson


Atsushi Okuma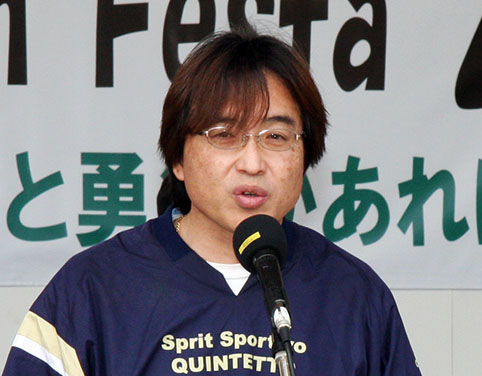 By various contents including music and sports
chieriburo which swells!
 Let's enjoy music and art and sports with person of a variety of viewpoints! Cherry Blossom Festa held every year in Hikarigaoka Park at time of cherry blossom viewing, popular name "chieriburo." In this year becoming the sixth, is opened on Saturday and Sunday of April 6 and 7.
It "is to have had email "that Woodstock of the United States wants to see" from participant who dropped in aimlessly that remain in impression"
 Contents are various in flash mob which passerby begins to dance suddenly, comedy & fortune-telling corner, skateboarding, demonstration of deaf person's dog, this year including costume play! However, the opening was appeal of only two people.
"nerima SSC where we work on in gymnasium of ward toward urban overall pattern Sports Club. We have participated in district festival of Hikarigaoka to infiltrate sports interchange in area. Therefore we found a kindred spirit in Ryoji Hori doing music activity by volunteer whom we met when "we cannot do all the time if we did not just do" and decided holding of chieriburo
 Then chieriburo which grew up as festival of Hikarigaoka area proud of 50,000 participants now in six years. The number of many participants included such a covert plan.
"Sponsorship of event heard know-how from person who hosted district festival of Hikarigaoka for the first time. Therefore we had opinion that people were gathering and should do as it was hard to gather people"
 Hikarigaoka Park where a large number of people gather in season of cherry blossom viewing. Therefore it is switch of idea to "open in place not to gather people, and to gather" if we hold.
"Cases which we asked from the other side when we called out and played increased recently. But local group participates in ideal positively and wants you to inflect as place of exchange"
---
In people interchanging with people
We are born

"There is thought to want to let the young people experience activity that we exceed limit of area and school. Then it escapes becoming human being "only for" ○○ including company man when we became adult. Consideration is apt to fall into that there is nothing each other when we live only in one group after all"

In "chieriburo, we do not give a perfect response for participant. We do not just have dissatisfaction in insufficient place and think by oneself and solve. We think such a process to be important"

 Man of business that Okuma usually works as engineer. We work for company and move into action at hanerima SSC and chieriburo, soccer of hobby and various places on Saturday and Sunday.

 Having taken care of the mid-90s, coach of boy soccer with the opportunity. On one side of J League boom, Tokyo did not have leader class, and it was about time when we went only in some areas. Every Saturday, we seemed to acquire commute, qualification of leader at own expense to Chiba.

It "is the connection to have known setup of overall pattern area gym in Japan. Father who by playing sports, works can be connected by area. Not only we enjoy sports and return, but also we perform, and gathering place that can interchange is important for the drink more. It gives life to such a connection in society"

 nerima SSC toward environment of the making of area place of exchange through sports. chieriburo which accepts a variety of participants. It is growth of human being society by "independence and cooperation" that it is born to be common to both as people interchange with people. Mind of Okuma who is not particular about one place is made there use of.

(April 3, 2013)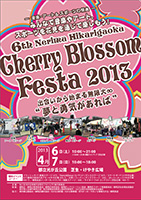 Flyer of chieriburo of 2013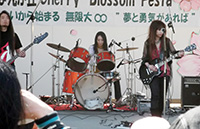 Of chieriburo
State of music stage
(photo courtesy: Okuma)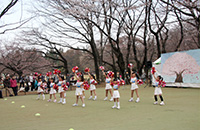 Of local dance circle
It becomes place of announcement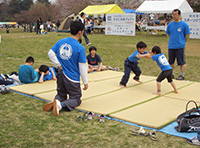 Seven places in ward know
Local sports activity
nerima SSC to support
(photo courtesy: Okuma)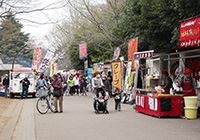 The number of the soaring exhibition.
It is planned 80-90 houses this year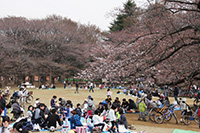 Every year, the date and cherry blossoms full bloom
We hope that we agree!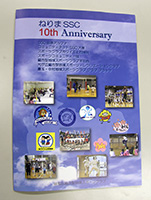 We memorialized the NPO establishment tenth anniversary
Brochure of nerima SSC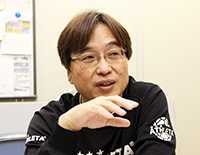 With calm atmosphere
Okuma who talks to drift
Profile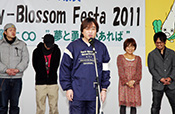 Atsushi Okuma
In 1958, we are born in house of merchant of Kurashiki. With ice skating, softball, table tennis, soccer, we challenged various sports since it was small. The best memory being chosen at time in the first year of junior high school by regular of soccer, and having participated in national convention. When, in what moved to Hikarigaoka, child is 5 years old. "There being big garden!" (= Hikarigaoka Park) for decisive factor. We are engaged in nerima SSC Hikarigaoka, Hikarigaoka FC dragon, local action mainly on sports including Cherry Blossom Festa now while we make company work as engineer. "Hikarigaoka shop which does not fly in Japanese restaurant" where we use favorite shop habitually with friend in Nerima. "Osaka pork fried on a skewer style bar raccoon dog" "abalone dishes abalone bower is recommended, too".

nerima Hikarigaoka Cherry Blossom Festa 2013

nerima SSC