#079 mule Nero frame builders


Seiichi Takamura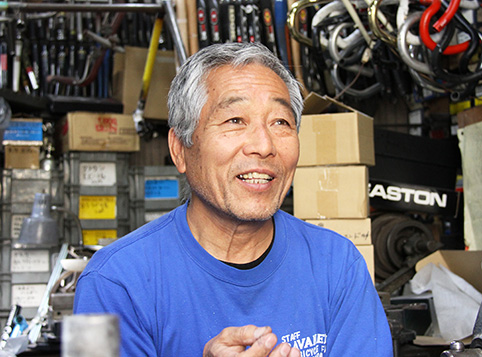 It is said, it "was good to be waiting for one year"
We make bicycle for the person!
 A group of road motorcycles standing out among quiet residential area of Sakuradai. Parts that make a specialty of when look in the inside in a row…. After having achieved the many results as player, Takamura of owner saying that it is, "it does not seem to be person who has a bicycle shop" opens bicycle shop. Frame which we developed is used in self-education in selection society of the Olympics and receives high evaluation.
"We make bicycle of full order only of people to structure in different health individually. Person who got on in various ways last, "after all, is Takamura!" It is glad to come to ask for this"
 Let alone maintenance, hot thought to bicycle is handed down from service telling from how to get on to how to use muscle carefully. Even if 20 a month order production now at limit, is the situation called completion what one year later!
"We have you come again if we make bicycle having you say, it "was good to be waiting". We stop and there are many former players reopening by hobby, but does not part with favorite car at the time of all once. It makes to be able to get on for a long time, and this is because "youth" is clogged up above all
 Confidence that opened up course by oneself is full of words of Takamura and overflows. However, the way was not flat.
"Precision instrument factory of the parents' house goes bankrupt by blast of oil crisis…. So we converted to bicycle shop which was hobby. We do not like dimensions of marketing product if we do so (laugh) and. We have begun to make from frame by oneself"
"At last when there was shop on orbit, we get fire of next door and are reduced to ashes. Acquaintance of wholesale dealer will lend article then when "payment is good anytime". It is the grace that was able to rebuild"
 The reason why we were blessed with someone's edges may be that oneself values connection with people. As supervision of "team mule Nero", we are concentrating power on upbringing of young player now.
---
"Father" who becomes Consultant life
We look forward to growth of student, too
"We aim at the making of homey team and are from primary schoolchild to 60 generations. 25 people gather in living room, and what thing is common in banquets noisily, too" (laugh)
 The origin of such bicycle life dates back to the child era in Nerima.
"We were skillful with the fingers from the old days. We like work, too and make airplane of rubber power and. Therefore help of the parents' house was fun, too. Everything is useful for the current work. It happened with nature when we went to favorite thing"
 Professional "girls keirin" begins in 2012, and guides of woman are increasing, too. For boy improving at a stretch, it is about characteristic that girl gradually acquires power steadily. Olympian is not dream if we go to here?
"We are envious of environment of today's children. But there is not child who can repair own bicycle. As there is person doing it, there is not and is not going to do. I say, "try because may break";
 By area of the door that hobby and diet accept objective person as for the player toward the world seriously membership now to more than 130. Tell from the basics severely, and membership fee is 1,000 yen a month.
 Other than the bicycle, the life consultation does not seem to be rarely done. As for having become Cupid of marriage between students! It is the life itself as well as bicycle that tells.
As for "hobby, the work, it is hobby to see growth of student. We cannot do it if we do not like (laugh). We think that it should have been 25 years old now though it is 70 years old. There is that we want to do it more a lot!"
 The substantial life is reflected by bright smile to talk about ambition.
(May 1, 2013)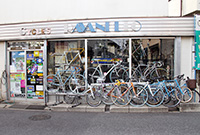 The appearance of mule Nero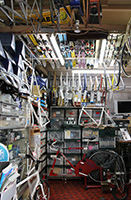 The shop in assembling space
It becomes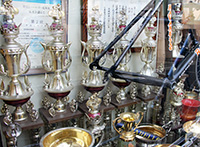 It was displayed to case
Trophy shows the results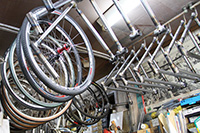 Adjacent workshop.
Tire and frame
We line up crowdedly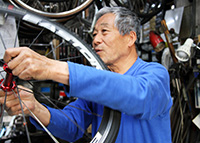 As for the technical story in sequence
We explain clearly
Takamura whom he/she works as.
Service mind is plentiful!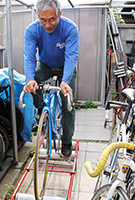 At the time of the Tokyo Olympics
Of exercise use that we handcrafted
Roller is still active!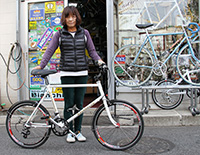 Compact car for exclusive use of wife
Of course it is Takamura product.
One that love was jam-packed of the couples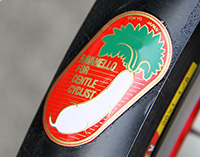 In Italian "daikon"
Mule Nero to mean.
Trademark
Of course it is Nerima radish!
Profile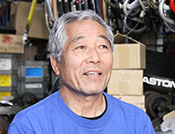 Seiichi Takamura
1943 student. Both birth and the breeding are Sakuradai. We adopted crawfish in the Shakujii River for the child era and we sailed up river and entered Toshimaen in secret and played. In the days of primary schoolchild, let's do on rent-a-bike of 10 yen for one hour. When still see field in Nerima, as person knowing old Nerima, is relieved, so. Is possessed charm of cycling in junior high students, to way of competition. We leave the results such as all-Japan student championship sprint championship, National Athletic Meet championship. After the graduation from university, we inherit precision instrument industry of business. We open Takamura cycle in 1974 and establish original frame theory. It is one house of the inside of 2-3 in Japan that undertakes full order of all car models. In 1994, we are appointed by the Japanese Olympic Committee reinforcement staff sports coach. In 2000, we contributed to gold medal acquisition as Sydney Paralympics coach. In bicycle club team "team mule Nero", supervision, coach, mechanician, massager manage to be multi-. We achieved three times of individual all-round championships by Tour de Hokkaido. In addition, we preside over business group bicycle team "pearl IZUMI Sumita mule Nero".

Mule Nero