#Shop takahashi (we try out Nerima vegetables gyoza campaign participation shop) of 080 taste and true heart


Gen Takahashi, Akiko, Ryo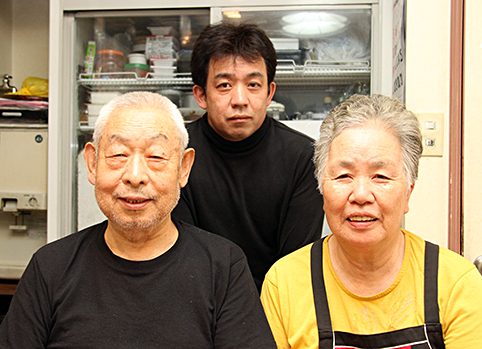 With gyoza of Nerima vegetables
Dirt ginger collaboration of Nagano!
 Nerima vegetables gyoza campaign begins on June 1! "Shop takahashi of taste and true heart" is participation shop from the first, and what have you touch specially made sauce which you used features popular vegetables gyoza obotagoshoo.
 Dirt is rare summer vegetable coming to Shinshu for a long time to carry. Farmhouse cultivating now is very rare without most.
It "is specially made sauce of house the cause that we run in botagoshoo mixer, and we soak in soy sauce, and laid for one year"
"This donates Akiko to customer with confidence with important specially made sauce almost as same as shop sign"
 Of course gyoza is homemade, too. By family going out together, it is 5,000 in three days! As we are particular about vegetables from Nerima, we make at a stretch at seasonal time and refrigerate.
 Other than the gyoza, Akiko is in charge of pickle & side dish & ingredients management tonkatsu charge the cause, and Ryo is role called Chinese food charge.
Akiko "I am salty-sweet for Kanto wind, and, as for the stewed foods, the master is different from light soy sauce in seasoning. "Mother made regular customer today" Hey, we seem to know"
 Difference in seasoning is pleasure only by mom and pop operation, too. We say that we often use seasonal vegetables which Akiko brought up for pickled garnish.
Akiko "liking that study which plant is effective for what kind of disease. As for the leaf of ginkgo, creeping saxifrage is effective in stress-relieving for corn and the Alzheimer prevention…We serve as this. As it varies according to seasons, but thing of particularly spring bud is good for body, we recommend"
 We often got vegetables from neighboring farmers, and "next nayo and voice suffered from giant butterbur collecting during coverage later". "Thank you, then saying is saying make kyarabuki"; Akiko. This friendly acquaintance continues for 38 years at the time of opening.
---
With family and local person
It is connected by taste and true heart
 On the other hand, as for the study era, cannot imagine in the present age; was strict.
The cause "did "apprenticeship" of clogs shop first. We roll out at 6:00 a.m., and there is not side dish even if we return at night. It is hard that we cannot eat to the full. Find recruitment of cooks in such a case. We are stuck-up with futon we thronged (laugh) on December 31"
The cause as "was long from 6:00 to 23:00, but delicious thing was eaten as for the work, "there is not such a good place!" We were impressed in this"
 The times when value of meal was just different. Meanwhile, it is Akiko that met. It was daughter of public bath which came at the last minute right before it was over.
Akiko if "is Takahashi who is craze for work feeling with straightness, "father must be!" Like this. We would resemble two people in katabutsu" (laugh)
The cause "get restaurant which company runs afterwards. It has been come that Konosuke Matsushita. When product gave curry of he preference that we read in book, we were pleased very much. There will be memory entertained with sushi in Ginza later. Matsushita was wonderful person who carried Japan on the back"
 We open "shop takahashi of taste and true heart" in 1975. Afterwards, Ryo of the second son is the second generation.
Ryo "thought from the old days to get job of food relations. In the days of child, it was glad that there was each of the two parents if we went home"
Akiko "opened, and was able to reach the 38th year. We are happy as shop loved by customer, too"
 Warmth such as connection with family and local person emerges in taste of shop.
(June 3, 2013)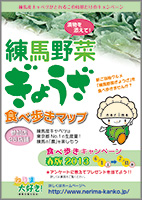 2013 version
Eat the way; cover of map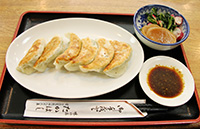 Gyoza of the volume perfect score.
Homemade pickle is included; and 450 yen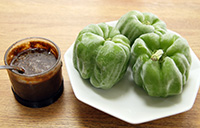 We made dirt in (the right) to produce,
Specially made sauce (the left)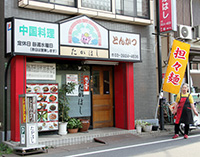 The appearance of Takahashi.
It is a 10-minute walk from the Hoya Station north exit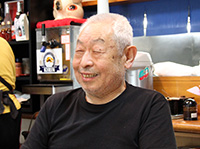 Tonkatsu which the cause cooks
Application of French cuisine.
"Batter and how to fry,
It is different from normal"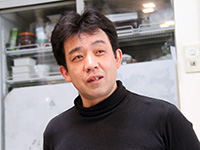 "It was delicious, thank you for the delicious meal"
Of this a word, after all
When we are the gladdest,
Ryo of the second generation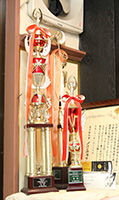 Of Tokyo support
In Chinese food technology contest
Ryo participates three times
All championship!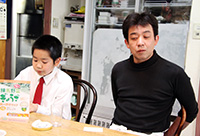 Ryo of craftsman spirit.
Eyes to see own baby
Very gentle!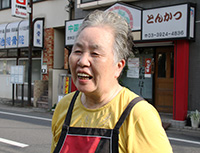 Akiko who has abundant topics.
If there are many "mother fans, too"
We supposed and did!
Profile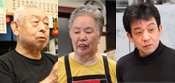 Gen Takahashi, Akiko, Ryo

Gen Takahashi
We are from Nagano for 1,933 years. Business is farmhouse. Leave house early, and work as live-in position, and is 16 years old; of French restaurant probationary. We find a job in Green Stamp (company which spread stamp service for the first time in Japan) at 28 years old. We get restaurants of international skiing area in Nagano of system. In 1975, we open "Takahashi" in 40 generations. It has older sister of the parents' house is non-chemical and send thing which you brought up in particular "to carry dirt" that shop is featured.

Akiko
We are from 1940, Nagano. Business is public bath. Hobby own house vegetable gardens. We are blessed with marriage, 3 man one girl at 21 years old. As for the eldest son, as for major restaurant chain, second son, as for patch, the third son, food-affiliated all together with local restaurant of Germany in the next.

Ryo
1966, Oizumi birth. It intends to become sushi bar, but finds work by introduction of acquaintance in Chinese restaurant. After having studied for four years, it is the second generation of "Takahashi". It is the 25th year in this year. Shakujii Park which favorite place was good when it was small, and went in Nerima.

Shop takahashi of taste and true heart
1-33-4, Nishioizumi, Nerima-ku (Wednesday fixed closing day)
TEL 03-3924-4836

Nerima vegetables gyoza