#081 Tonkatsumarutoshi third generation (town sprinkled water masterpiece war instigator which came)


Taro Wakayama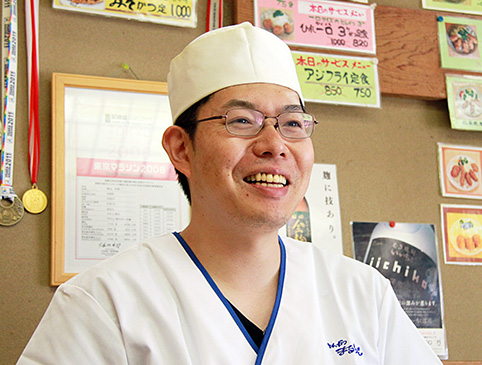 So that straight road is moistened in sprinkled water
Three malls were connected!

 Nerima is hot? Japanese traditional sprinkled water which softens the heat. Until from 24 to 31 on July, "sprinkled water masterpiece war" is carried out at 3 malls of Kitamachi. We start in 2005 and are charming sights of Kitamachi where we broke into in the ninth year.

Along "former Kawagoe Highway, it is mall that three malls range, but continues in one for customer called north one mall, we wait mall, new Kitamachi mall where we came to…. We have begun to think somehow that we wanted to deepen more cooperation"
It is Taro Wakayama of instigator that talks about this.

 In the first year, suggested; came; wait, and, at mall, increase new Kitamachi mall in the second year, the north one mall is participation in the third year! Dream finally came true.

 Wakayama to understand feeling of storekeeper well as we run pork cutlet restaurant.
We went to visit as visitor to surpass the line, "all feeling was warm if we surpassed line" and built connection steadily.

It is "environmental coloring contest" that "began in the fifth year to have you participate in more many people. We have neighboring children do coloring and project into sprinkled water cooperation shop"

 Smooth correspondence to make prize in children of all the participants, and to hand certificate of merit. After doing so, he/she comes to see coloring in parent and child, and Wakayama is as it is said in the whole only shop or town, and there was an effect.

In "sons who were the next generation, we wanted to make memory. Mall is because it is not thing only for shop"

 Primary schoolchild who became the most next-generation ace inside who cooperated with sprinkled water of coverage day joined. Saying "I want to do it, too!"; as for the boy of free participation. Through sprinkled water, it was connected by smile naturally.


---

If we make an effort and give result and tell…
Surely somebody recognizes

 Not only sprinkled water, think about the whole mall, "kitachohayari pin!" Wakayama who suggests various plans including, "Kitamachi historic site society", and participates. Just to have seen title of profile…Look busy! What is reason to do its best to there?

"It is simple, but is thinking only about own shop, and is it good? We connect area and make area better more. We think that that leads to happiness of customer. Well, it is pure character, I! " (laugh)

 It was Wakayama who laughed this off cheerily, but was past trouble gaattekosono now.

"Father was drunken, and high school worked as live-in position commencing with byte from junior high school. We did company work in those days by night while going to university. Father was pleased very much when he handed certificate of university. Did you do your best in place of father who was junior high school graduate?…"And Wakayama who talks.

 Afterwards, in inheriting pork cutlet shop of the parents' house of wife. We had hypermarkets near 2001 and were time when shop inclined.

"We all reviewed from supplier. Vegetables good at are ttarine in being different in vegetable store five houses time. We rebuilt using foot in three years"

"We take memo by all means if it flashes and carry out faithfully. We like advocating aim, and being accomplished. We want to give result if we make an effort. And we want to tell people by all means if we accomplish. There are 100 people whom one pays attention to if" (laugh)

 Many medals which we received by marathon of hobby glistens in shop.

In "race given for the first time, receive interview. Popular trade journal to see that came for coverage. This sprinkled water spread because various miracles occurred at the same time!"

 At summer dusk, three malls quench straight road in sprinkled water this year!

(July 1, 2013)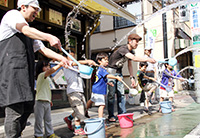 We sprinkle on coverage day and photograph.
It is fun purely when we do it together!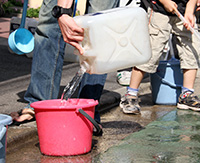 Using in sprinkled water
Of the remainder water and air-conditioner of bath
Water which flows from outdoor unit.
It is ecological thoroughly!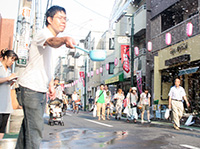 State of 2012.
Town looks cool at a stretch!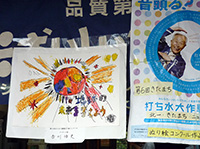 We bind unit shop and inhabitants together
It was a chance
Environmental coloring contest
(we bring up the young people from 2012
The eighth district committee hosts)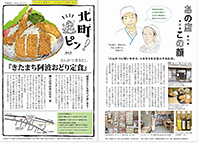 We introduce local well-known store
「kitachohayari pin!」 This
We are going to conclude soon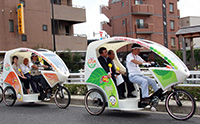 We did tart from 2012
Shopping support of Kitamachi.
Pickup and drop-off service of trishaw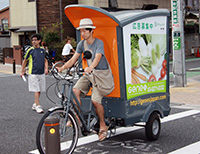 This of shopping support
Moving sale service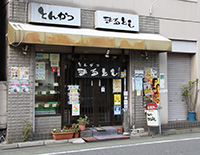 Assume circle; the appearance.
Founding is 1970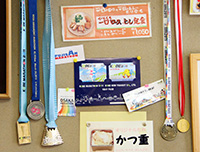 We participate in national marathon event.
There are many visitors coming through marathon
Profile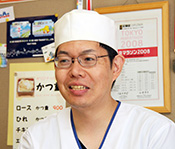 Taro Wakayama
We are from 1965, Toda-shi, Saitama. We are a graduate from Hosei Univ. university graduate, Keio University department of economics and complete Nihon University Graduate School general social information graduate course. While the family budget acts cruelly, we go to university. Correspondence college continued steadily, too and graduated for 11 years. Wife, Rika and marriage that got to know in sophomores. It is the parents' house of wife, and, in succession to "Tonkatsumarutoshi", it is the third generation. It is energetic for mall and local action. Came; wait, and hold an additional post of director of mall promotion association, the vice-director of new Kitamachi mall promotion association, the making of Nerima-ku health supporter, food education promotion network meeting committee member, Tokyo merchant fair representative, member of Nerima merchant fair. In the leader of Tokyo cram school, encounter there becomes source of information in the ninth year. In instigators of "town sprinkled water masterpiece war which came", we performed lecture in Nanto-shi, Toyama in 2010. Place favorite in Nerima is Hikarigaoka Park. Place of memory that became the origin after starting marathon of hobby.

Tonkatsumarutoshi
Town sprinkled water masterpiece war which came