#082 cloth picture (NUNOE) writers


Noriko Mizuno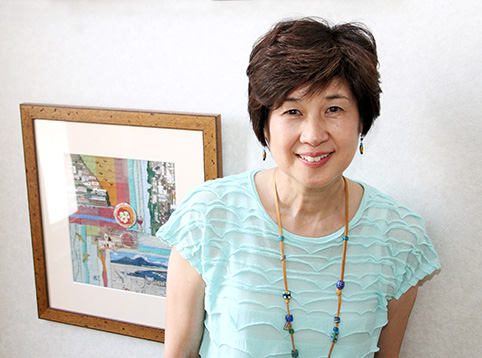 We make use of characteristic in cloth of scrap,
Pleasure to make one piece of picture!

With "NUNOE", it is picture of cloth literally. It is Mizuno's original technique to bring up various cloth into combination, one piece of picture. Feel of texture and three-dimensional impression of cloth unlike paint, smallness of exquisite balance, patchwork and embroidery of placement and overall view of the world…We are full of mysterious charm that jiitto bewitching puts away.

"It is thick and is thin and is transparent…What we finish in expression for oneself is interesting while making use of cloth original texture. As we find cloth of strange pattern, and that looked like face, we open idea from there and. We make story and become character completely. Always we are thinking (laugh) only of work"

 Mizuno who smiles in this elegantly. It went through free style without place where we swelled not having a shoulder and an elbow at all, and just breaking stance called "housewife who protected house" with "writer!".

When "two daughters are small, opportunity is that patchwork has begun to be popular. Become fun if you arrange applique into clothes by accessory and own way…. Daughters "all and jigaii! Character thing says!" Hey, he/she was not pleased very much" (laugh)

 Love of parent does not readily reach child…. It is slightly sad mother feeling.

As "the master was office worker, there was meaning of saving not to put a burden. (laugh) which hardly hung money as we used thing which was not worn from scrap of clothes to shirt of the master"

 That became reputation between friends, and students increased including classroom as we were asked "to tell". When it was a lot, there seemed to be 30 people, too.

 It was receiving a prize in contest of magazine to have been turning point. Triggered by that, we shifted to the making of cloth picture from the making of accessory.

"We make more and more as we hit. We think about design roughly, but complete while making. It is very fun and is okay even if we stay in house all day. Two daughters leave the nest now human as the master is hardly in house (laugh) which works"


---

Because "we just like" continuing
Love of family supporting original desire

 If we are doing manufacturing, time passes in no time…When base of, such quality was small, it was made.

"We threaded through bag by own way since it was small and loved sewing. In elementary school, teacher of drawing and manual art can follow path of art, and parents are determined, too (laugh) and. So we advanced from junior high school to school of art system. We majored in textile at university, but were not able to make work which there was too much limitation, and was free…. So we graduated and have got married immediately" (laugh)

 Mizuno who lives like flowing water freely. "Corporate warrior" that the master is contrastive. We do not seem to be at home by work very much, but therefore there are managed couple relations.

Though as "it prevents you from making work when the master is at home, it is thing such as understanding that is not in house in the case of the master (laugh). But he/she praises my work very much. So as not to be satisfied with a word…It is hand in, truth in home"

 Being doing characteristic of cloth picture of Mizuno about personal daily life scenery. There are many works about office worker in that. Of course motif is the master. Love from work to the master seems to ooze out. By private exhibition that opened in 2012, the busy master seemed to make an effort in various ways.

 Finally when we ask about the future prospects….

As "quality of oneself disappears when eager, we want to continue making with present pace all the time. I just love to make…That is all"

 Mizuno who took "we like" seriously earnestly, and opened up the world only for oneself. We may feel gentle softly when we see her cloth painting simply because it is pure.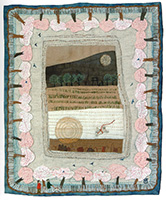 Row of cherry blossom trees of the Shakujii River
Work which we made motif.
Besides, local Nerima
A lot of works which we created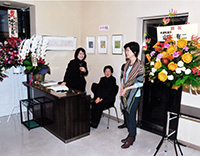 We held in November, 2011
State of private exhibition. As for the master
He/she seemed to make an effort
(photo courtesy: Mizuno)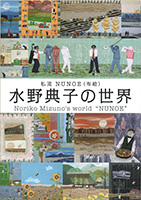 Anthology which we gave at exhibition.
Work one hundred of Mizuno
The above is jam-packed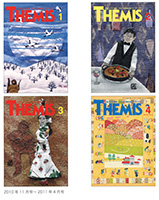 From 2008 as for the present,
Monthly which we display cover
『
THEMIS (temisu)
』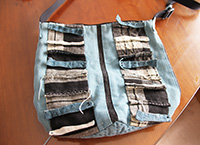 As for the helpful accessory including bag!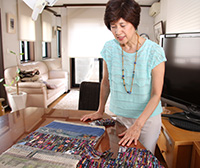 Part not to like
Start again again and again
We complete by all means.
Therefore to work
Attachment is much more, too!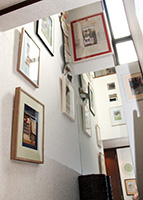 In wall and room of stairs
Many works are displayed.
It is like gallery!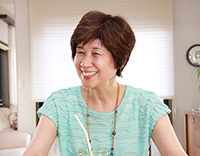 Mizuno with gentleness
We have both flexibility
It is wonderful woman!
Profile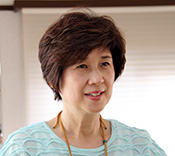 Noriko Mizuno
Higashiikebukuro birth. Father of design architect is skillful with his hands and is brought up to girl good at of the influence or manufacturing. In elementary school days attached to Univ. of Education (existing Univ. of Tsukuba), we enter a school of higher grade by the advice of teacher to junior high school attached to Joshibi University of Art and Design. At university, we major in industrial design department crafts (textile). After the graduation, we get married. We get absorbed in remake of own way patchwork and old clothes while bringing up two daughters. In 1982, we apply for tapestry contest of magazine. Work which made design of orchestra using old clothes such as shirt or blazer wins a prize in theme called "music" for husband who assumes classical music hobby. We are awakened to "NUNOE" triggered by that and win in many contests. We are in charge of cover of monthly "temisu", and it is the sixth year. The private exhibition "world of NUNOE" that we held at Bunshun art gallery in November, 2012 was taken up in newspaper. It is 15 years ago that we have begun to live in Nerima. Scenery of Nerima becomes subject of cloth picture, too. Virtue temple wide in the place favorite in Nerima. Triggered by pet dog, we came to know chief bonze of a temple. Hobby with couple gathering is Korean drama.