#083 clay Dole & trip sketching writers


Yuki Goto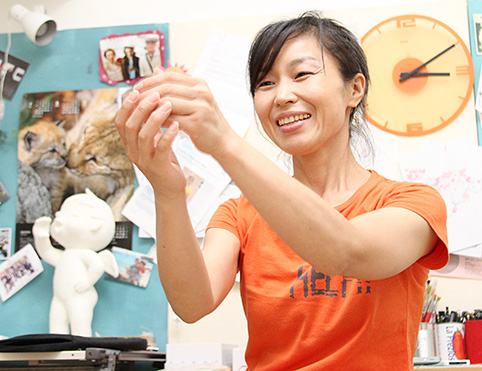 When we make doll of smile,
Oneself becomes smile, too!

 Lovely gesture, warm coloration…Clay Dole (doll of clay) of baby who is just looking, and is healed. It is resident writer, Yuki Goto in ward that we name "pupu", and send to the world.

"Bachelorhood that there is not child become very lonely after 40 generations began. We wanted to express child of everyday warm air and casual pose. I become smile while speaking when make face with a smile when "let's laugh"; (laugh)

 We go to baby massage classroom of acquaintance for visit and seem to observe baby steadily.

"Therefore but sketch "chupachupatooppai in munyanaa" "really splash pee! It is" (laugh) and place of discovery and healing

 It is the world of my father that kusu and funny humor mingle. For example, angel lovely…However, we put hand on waist and take nutritional supplement (laugh) and. Smell of human being who does not look good has doll more cutely!


---

We reset the life at 32 years old!
We do that only oneself can do it

 By work, we value that we build up while talking with about facing client while we express own world in clay Dole. We had busy days, but the departure was from 32 years old!

"Company goes bankrupt by bubble burst. Furthermore, divorces occur at the same time, into pieces…. Anyway, we wanted to reset and jumped into the world of art by big determination. Older brother worked as illustrator by chance and told shortcut. "Make work loved by all people so that this course gives life. When that is to describe smile in warm color in a circle visually"

 It was prompt decision that it heard, "Tokyo is easy to work" that came out of local Akashi-shi.

"Both gas and electricity had not yet come and, on the first day when we arrived at cheap apartment by night travel train, took the warmth with corrugated cardboard while shaking in room (laugh). If oneself does not work even now, we cannot pay rent, too and protect nobody. It is always all out effort!"

 Anyway, when want to use own work, and make a call to company; walk-in sales. Vitality of my father may be human strength that experienced "bottom".

"We hesitated in demanding desired amount of money for own doll which we made for a long time. But we can return to somebody if I am active for money. We came to think that it was not bad thing to have money well without saying only high-sounding statement"

 The vector faces volunteers of northeastern stricken areas.

Just after "great earthquake disaster, we went for volunteer. Therefore there is work representing picture in tent. We realized that it was important to be able to do it because it was me. We wanted to always do something for somebody"

 There seemed to be that under the influence of foresight-like mother.

"Now 82-year-old mother "how is it to be comfortable that do not take care of the baby? Do that only you can do it at least as hard as possible!" We say this. We wanted to continue favorite work more, but couldn't but stop mother, the truth by childcare or transfer of husband. That's why we think that we did not want to let daughter do the same thought. When we said that I was in my 30s and became free lance, he/she pushed back without question. The reason why I work is that we grant dream of mother"

 We take thought of mother and, with that as form called work, return to somebody. Chain of gentleness supports today's my father.

(September 2, 2013)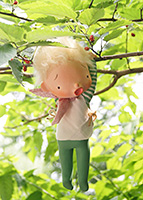 Original character
"pupu"
We photograph in Shakujii Park
(photo courtesy: my father)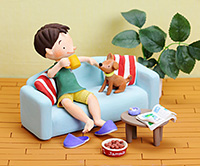 Original work
"A certain morning of Sunday when it was fine"
(photo courtesy: my father)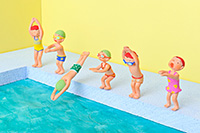 Narimasu rondo swimming
Image (photo courtesy: my father) of 2013 of school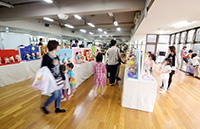 Narimasu rondo swimming
We hold exhibition at school
(2011)
(photo courtesy: my father)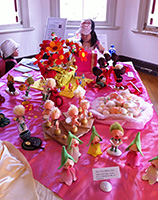 In Kitano, Godo foreigner's house
Exhibition (2013) that we held
(photo courtesy: my father)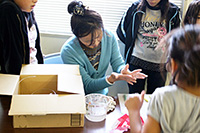 In Shakujii school
We hold exhibition and clay lesson
(photo courtesy: my father)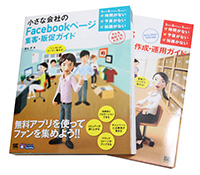 Work of cover of book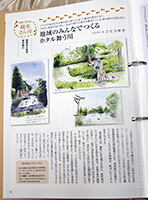 Work of trip sketching.
From "superb view of sightseeing spot
In daily life scenery of inhabitants
It seems to be attracted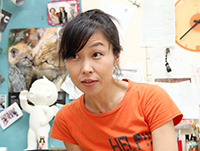 In Kansai dialect light brightly,
We just listen
We got spirit!
Profile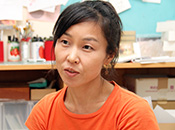 Yuki Goto
It was born in 1967 and is from Akashi-shi, Hyogo. We are living in existing Shakujiimachi. We graduate from the law department of Kwansei Gakuin University. Liked picture since childhood, but for job that is unrelated to art. We experience office workers such as real estate, building for about ten years. It is divorced corporate bankruptcy at 30 years old. We decide turnover to illustrator and go to Tokyo. We live in Nerima-ku for reason called neighborhood of older brother. Illustration and clay Dole, trip sketching are accepted an order of now by public information, book of company and group, many mediums including WEB. Private exhibition is held energetically than 2006, too. We are going to exhibit this autumn in gallery of Sydney. At stricken area of the Great East Japan Earthquake, we went around each place by "northeastern clay Dole exhibition". Dream including "we want to open up workshop made with doll in temporary housing" spreads. Place favorite in Nerima is Shakujii Park. As park of Akashi did not have big tree, we seemed to be surprised at excellence of tree of park of Tokyo. We enjoy scenery that there is park cat while jogging every morning.