#084 Tokyo yuzen writers


Teruo Ikoma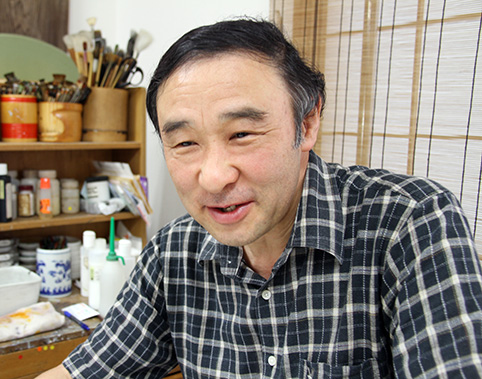 Strange style is characteristic of oneself, too

For this way 40 years, we do not get tired
 Kyoto, one of the three major yuzens equalling Kaga, Tokyo yuzen. Urbane pattern and chic color of a similar shade are features. In addition, for Kyoto, Kaga with many division of labor systems, individuality appears well as one craftsman is concerned with all steps in Tokyo. One of such craftsmen is Teruo Ikoma.
"Kyoto and Kaga have a long tradition and are protected for administration as local industry. In Tokyo, there is not that; is free. But you consider what is sought and must always send thing new consistently. Aesthetic sense of customer is because we are sharp now"
As, "anyway, we like work and want to continue running in the front line as professional, we put up nature and antenna and walk. We hang down fishing line in oneself as image may be heated from old memory"
 Style of Ikoma who talks so is very novel! Insect plays orchestra and drinks liquor in stylish bar and…Concept of kimono is overturned.
"Is it not me that make strange pattern to here (laugh)? We get in the swing when praised, and product wants to surprise more interesting thing"
"We distribute art craft and product to actually wear and, in the case of me, think. With craft, we liken the whole kimono to canvas and express own claim. When we wore, for products, we consider color and pattern as "the beauty of business" in viewpoint how is beautiful. As kimono is modern fashion, too"
 Professional honor shines. It is certain technique that supports the posture.
"There are 20 processes including line and paste lying down to prevent overturning with sketch to draw, paste of rice cake rice in juice of Tradescantia reflexa, and handle from being dyed. We put cloth to fill the room and, at the age of dyed goods in the local area, dye by big brush"
It "was thing told in Designing Department of company by senior that learned them, but we visited teacher of various studio on the back and holiday of job and received instruction as there was not technical width only there. As we aimed at writer in the future, we were running desperately"
 When there are not the basics, we go to school in night school of Beaux-Arts. We say that class to pay the tuition while working, and to take was different in gravity.
 Ikoma studied in that for 12 years and achieved independence. Then we began writer activity that was aim, and it was at this way ray 42 years in this year.
---
While we bring up pupil
Oneself stretches himself/herself, too and grows up
 The world where considerable time suffers from before we begin with copying of pattern and classic, traditional pattern of boss, and own style comes out. It was about more ten years later from independence that it came to be said, "we find work of Ikoma immediately". It is the severe distance because it can happen and at last says one portion.
 We concentrate power on bringing up the next generation now. Three pupils of beautiful university graduate in the twenties now. We let seven people become independent so far.
When "there is pupil, oneself is going to look good as boss desperately, too. We cannot lose if we send on exhibition. It is disappointed to do the same thing forever if we do not grow up. I am seen from pupil, too. In that way while we stretch ourselves when we may grow taller" (laugh)
"Of course we are angry if pupil fails. Because when human being does not get yelled at, we do not grow up. We are not popular if we make half-finished product. Work which we made does not have meaning without reaction. You must give result consistently. Professional does not have escape. Therefore we make severe"
 There is pupil stopping on way which cannot be open if there is not readiness. Still a sense of crisis that this culture that has been inherited by ancient people disappears gathers if we do not bring up successor while globalization, aging advance.
 "Even the 25th Nerima-ku folkcraft exhibition" to begin in the end of October can come across work of Ikoma. Do you not rediscover Japanese beautiful traditions by all means from Nerima that is step?
(October 1, 2013)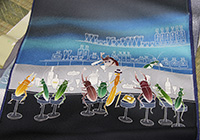 Insect series.
Since childhood
Ikoma to like insect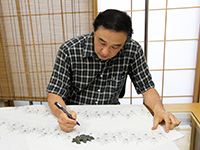 On "canvas called kimono
What do draw?; sense of painter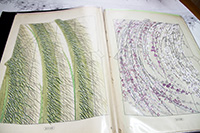 Plan design which becomes the basis of work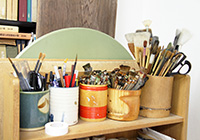 Various brushes which were had a good use of.
It is arranged neatly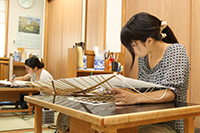 Teshi and others.
We continue working eagerly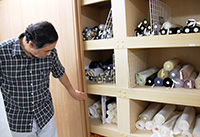 We look for dough fitting image.
Sometimes from dough image
We seem to have possibilities to blow up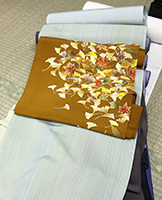 Combination of obi and kimono
As for suggesting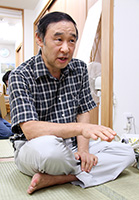 For any question in tweediness
Ikoma whom it affects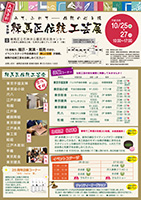 The 25th Nerima-ku folkcraft exhibition
From 25 to 27 on October in 2013
Profile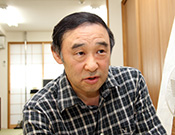 Teruo Ikoma
1954, Saku-shi, Nagano birth. Residence out of current Minamida. The parents' house is joiner. We liked manufacturing since it was small and we made something with small piece of wood which remained and were playing. We enter junior high school, high school and kendo club, and we did not have much art, but it is entered Designing Department under contract to fabrics for kimono company by introduction of acquaintance. We go to night school of Musashino art school while we learn yuzen and black-and-white drawing. It is independent at 1984, 30 years old. In 1995, the best of Japanese folkcraft is selected for "Japanese folkcraft exhibition" to gather for the first time at the age of 41. In addition, we achieve winning a prize, receiving a prize at folkcraft dyeing and weaving exhibition in Japan, various exhibitions including higashikyotosengeiten. (public corporation) Japan Kogei Association regular member. We hold private exhibition every year in Nihonbashi Mitsukoshi. Place favorite in Nerima is Shakujii Park. It is said that various scenery includes encounter discovery in the four season.