#Chef 086 screws fatty Saito


Misao Saito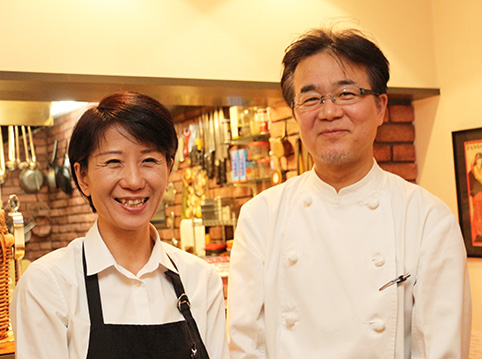 We use local vegetables and want to contribute to area
The back menu became Nerikore!

 It is Nerikore beyond 100 articles in 2,013 years. "Specially made cabbage roll of cabbage from Nerima of screw fatty Saito is one of the products authorized newly this year, too". Special Menu that we made for old woman of regular customer became popular and, according to the Misao Saito of chef, came to provide as the back menu.

"We wrap ground meat of Japanese black beef and black pork in cabbage from Nerima and we stew with red wine-based sauce and put on 1st. Furthermore, we add red wine and complete sauce. It is the finish such as old beef stew (chef)

 We say that it is appreciation to area to use vegetables from Nerima.

When "we can contribute to Nerima what it is. Local vegetables have just finished being produced in that and are fresh. Such vegetables which farmers knowing traditional how to make sell surplus of vegetables which oneself eat to are the most delicious. There are few pesticides, too and is safe (chef)

"We notice that we boil vegetables with many pesticides for smell. We are in the middle of cooking sauce and start again. We think that it is not cook if we take that out (chef)

 For calm demeanor, it is chef with core. Kayoko of wife as sommelier seat chef kitchen…Screw fatty Saito which did this in tandem. We set up store in Ekoda and reached the 15th year in 2,013 years.

"It is student street, but breaks French and Italian border when we provide pasta and rice to needs. We were determined to be allowed to be destroyed and carried through faith to "be faithful to basics of bistro". You became able to gradually come toward the hometown (chef)

 We are loved as shop which adult can enjoy in Ekoda by such faith and disposition.


---

We love dishes since childhood
Original is born by trial and error

 Chef was 24 years old, and encounter of two was time of Kayoko 21 years old.

"Husband went so that I still ate as visitor in the shop for the study era. Moment when we met, "bibibi!" Come in this (laugh). "This person is successful in later years. I support!" We felt intuitionally in this and attacked hard (Kayoko)

 Sudden marriage is the most fatal one year later! But we call "chef" at workshop and distribute the official and private matters well. It was from advice of chef that we got qualification of sommelier. On the other hand, Kayoko recommends chef to take license of "food education instructor instructor". It is wonderful couple raising each other! >

As for "the husband, dishes are lovers (laugh). Though we are absent, we stand in the kitchen when "that child lets fire and wants" and. Often say somniloquy of dishes; (laugh) (Kayoko)

 Chef who loves dishes and ingredients like own child. The love dates back to the child era.

Since the days of "elementary school 2-3 years student, we went to field at the very beginning when we returned from school. We learned there true taste of seasonal vegetables. Vegetables of Nerima think that taste that we ate these days is near. We hate to see recipe from the old days. What make dishes with self-image, and make trial and error is fun how it becomes this taste. Original menu is created from that (chef)

It "was suffered a disease, and customer of regular customer had opportunity when "the Last Supper" was ordered. It is deeply impressive when we think whether you provided dishes left on page 1 of history of the person. We felt importance of dishes some other time and felt that mind was tightened (chef, Kayoko)

 Dishes and screw fatty Saito which is sincere, and continues facing each other. Therefore we felt that it was chosen as shop which we wanted to spend with person who was important for knot of the life.

(December 2, 2013)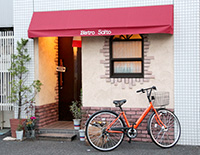 The appearance of screw fatty Saito.
From the Ekoda Station north exit for about two minutes,
It is hideaway atmosphere
Of 2013 issuance
Nerikore booklet cover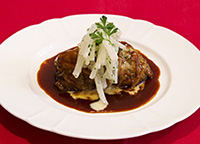 It was authorized in Nerikore in 2013
Of
"
cabbage from
Nerima
Specially made cabbage roll
"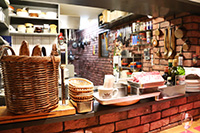 Craftsman spirit of chef
Kitchen which is felt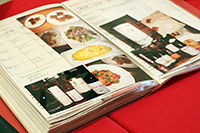 Wine society, cooking class
It is open once a month each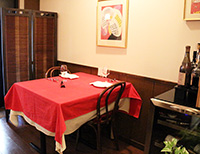 4 tables and three seats of counters.
To run in two
It is with the number of the just right seats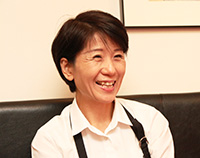 Wife of soft personality.
When we talk,
It is healed with nature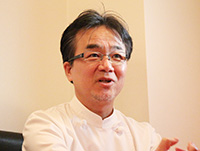 In story of favorite dishes and cat
It does not stop when it becomes!
Gentle chef
Profile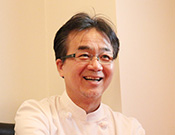 Misao Saito
1960, Fukushima birth. We are living in Nerima-ku. Being attracted by Tokuzo Akiyama, we enter Seiyoken at 18 years old (first Japanese Western food restaurant where Akiyama acted as chef). At time when new French restaurant opened in sequence, we are detonated by contact by that and move to restaurant of Aoyama in those days. Afterwards, we acted as chef in Ikebukuro and studied at restaurant of Paris for one year and worked from morning to evening. We idealized space to be able to enjoy French casually and opened "screw fatty Saito" in Ekoda in 1998. Kayoko of wife is from Fukushima of the same town, too. We know that it is neighboring towns after beginning to go together. With qualification of administrative dietitian, we are in charge of hall as sommelier now. The marriage 30th year. Favorite place leaves Kotake-Mukaihara Station in Nerima of two, and is immediate; "is sexy? Weeping cherry tree. That it is attractive that there are many cats in the outskirts.

Screw fatty Saito