#Representative of association of 088 eye mates director


Takao Shioya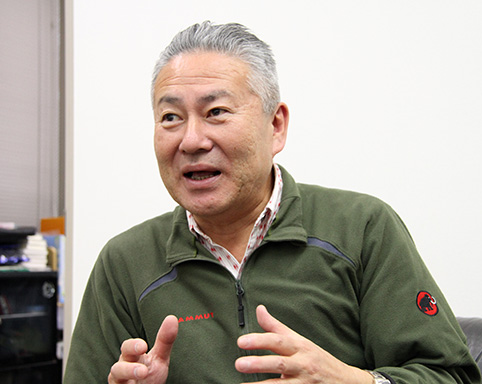 Host is not dog; "people"
Nerima-ku is the domestic production guide dog birthplace

 In fact, Nerima is the birthplace of Japanese guide dog. There is association of eye mate whom Kenichi Shioya who brought up domestic guide dog first, champii founded in Sekicho. And, as of the end of January, 2014, pair of user and eye mate (guide dog) who left association is a total of 1,216 sets. We are proud of the best results in Japan.

As well as "training of dog, it is important job of noga us that "tells user (the visually impaired) how to walk that was with guide dog". As for Kenichi Shioya, as for training of dog and a person's education, of genius. More than anything, instruction included love because we came to like one user alone"

"It was people whom there was in idea not to point out thought either, people who always focused on utility most. Visitor is still astounded at training of our association from overseas association"

 Takao to take so pride in is the eldest son of Kenichi Shioya. In 1977, we received teaching of strict father as walk instructor probation at the age of 22.

"We are doing what!" because "it is the old days "You use head, and try to think! We seemed to shout with "(laugh). We were hit in the days of child well (laugh) and thought that we saw sometime, but we entered this world and realized horror of father"

 Based on the basics that Kenichi Shioya made, inventive idea seems to be continuing still doing training of better dog and walk instruction to people.

"About 60 of them are in kennel now, do you not hear yaff? We can receive other training calmly if we let you control yourself as it is instinct to bark"

 It does not seem to be able to necessarily say that it is so that guide dog is not enough.

As "all the visually impaireds do not hope for guide dog. In addition, manner as maintenance and user of training of dog is demanded from person becoming user, too. We have you come to walk instruction to learn how to walk and how to contact eye mates within one year after proposing in association of eye mate"

 People and dog walk together, therefore "eye mate" (friend of my beloved eyes). The eye mate is brought up with full of love in volunteer family called breeding service for about one year from two months after birth and plays an active part from 2-3 years old for about ten years. Afterwards, it is left by family of retirement dog service and closes 15-16-year-old life calmly.


---

It is applied power to tell dog
Healthy change of user is nice

 How much ratio is it that fits guide dog?

As "it spreads in excellent dogs premeditatedly, there are few dogs without aptitude. There is dog to grow up too much, and not to fit which is vulnerable to vehicle. Training sit down in four months and runs side by side with basic trainnings such as lying down by instruction training to put harness, and to walk. Actually, dog fitting guide dog in the case of association of eye mate is about 70%"

When "people do not know how to handle, trained dog returns to common dog immediately. The leading role is just people. As for the eye mate walk, people give instructions to dog and are cooperation work that dog carries role of eyes and realizes"

 About training and walk instruction, expert instructor is reliable? We are apt to think of this, but, in fact, there seems to be there pit.

"It is easy to become "dog trainer" when getting used to work. Like lion of circus, we let you listen to only in front of oneself. We judge oneself, and we always reflect by oneself, and effort devising is demanded from instructor"

"Pairs of user and eye mate being able to walk that we aim at any place. It is meaningless even if we let you learn only place to know. Therefore we think that it is applied that is important"

As for "the user who became able to walk freely, expression becomes bright, and voice comes out of stomach and we are tanned and are full of life"

 It was Shioya to be the nicest that saw such a healthy change.

(February 3, 2014)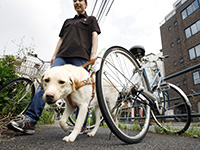 Training scenery of eye mate candidate dog.
The staff four office workers,
Five walk instructors, intern three.
Per one instructor,
We are in charge of 5-6 dogs
(photo courtesy: eye mate association)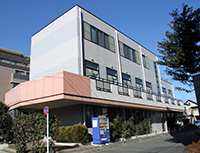 We moved in 1996
The appearance of association of eye mate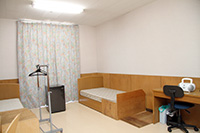 Room where user stays at.
User is four weeks in association
We stay overnight and receive instruction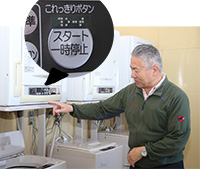 We show around the building
Shioya whom he/she works as.
On buttons of washing machine
There is Braille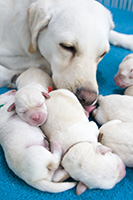 Among volunteer families
What is least enough
Breeding service. Under occasional offer
(photo courtesy: eye mate association)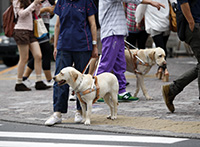 We can walk freely in crowd!
State of eye mate user
(photo courtesy: eye mate association)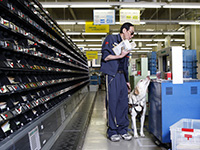 With eye mate
State of working user
(photo courtesy: eye mate association)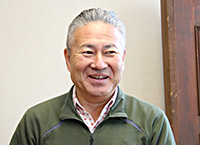 Book kikirenaihodono
A lot of detailed talks
He/she told
Shioya of openhearted personality
Profile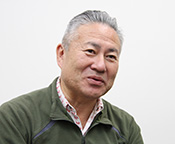 Takao Shioya
1954, Sekicho, Nerima-ku birth. We are born as the Japanese guide dog business leading people, the youngest child eldest son of Kenichi Shioya. It is older sister two people on the top. It was same as dog and, in the times when there was not including dog food, took the leftover food at store of neighborhood and helped job of father since childhood for boiling with furnace. We wanted to do another work, but make up our mind to inherit association business triggered by father having fallen down by cerebral hemorrhage. For 1977, walk instructor probation. After experiencing the secretary to director additional posts, it is representative of association of eye mate director in 2005 and continues up to the present day. We hold general visit party once a month in association (from 14:00 of every month from January through November last Saturday about two hours). Good grandfather that the first grandchild just caused with father of two daughters at home. Shop favorite in Nerima is Western food restaurant, Miura bower of the Musashiseki Station south exit.