#089 Akao Aluminium's representative director


Yumi Akao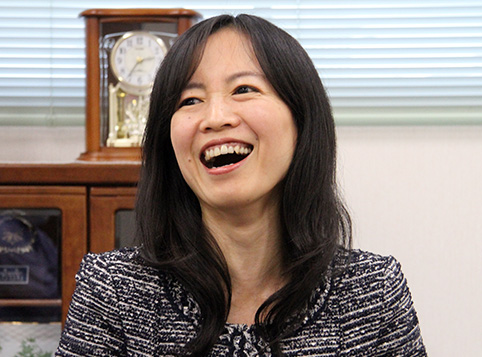 We can make circle of a 1 yen coin
The only factory is in Nerima!

 On April 1, 2014, consumption tax rises in 8%. It is a 1 yen coin that turns of increase there! When factory which can form that alone in Japan is in Nerima, do you know? Akao Aluminium in Asahicho is founded in 1947 just after the end of the war. We started production that was circular (engyo) for 1 yen in 1964. It is in a round state with rim before it is carved a seal at the Mint Bureau to be circular.

It "is only house in Japan that has exclusive facilities. Therefore "we are busy" This is said…. At the time of consumption tax 3% tax increase of 1989, we surely made 300 tons, a 1 yen coin for 300 million yen with one month for one year, but making had gone ahead through cashless for these past several years, and order was in a state that there was not"

"It was after a long absence, and, in the autumn of 2013, order came. Without enough hands, we called back person retired from 5-6. We pull by press and heap up edge and wash and we put lubrication processing and ship to thickness to become one piece of 1 g"

 This crisis (?) of a 1 yen coin It is top, Yoshinori Nakao of rolling production section that talked about this. It is expert engineer of this way 34 years. Yumi Akao of president joins the words together for the second generation.

"We cannot maintain machine when we do not maintain while there is not order either. Both people and machine are rusted. To be frank, we talked and intended to stop (laugh). However, "is a 1 yen coin company making? It is often said to be "…Good when it is advertised" (laugh)

 Akao who lets out the true intention in sequence with a laugh brightly. When she talks, we create gaiety to the place brightly.


---

Material that aluminum adhered to life
We can have pride by "manufacturing"

"Our main profession is rolling (processing to postpone aluminum thinly). But we heard from father in the days of child with "company of pan". We would think that "rolling" was difficult for child. Therefore (laugh) which thought that ton perception made pan as for father all the time"

 As for the share of Japanese aluminum, 95%, medium and small-sized business four occupy remaining 5% now five major companies. The only company where Akao Aluminium can adopt the manufacturing method same as major company in spite of being medium and small-sized business. We take pride in golden acid hotpot to learn not comparing corrosion resistance and the durability with the coloration thing.

"But honesty, I are not interested in aluminum (laugh). "Aluminum entrusted you!" We say this to employee and do not interfere in technique. Anyway, there were 10000000000 debts when I inherited. We promoted efficiency of duties for 15 years and finally became half. But still it is half" (laugh)

 We may be trusted simply because it is Akao who recites such a hard luck story brightly saying "it is all right if we follow this person!".

"We could not do it and, after Lehman shock, cut all down. When it will be already only education to people to remain. We arrived at nature and the conclusion when we faced employee. Management is still severe, but is satisfied very much personally for these past several years!"

"(laugh) which does not move from Nerima until we go bankrupt because we love Nerima" and Akao who declares. When we hold the factory tour for local primary schoolchildren and participate in fire-practice and contract emergency groundwater offer and hold outlet sales such as pans of the company's product, we value being connected with neighborhood.

It "is miraculous that rolling mill operating for 24 hours is left in Tokyo! We say to employee that it fits world heritage if we do our best" (laugh)

"We touch house in mid-career position again in having low average age in 30 generations. Without relations including age, sex, educational background, there is any step hop if there are any motivation and ability. When pride that manufacturing is possible in Tokyo can last, is it not interesting?!"

 President Akao and employee of Akao Aluminium burning for manufacturing who are hot like smelting furnace of about 1,000 degrees Celsius. It is attention in future further development!

(March 7, 2014)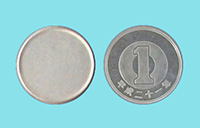 We lay groundwork for a left-sided 1 yen coin
We deliver with circle (the left).
It is with value of one piece of 60-80 sen



A part of headquarters factory of 5000 tsubos.
(Asahicho, Nerima-ku)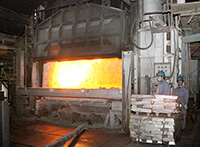 Melting point of aluminum is 650 degrees Celsius.
Smelting furnace of about 1,000 degrees Celsius
Even if we are several meters away apart, we are hot!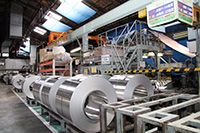 State that aluminum was rolled into.
By high technology of 0.3mm - 15mm
It can support thickness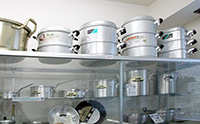 Cooking product for duties still
In high share, there are many repeaters, too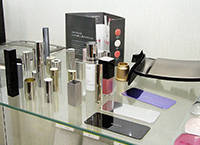 Lipstick, parts, LED of camera,
Tube medicine, writer,
As for the HDDs of PC,
Product of Akao Aluminium
It extends over overall life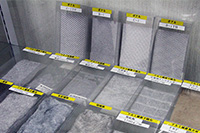 With aluminum fiber nonwoven fabric
We acquire patent.
In sound absorption material of the expressway side
It is used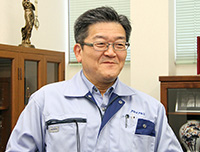 Yoshinori Nakao of the rolling manager of Manufacturing Department.
Though raw material industry is quiet, "it is interesting.
It is said that we support product
We can have pride"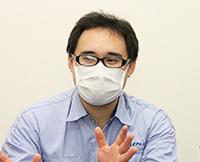 Yoshihiko Akao of General Administration Division.
In "company where woman is strong in,
As for the employee who took five times of maternity leave
Saying need; as for saying is
We emphasize charm of company
Profile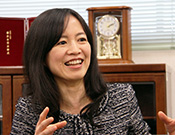 Yumi Akao
1965, Toshima-ku birth. Meiji University graduation. Second generation, representative director of Akao Aluminium. Father of the founder dies in 1996 and inherits company. Father heard, "you should evaluate executive with number as stockholder", but it is difficult to distribute possession and management in medium and small-sized business, and he says "(laugh) which he experienced generally of trouble of job, trouble of money, trouble of people". Have four factories in Tochigi, Gunma other than Nerima-ku, about 300 current employees. There are three Divisions, and 30%, immovable industry account for 10% products such as 60%, pan rolling of aluminum in sales. It is energetic for development of the company's product including spoon for exclusive use of ice cream. There are many employee, managerial classes of woman, too. We are a mother of 2 children in private.

Akao Aluminium