#090 love Kazuyoshi limbs Seisakusho's representative director


Shintaro Hayashi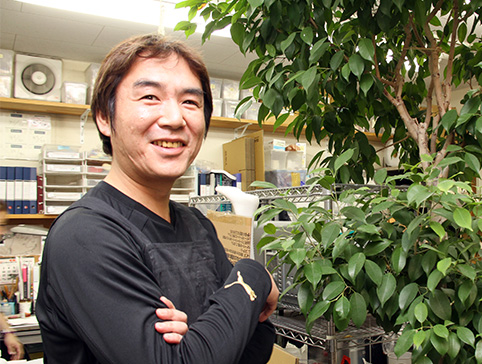 We make thing to be able to prepare into nobody
It is technique and feeling to support that

 One finger which was held out. That to be the middle finger of woman is lifelike so as to hesitate about picking up! Hayashi is artificial limb made in love Kazuyoshi limb laboratory sticking out its chest saying "there is not tolerable thing judging from up elsewhere to here either". Generally, in comparison with used artificial limb, the difference is clear at a glance. Still "was good! We tell does it not walk this once a year that I think by oneself?.

"We do not satisfy 99%. Only as for thinking that you should have done it this way a little more. Not only appearance but also functional thing is important. Does person who made return to result as repeater once? As artificial limb is not work of art, people use and are how much"

 We make artificial limb with love Kazuyoshi limb in model by contralateral hand of the person. Therefore there is no sense of incongruity along with other fingers really. Because silicon is processed thinly so that finger is transparent, joint with the living body just fits. By the way, we say that we take photograph of the face of user.

"Expression or atmosphere of the person exit on finger. So as to want there to be the neighbor all the time while we actually make. Only this seems to suffer even from a minimum for around one month to make precise thing, but seems to finish here in a total of eight hours for three days.

"We always find speed. We turn one in around three people to finish, but can pursue quality if it is possible early, and risk when we fail and remake is low. We can cut down on price if we make a lot, and, as a result, it is to benefit of user. Therefore it is always early and is early. We seem to play a game already every day. (laugh) which we think when we say today and played a game when day was over"

 Hayashi who totally plans improvement like athlete stoically. It is that "important one protects a pace" in serene tone.

"Long-distance running that work spends the life. We feel dizzy and do not have in one's youth when we stay overnight and have worked, but do on around 3rd (laugh). Then good thing was not made and, as a result, learned thing that became inefficient. We return early now as busy time. We raise morning hourly wage and recommend employee to come early in the morning than we work overtime, too"


---

All for person seeking that
There is not meaning even if we can make one oneself

 In space where user where flower and green are displayed in many places in the company and are tense from distant place is easy to be relaxed. Only as for the tree of Benjamin that plant was favorite Hayashi, but it grew up together since childhood to take care. In addition, we leave care to employee.

"Plant dies when we do not take care. If work becomes busy, we come to have no feeling to spare, and nobody changes water of flower. Water is muddy, and flower dies. That is reflected on form if we have no feeling to spare. Clank clank comes out. It is wonderful invention that it is said in the workplace which does not make plant just decoration saying product does not have either, and feeling of strain is born!

 There is other invention. What there was easel-shaped big paper beside work desk of Hayashi, and noticed and having been worried by illustration closely! Passerby can look in employee to share information in office and can see retroactively to the past.

As "oneself disappeared, we are in trouble without being able to make. Therefore we hold out all the knowledge. We accept ascetic practices of other artificial limbs person if there are any requests because we do not intend to make trade secrets. We have you learn way for approximately one year and have you bring in company. As we increase share little by little, want to stimulate the industry. We want to give level of the whole industry for user"

"Only in but we observed the artificial limb production spot of all parts of the world Japan and U.K. in what make thing to here. As this is not because we cannot make, and bought thing varies according to countries. In Japan, thing to buy varies according to users. We lose finger, and person that day is not long thinks, "we want you to put back". In person who lived for inborn character characteristics and dozens of years with there not being finger as though "do not mind, the circumference minds oneself…We often make with reason called ". I make thing which the person seeks even if I make whichever. That is all"

"Actually world where there does not need to be this Hayashi who talks most." The backside of severe posture was full of consideration for seeking artificial limbs.

(April 1, 2014)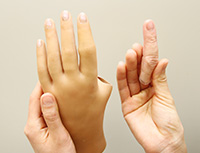 In love Kazuyoshi limb Seisakusho
Artificial limb (the photograph right) which was made.
In comparison with the left ready-made article,
Feel of a material, wrinkle, color of nail
It entirely turns out that it is different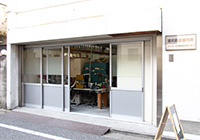 The appearance of love Kazuyoshi limb Seisakusho.
User is easy to enter
yoni signboard is modest daringly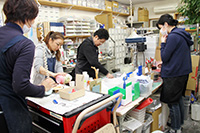 Work scenery.
At the time of founding of the middle
There was only work top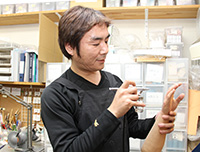 It is airbrush on artificial limb
We seem to color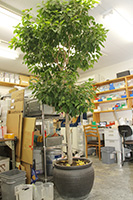 We bring up since the age of 10 years old
Benjamin.
In Hayashi and alteregoism,
After the Great East Japan Earthquake,
When work broke off
All the leaves seemed to fall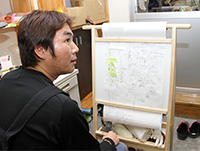 Easel-shaped notebook.
Small character and picture closely
We are written in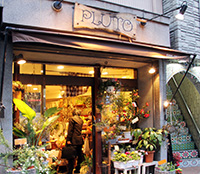 It is at the Ekoda Station south exit
Flower shop "PLUTO."
Favorite of Hayashi.
We have the workplace deliver with one a week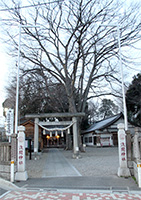 Favorite place is Asama Shrine.
Go out the Ekoda Station north exit
It is in immediate place
Profile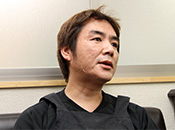 Shintaro Hayashi
It was born in 1974. We are from Ageo-shi, Saitama. Drawing and manual art dismantled game console proudly for the child era, and curiosity was strong, too. After the graduation from high school, we wander part-time job from place to place without way faster being found, and part-time jobber experiences, too. We think that it is, "I made and will be better" on seeing artificial limb for the first time and advance to the way in technical school which went for visit. We acquire national qualification of artificial limb harness person and we find a job in well-established artificial limb production company and learn technique. We become independent in 2003 and establish love Kazuyoshi limb Seisakusho in Sakae-machi, Nerima-ku. We sent product which we developed originally in the artificial limb industry where one company occupied 95% of shares out in the life and opened vent in the industry. The state is broadcasted in program "professionals" of NHK in this January, and more than 100 telephone orders enter on the next day and are buried because of reservation for half a year now to point. We like unparalleled plant and grasp all whether when and where sprout of Benjamin placed in workshop appeared and may compete for growth of leaf and speed of own job. Place favorite in Nerima "Asama Shrine" of Kotake-machi with big tree. New Year's visit to a Shinto shrine of New Year holidays of this year climbs Mt.Fuji-shaped mound with employee. It is father of three children in private.

Love Kazuyoshi limb Seisakusho