#Daddy 091 Nerima fathers playing an active role in child-raising project (work out daddy) representative


Kenya Mori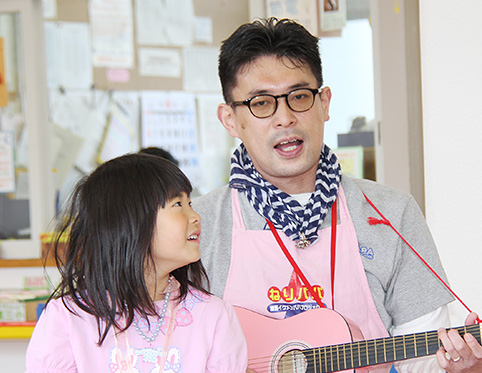 Work human being is makeover for father playing an active role in child-raising!
After buying house for Nerima at turning point…
 Daddy group of Nerima works out; daddy! We participate in various events and hold "we do Nerima in the best child care area in Japan" since organization of 2010 in motto. Representative, Kenya Mori usually works as office worker energetically.
"Originally kino salesman who loves work, and likes number University. They were particular about the first, and therefore both overtime work and vigil did anything (laugh). We are not awakened to childcare for a while even after the eldest daughter is born…. (wry smile) that was husband who said to wife, "you may all work housework childcare if you could do it"
 At first, it was not "father playing an active role in child-raising"…. It was slightly unexpected, but it was after it moved in Nerima that turning point came to Mori.
When "you buy house and thought whether you live here until you die, come to want to do local action. When after having quitted work, one is alone lacking at time to die (laugh). Therefore we met daddy of
father ring Japan
"
 Mori who was detonated by contact by group of idea that we will enjoy that it is father. We change job and change way of working and come to return at the appointed hour and hand opens and does housework childcare…We traded this little by little.
"We worked as a lot of quarrels with wife (laugh). But wife changed only after oneself changing. As though we are not changed, another person can change oneself! As a result,
Mori who laughs joyfully saying a lot of smiles of family came to be seen
. But therefore we emphasize that it is important for understanding of the workplace.
When it is when "we cook rice every day", with "desktop as photograph of child, we tell casually and. The boss understands "very much" if we convey circumstances properly. When wife became pregnant in later-born, "we did not consider that there was not me died and said with ... as parents were far" and took maternity leave for two months. It is point here, to say humorously" (laugh)
 When even if work overtime even if return at the appointed hour, achievements and success in life speed do not change; Mori. On the other hand, we devise so that trouble is not reflected on duties and do not miss that we make the attention. Gentle daddy who laughed with a smile was "able man"!
---
In making child "person from area"
In big mission
 See now in many places of event of Nerima, work out; activity of daddy. Do you think that you are very busy?
"Life work parades and "calls daddy balance". We work out and are apt to neglect just family as daddy is fun. But so that that stops. Family is absolutely the center with child!"
 Big; was organized, but seem to keep in mind "loosely well". We call each other by nickname, and honorific is prohibited. We usually compare notes in mailing list.
"We introduce convenient household appliances and talk about trouble of childcare and announce what you gave wife with gift in return of Valentine and. When photograph which formed luxurious rice arrives, "I will do more housework, too!" This is detonated by contact. It is great if we make "destruction by fire"! " (laugh)
 Does emulousness only by man make father playing an active role in child-raising father playing an active role in child-raising more?…? He/she talked about charm when we heard from koshiko of wife saying "the parents' house was far, and acquaintance was not in area, but we worked out, and friends increased in daddies and local naturally was able to melt into".
 In addition, we did not seem to be timid while the shy eldest daughter worked out, and she played with various children in daddies. When we sang at picture book live that we reported on in front of all and danced, we made an outstanding performance.
It "is one of the big missions that makes child "person from area". When it is happy as parent if we work out, and children make friends in daddies and become able to confide trouble"
 In point of activity, we always fix our eyes on the future of children.
(May 1, 2014)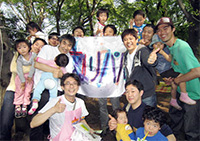 In play park of Shakujii Park.
Work out; about 70 daddy members
It is wide with 28-51 years old.
As for the main, is in the 40s; is in the prime!
(photo courtesy works out daddy)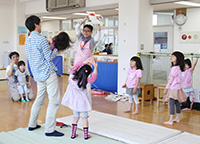 Each local member plays a key role,
With once a month, 10 children building
We hold picture book live.
Coverage day is Sakaemachi child building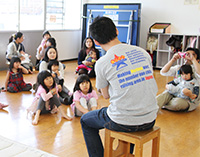 For story-telling of daddy
We are crazy about in parent and child!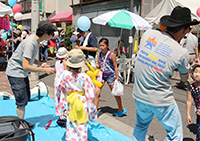 Even as for the event of mall
Follow Mike; and picture book live!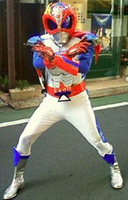 We worked out, and daddy gave birth
New hero of Nerima
nerimakkusu!
(photo courtesy works out daddy)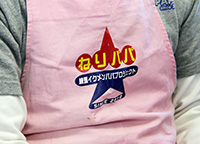 With apron with logo
Gray T-shirt
Trademark!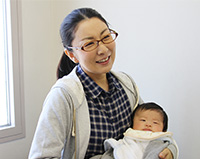 We just gave birth to the eldest son
Wife, koshiko
Under the present, parental leave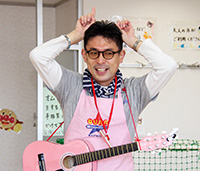 Knead ukulele; daddy
We seemed to learn after we began.
Brightness of Mori
We heap up venue!
Profile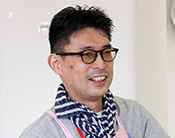 Kenya Mori
It was born in Osaka for 1,973 years and is living in Oizumigakuen. After the pro-computer graduation from university to salesman. koshiko and marriage of the workplace same at 30 years old. Was transfer group, but is summoned to the head office in 2008, to administration proceed, and change the job to the engine. Eldest son, Akito is born in eldest daughter, Aiki, 2014 in 2008. With volunteer whom we met in nerima child care network in 2010, we work out and raise daddy. Activity contents take care of their baby: Picture book live and play park, ikuji: nerima father playing an active role in child-raising course, ikuji: Three pillars to open a store to local event. It is taken up by various media and wins the sixth Yomiuri child care cheering party award prize for encouragement. "Child" of Monjayaki, okonomiyaki of Oizumigakuen where master is member in the favorite shop in Nerima.

Work out; daddy