#092 Takada sports shop storekeeper/former soccer international umpire


Shizuo Takada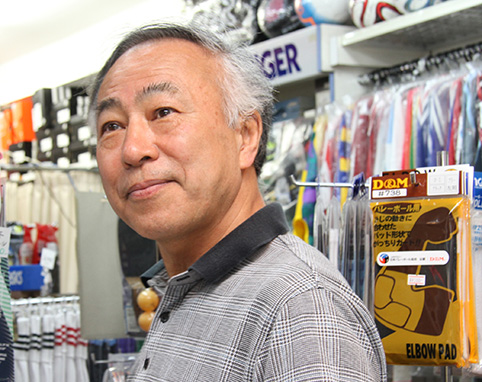 Nature necessary for umpire,
With calmness, patience, prompt decision prompt decision power…

 2014 FIFA World Cup is finally started in June! We called at Shizuo Takada who acted as the Japanese first referee at meeting in Mexico in 1986 about umpire of deep soccer.

"Only as for three as for the Asian frame among umpires of 32 world at meeting in Mexico. When it was chosen, I was surprised at the Football Association, too. It was participation in late 30s of peak for umpire, but there is the language barrier, too and cannot be familiar with world atmosphere…We realized that it was narrow-minded person. We could feel relieved at the next meeting in Italy a little and played a game that we could understand"

 We watch soccer, and is there few that we are conscious of umpire? But Takada says that it is such an "umpire whom umpire who does not attract attention is good" for.

When "player does not mind umpire and is in love for game intensively, we feel, "do not do well" when we carry smoothly without flow of game breaking off. To that end, consistency of judgment that let one game go through is important"

"Calmness and patience, self-control that nature necessary for umpire becomes ka in words of player and does not retort. There are many umpires making routine to settle feeling on before game. (laugh) which ate Japanese green tea and cake in the case of me"

 Prompt decision prompt decision power of instant to give judgment is demanded. Communicative competence by gesture and conversation being unexpectedly important.

If "we are gentlemanly and explain, we are gentlemanly and affect player who does not go to assent for judgment. Though selection of words precise briefly is very difficult"

 Calm Takada, the mildness seemed to match negative aspect in foreign country.

If "there are not strong feeling and faith, you are not fit for umpire. We showed smile during game, but noticed on seeing overseas umpire when it sometimes turned own manner and expression strictly, and it was important to tell by strong words"

"Game is over and may be troubled. Existence of friend and senior whom what are saved in such a case gives advice. There is workshop, too, and fellow feeling is strong"

---
Thanks and evaluation from players
We cleared way to World Cup
"Teacher of advisor of Oizumi Junior High School is earnest at all at first, and have me show valuable picture of foreign countries after starting soccer. It became tricot after we knew that soccer led to the world"

 After play in Yomiuri F.C. at 26 years old to way of umpire. But that we intended to stop first!

As for "being criticized by side that lost, and we were terrible having been sometimes made an absurd remark. Oneself was just on unripe plane if we thought…. Still player came to understand flute when good referingu came to be made while we continued. After the game, could get words of "thank you", and was glad that was said, "was good today" from anyone other than the person concerned with judgment;

 Evaluation matched such thanks and was connected to qualification of international umpire and the World Cup. On the other hand, umpire who runs one game 12km is essential for physical strength. It was busy days to work hard at training after the closing time at the time when we wore sports shop and two pairs of straw sandals.

 And, in 1993, J League starts. Soccer environment of Japan was strange moment completely.

As "there were many umpire companions with overseas experience, we were not overawed by atmosphere of the audience of 30,000-100,000 either. After all, experience is important"

 Takada who retired by trouble of knee regrettably in 1994. We deal with developing upbringing now.

Not only "player but also environment that surrounded umpire was improved. But it understand feeling of player that, at first, I instruct. If it understands that, it can predict direction of play, and this is because it can prevent useless foul"

 We know feeling of player simply because oneself was player. There seem to be many young people to be umpire, too, but experience as player says with indispensability early now.

"We are looking forward to the World Cup. But we check umpire carelessly (laugh). Japanese umpires are levels that are high in the world!"

 Let's support Japanese umpire with player by all means!

(June 2, 2014)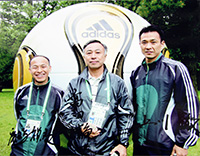 Takada (the center),
In situation judging umpire now.
We concentrate power on developing upbringing
(photo courtesy: Takada)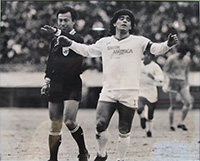 Maradona
With superb players
The international umpire era whom we ran through
(photo courtesy: Takada)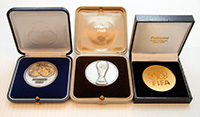 We acted as the Japanese first referee
Memorable World Cup ・
Medal (the center) of meeting in Mexico
We are proud of history of 1953
Takada sports shop.
In 2013, current address
We moved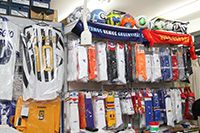 Baseball, soccer article
Sports shop that we centered on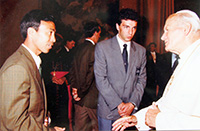 As for having had an audience with with the Pope.
Soccer, after all
It is world competition!
(photo courtesy: Takada)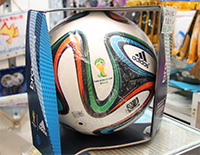 The 2014 World Cup
As for the formal meeting ball
It hits the shelves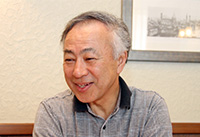 In gentle demeanor
Dignified appearance.
We experienced world big stage
We feel dignified presence!
Profile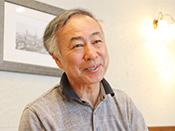 Shizuo Takada
It was born in 1947. In Higashioizumi, we are brought up as the youngest child of four brothers. It was baseball boy, but begins soccer under the influence of older brother originally. We are a graduate from municipal Oizumi Junior High School, Shakujii High School, Tokyo Univ. of Education (existing Univ. of Tsukuba). We play as MF of Yomiuri F.C. while helping with sports shop of the parents' house. For days to go from Oizumi to YOMIURI LAND. We are invited by senior of university and acquire qualification of the umpire fourth grade at the age of 26. We become international umpire in 1,984 years (37 years old). In the same year, we select as the referee of the Asian Games final. Therefore we receive high evaluation and act as the Japanese's first referee by World Cup Mexico Games in 1986. Participation consecutive for 1,990 years for World Cup Italy Games. We are in charge of a large number of games until retirement of 1994 at home and abroad. We win FIFA umpire special prize in J League best umpire Prize, 1996 in 1993. We achieve the tenth Japan soccer induction into the Hall of Fame in 2013. We deal with developing instruction now while running Takada sports shop with mother, the second son. It is still active player enjoying play by local father team. Shop favorite in Nerima "Italian food karudo" of Higashioizumi. Row of cherry blossom trees of Gakuencho where favorite place was born and raised. In one's own book "there is "wise decision" that man who can do it learns from soccer umpire who can read air.

Takada sports shop
Football Association of Japan profile