#094 comic artists


Tetsuya Chiba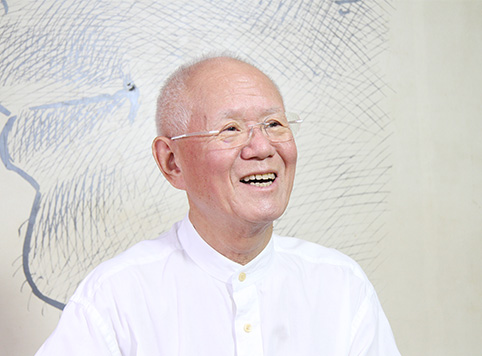 Become comic artist, and is of quite a recent date; to Nerima
We poured all energy and created comics
 Display that is held in
Nerima Art Museum
until September 21, 2014 100 or more by "times exhibition of tomorrow's Joe" with information recalling those days as for the original picture of Mr. Tetsuya Chiba. In fact, doing display in art museum for the first time. We heard story from Chiba teacher who liked describing painting since childhood.
While it "was objected to mother, we continued writing comics. It made its debut as comic artist at 17 years old, and it decided with only at the age of restroom and rice and bath to leave room to concentrate on comics in those days. Therefore become stupid…. When we were at a loss for work, we couldn't but already tear head"
 It is recommended to editor, and, after the graduation from high school, it is moved to Nerima-ku by Sumida-ku. Thereafter it is Nerima inhabitant of a ward all the time!
"We went down embankment of the grass and, in Nerima, in the circumference, were touched splash in Daikonhatake and kaleyard, the Shakujii River with foot from now on in land. There was a lot of nature and liked. It was very stouthearted that senior comic artists such as Osamu Tezuka and Noboru Baba lived near as comic artist was lonely work"
 "Tomorrow's Joe" who was famous at a stretch, and what did hung the name of Chiba teacher in the 1970s from the late 1960s while widened width, and was published serially from girls' comic in boys' comic, young man comics with "weekly publication Shonen Magazine" (the Asao Takamori original). Joe's way of life arose sympathy from most, and rival passed away, funeral of Toru Chikaraishi were actually held in products. It is Shuji Terayama of dramatist that played key role. We recalled various social phenomena with end deeply with the times.
When "serialization began, there was force in the rapid economic growth period. Conversely, I came to create comics, and fatigue was peak in the 18th year (laugh). Probably because it almost goes down in room in irregular life, and basket "is good from TV and radio in same Japan!" while we have News such as campus disputes that said this entered. We look back toward those days saying we worked in spite of being feeling when the Japanese whole includes vigor.
---
The past, the future, space, person and person…
Comics fit the go-between
 We have lecture at university, and Chiba teacher having wide constituency says, "we want you to be existence to read comics, and to be relaxed" with kind look.
"It is hard study, work, child care, to live and is tired. Therefore we read comics in such a case and want you to get well. We reflect in figure which character tries hard well by oneself and sometimes have a crush on hero and. We read comics and are healed and are relieved. So we are glad if we have you think, "let's do our best again"
"Comics were in the world, but there was unique culture that read book happily even if we consisted of the old days of the Edo era to adult including illustrated storybook in yellow covers in Japan. There are a lot of genres now, too. We can see living of old person by comics and can take a trip to space like Reiji Matsumoto. There is person showing the future world like Osamu Tezuka. Expressway where Tezuka was drawn 50 years ago is just like it now. We think that what would happen (laugh) in head of that person"
We listen attentively to charm of comics that this is talked about with eyes which shined like boy in sequence unintentionally.
 Chiba teacher with withdrawal experience from Manchurian conveys reality of war in history; work.
"The beginning "did what among friends of the same generation on August 15" We told, "we were hungry at that time" and began "August 15 exhibition" when "let's leave with that as picture"
 Mr. Chiba that "August 15 exhibition" in domestic each place is held in China from 2009 from 2003, and feels more than expected response.
When "air raid or atomic bomb might be hot, which "child who was hungry in Japan ached" "Chinese children is surprised at Japan". Then war is what. When all the victims became victim, assailant noticed, too and we said very much and were able to interchange. We want to regard such a thing as important from now on"
 There is power that border transcends in the times in comics which mind dwells in. The world of "tomorrow's Joe" who already became a part of the history. It is powerful and wants to be keenly aware of power of comics of loving Chiba teacher!
(August 1, 2014)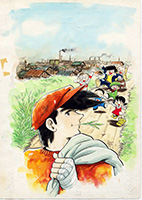 The "tomorrow's Joe" door painting original picture
("weekly Shonen Magazine"
April 9, 1972 issue)
Tetsuya Chiba production storehouse
© Asao Takamori, Tetsuya Chiba/Kodansha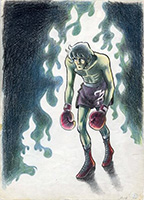 The "tomorrow's Joe" door painting original picture ("weekly Shonen Magazine"
February 8, 1970 issue)
Tetsuya Chiba production storehouse
© Asao Takamori, Tetsuya Chiba/Kodansha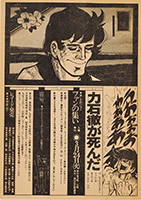 "Toru Chikaraishi funeral service" flyer
1970 Terayama world storehouse
© Asao Takamori, Tetsuya Chiba/Kodansha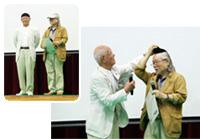 In animation project in Oizumi 2014
With held Mr. Reiji Matsumoto
Talk show.
We change hats and appear
In the playful one scene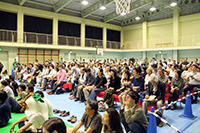 In gymnasium of Oizumi Elementary School
The former fan who flocked!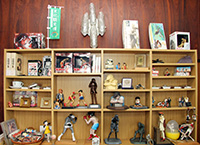 In visitor's room of coverage place
Treasure figure skating forms a line
Of tomorrow's Joe
As for the figure skating of the scene remaining in the mind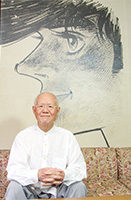 "Human man's way of life
To say, we described,
We feel soul of teacher from comics!
Profile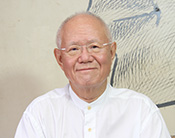 Tetsuya Chiba
We are born in Sumida-ku in 1939. We go over to Manchurian at 2 years old and return home after the end of the war. It is participation to comics coterie magazine whom we like describing painting since childhood, and friend makes in the days of primary schoolchild in 1950. We apply for recruitment of comic artists judging from advertisement and make our debut with book work at the age of 16 in 1956. Thereafter we continue announcing comics of juvenile energetically, and "whirlwind of Harris" is made monochrome animation in 1965. We publish serially, and "tomorrow's Joe" said to be the postwar largest hit product in 1968 (the Asao Takamori original) starts. We spark many social phenomena and make into anime and are filmized, and we have been just loved more than 40 years by many people. We take office as professor of Bunsei University of Art of Utsunomiya from 2005. We act as the director of Japan Cartoonist Association from July, 2012. The secret of health move body. Full local tennis court natural in the place most favorite in Nerima! We enjoy tennis with the solar cause, friend with all one's might.

Tetsuya Chiba official site
Formal blog "guzutetsu diary"