#098 animation supervision, director


Ishiguro Kyohei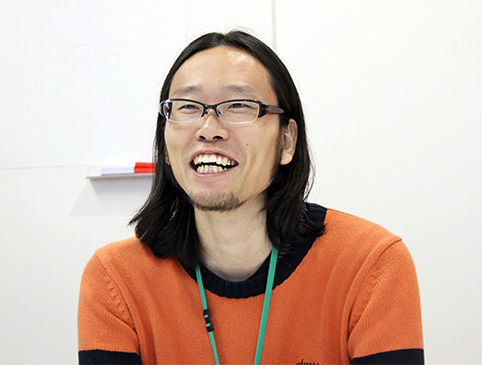 How do you convey charm of the original?
We want to make memorable animation
 In "April, we add your lie" to fun of story, height of quality of animation, and it is the stage scenery that we got used to in Nerima-ku TV animation that broadcast began in October, and it is in topic. We heard story from Ishiguro Kyohei who acted as supervisor.
Director Ishiguro to "be thinking only about it how you can express charm of the original." Boy of former genius pianist who was not able to play piano after we lose mother meets girl of violinist who is freewheelingness, and outline faces to piano again. The 14-year-old world that friends weave centering on the two is fresh and young, and it is described.
"Heart rustles and we think that we want you to start running and prepare into young people. Story of romance comes out, but it is part of "love" of romance that is in this work. Impression that we fall in love so badly and long for. Therefore we care about sense of distance to rise of character not to become direction like life either"
 Even if adult sees the 14-year-old world to go along in vivid picture and music, we see and endure, and anyone is enough. Particularly, we have a feeling that they live in totally own closeness because Nerima-ku comes up in the background.
"That scene that is town actually takes photograph and makes that picture, but we considerably describe up to the details and are crowded. For example, we are glad when we went to Nerima Cultural Center if we have you feel that it is when "it is like that and played the violin here"
"We were very thankful for cooperative stances such as Nerima-ku and SEIBU Railway, hospital on making into anime. Nerima-ku is a lot of studios of TOEI and animation and can say animation with one of "local industry", too. Thus, we think that reality was kept more"
 Director Ishiguro says, reason to be particular about reality to here "is animation".
With "thing which does not exist in the world, showing thinks that there is much surprise aruyoni. We have you concentrate on story by making animation and see. As a result, we think that we may have you feel work to be deeper"
---
You are not fit only by animation…
There is not color; want to be supervised
It is Director talking Ishiguro, but we are devoted to music from baseball, high school to university for the junior high school era and do not seem to stop when it comes to music saying "we thought animation to be cool on seeing Evangelion for the first time when we are in the third year of junior high school" (laugh).
As "it was show-off, we ran band in college student days and did plan of music event. (laugh) which thought that we might make interesting animation if we were made to reflect experience and sense of values, and found work in sunrise for producer, but did not know how you made animation until you worked"
"We want people toward the spot of animation of you to increase, but probably human being of side to direct like me is not fit for animation in all. Of course we think that you should experience various things though you cannot do it if you do not like animation"
"April supervision work first as for your lie" for Director Ishiguro. It takes 3 or 4 months to make one episode, and the staff concerned with complicated process will provide 70 or more.
"Direction that we think about character of rearranging and character of scenario. As we will give instructions at every stage including each picture, voice and music, there are quite many work loads. There was relative doing patissier, but heard that what thought about recipe not cooking cake worked. We feel that oneself is the same as that"
 Pushed guaranty saying "this thought that it was in work to certainly remember, and supervision oneself is to be great at the end of the interview when saw till the last!"; "your lie is all 22 episodes by broadcast until March, 2015 in April". We want to make sure of new memory being carved with for history of animation of Nerima!
(December 2, 2014)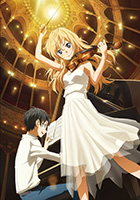 TV animation "your lie in April" every Thursday 25:20 - Fuji TV "noitaminA" We are broadcasting in others! (*)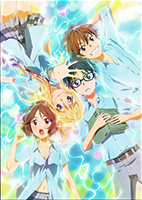 Their 14 years old youth Is work clogged up; (*)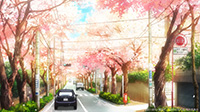 Photograph was described for the cause Of Oizumigakuen-dori St. Scenery (*) of row of cherry blossom trees *…Three pieces mentioned above are photo courtesy © Naoji Shinkawa, Kodansha/ Of "you in April lie" production Committee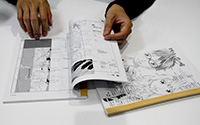 For each one episode of one Scenario, storyboard. Animation is produced to the cost in this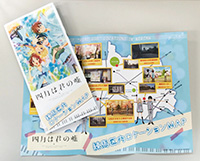 Of published by Nerima-ku Tourism Association "Location MAP in ward" Place that was used in animation We introduce.
Distribution place is this place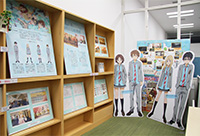 "Coconeri" the third floor At industry, sightseeing information corner, Board of character We introduce work by panel display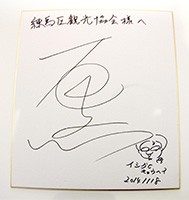 Signature of Ishiguro. When we did band of student It seemed to be already thought (laugh)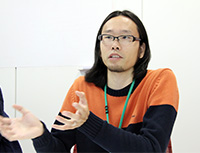 Director Ishiguro that style of reciting that it "is ideal that the finish is entirely different though it is the same supervisor than we have own color", and is clever is impressive. The next work is a pleasure, too!
Profile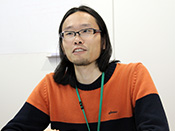 Ishiguro Kyohei
It was born in 1980. Native place moves to Nerima-ku taking the opportunity of Hadano-shi, Kanagawa, marriage. For the childhood period, we are brought up on seeing "brave man series" or "dragon ball". Junior high school fits in into lock of the 60s after baseball, high school student and is in charge of drum in band. We study bookkeeping in the department of commercial science for school days. In 2005, we enter animation production company "sunrise". We do not look at "Gundam" properly and still still wonder that we were able to enter the company. We turn into director in 2009 and we leave company in 2011 and are free. "The next monster" with "housing complex" deal with direction. In "April, we supervise by your lie" for the first time from October, 2014. Amiability Yukiko that wife who got married last year acts as character design with this work. As animation likes all two of them, it seems to often become nature and shoptalk in home. Place favorite in Nerima is Shakujii Park. Particularly, we like swinging around pond in season of cherry blossoms.

STUDIOCHOP
(Ishiguro Kyohei HP)