#Representative from 099 Tokyo wineries


Miwa Echigoya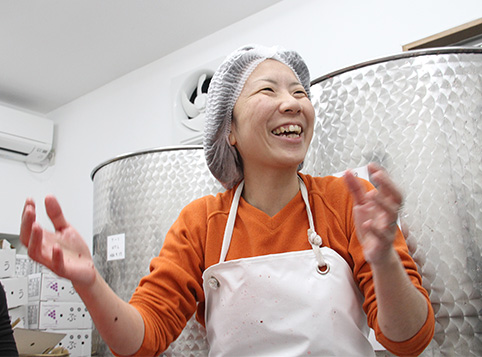 We love vegetables of Nerima!
We want to convey taste of vegetables with wine

 "Tokyo winery" which there was in residential area of Oizumigakuencho that became topic as the Tokyo's first winery. We visited winery at the climax promptly in the training season and heard story from Miwa Echigoya of the brewing person!

When "we did work of relation wholesale in Ota market, vegetables such as cabbage from Nerima were surprised to be delicious. At that time, know being grape farmers of Oizumi, and "want to do something together. It is opportunity for making wine that we want you to know taste of vegetables of Tokyo"

 Echigoya who made up the mind studies in Yamanashi and Hiroshima for two years and acquires wine production license in September, 2014. We raised "Tokyo winery".

 In small space that was paper round place, it produces authentic domestic wine originally. Sale started in October, too. Wine using grape "Takao" native to Tokyo is produced, too, and, as for this, for reservation is already sold out.

If "good grape has wine structure not technique. It is edible and is for wine, and point to be different in taste by grape is same. We are always thinking about how you can draw potential of each grape to the maximum"

 Echigoya to love to accept that we eat. Wine seems to boil the slightly dry finish to be able to taste with vegetables.

"Warm vegetables are recommended in winter. It is good, and Japanese wine is correct with miso and soy sauce unexpectedly just to wave salt. There are many small farmers in Nerima, but thinks that I am for labor and time, and it is possible for really delicious vegetables. From here, taste of vegetables wants to send with wine, too"


---

The happiest moment…
When we hear sound to be pop of yeast

Called but "character is reckless rush "hard carefully" okokorogaketeimasu as for the wine structure" management method of Echigoya is attention, too!

 We had we called for volunteer on Facebook each time, and the training with much heavy labor help and utilized "crowd funding" to recruit fund from a lot of supporters through net.

When "we told this plan to husband, "it is unreasonableness" This was said. But we had you understand if you explained careful plan. (laugh) which has husband lives in Nerima now and goes to Ota market of the workplace from here and help with wine structure on holiday"

 Despite urban winery, how to make is the same as normal wine. Besides, there is a lot of work to do by hand including bottle. With "one change of job woman…Echigoya who is taken a lot up with ""only winery in Tokyo" and newspaper or magazine, and attracts attention. Which wants to be concerned with wine structure when call for volunteer on Facebook want to support, and come to have a lot more application for a lot of, less than 30 minutes…I am amazed to learn because we say this!

 Day of coverage is work called "crush, joko" (jokou). We put grape in the machine and we turned steering wheel and crushed grape lightly and removed only axis and were day learned that we put fruit, skin of, kind that fell into bucket in the tank.

 We give instructions to two volunteers quickly and have a lot of brewing rooms with flavor and empty box of grape in no time. Echigoya tells, "teamwork is important as for this work", but, in fact, is the first meeting with two people. We feel strength rolling up the circumference in forward energy more and more!

 Think whether cannot readily taste impression to drink wine which made by oneself, but "fermenting time is the first enthusiast. We live when we hear sound to be pop from yeast, we think when pretty, we want to hear once.

 In store, we seem to intend to add space suggesting vegetable dishes matching wine from Tokyo in the future. Tokyo winery where there is only one, but many people are concerned with. Like vegetables, and vinosity gathers, is new; seem to be spotted!

(December 26, 2014)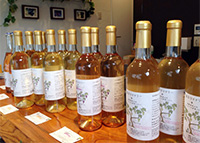 It is muddy, and type of wine changes by time including raw wine of slight foaming (photograph supply: Echigoya)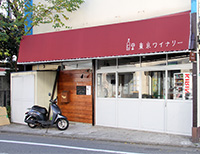 The "Tokyo winery" appearance. It is about 10 minutes on foot from the Oizumi-Gakuen Station north exit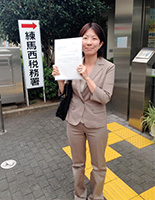 One piece of memory that received "wine brewing license notification." To person tinged with street We seemed to ask to take (laugh) (photograph supply: Echigoya)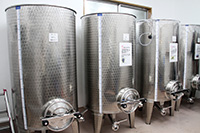 Shiny tank which forms a line in brewing room. Pour fruit juice of grape in this We let you ferment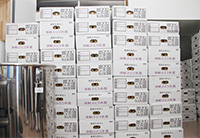 Of Aomori product awaiting the training Grape "suchuben." There is 1 ton!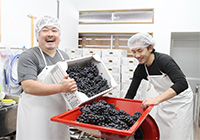 We rushed from Yokohama Volunteer. We fought with 1 ton of grape Look happy!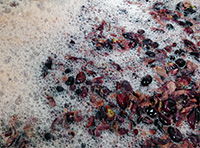 We seem to ferment if pop. Echigoya happiness A time to feel (photograph supply: Echigoya)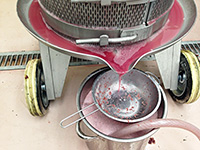 State of compression (photograph supply: Echigoya)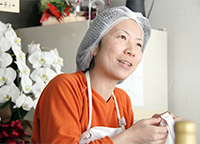 Skill is good, Work advances in an instant…. By openhearted personality of Echigoya A person's ring spreads
Profile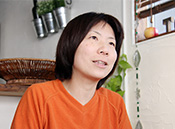 Miwa Echigoya
It was born in 1976 and is from Yokohama-shi. Representative of HORIGO Tokyo winery. We are a graduate from Tamagawa University department of agriculture. We are highly concerned with understanding to agriculture so that it is said that we thought, "we want to become farmhouse" during attendance at school. After the graduation, we get job of relation wholesale of vegetables in Ota market. Therefore we make up our mind as we were attracted by having been surprised at sweetness of cabbage from Nerima, grape of "Takao". After the study for 2 years, we move to Nerima-ku in 2014 and, in September of the year, establish "Tokyo winery" in Oizumigakuencho. It is dream to spread to be able to call person inside and outside the ward as the place of dispatch of tosanto*! We perform sale with one woman from brewing, but we gather friends supporting in SNS, and a large number of people are concerned. There is not rest and "seems to want to go in Shakujii Park soon" after having come to Nerima.

Tokyo winery
Facebook