#101 roller skating figure skaters


Rieko Iwakata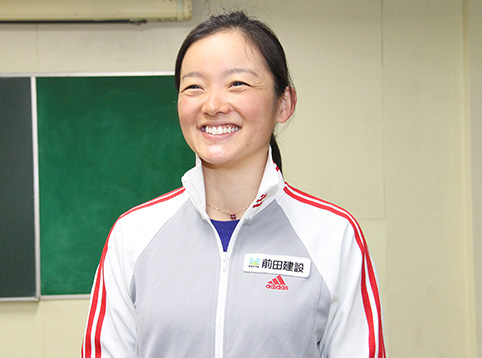 Roller skating figure skating
We want many people to know
 Rieko Iwakata of free skating all-Japan meeting champion of roller skating figure skating. It is strong man unrivaled now who continues updating consecutive championships. But ear is not so familiar…? It will be what kind of sports.
"It is for roller skating of figure skating to slip over ice if we easily say. Size of link is 25m *50m. It is slightly smaller than skating rink 30m *60m, but we use the area at the full blast and perform. There is world meeting, too. There are single, pair, item of dance, and there is compulsory figures to describe prescribed figure in skating if free in single"
 Can roller skates slip on beginner?
"Person who can walk is all right basically! It is easy that roller skate called kuwaddo gains four-wheeled tire and stands. But we fall down first and practice from as it is easy to fall down when we put center of gravity on heel. We become able to slip immediately if we strongly have feeling because we put on helmet and knee expectation without being afraid"
 Shape up effect seems to be able to expect that we look at Iwakata, too?
"Roller skating figure skating includes the rotary skill by exercise from head to foot, too, and abdominal muscle is forged. I ate well and liked liquor, too, but stomach has never appeared (laugh). We think that the next day when even young person practiced surely becomes muscular pain"
 Participating should increase to and competition to enjoy roller skating in future.
"There is little number of player and coaches in the current situation and feels that exercise place is not enough above all. Roller rink is only several in Tokyo other than Nerima synthesis gymnasium. In "Nerima Arty stick roller club" which mother coaches, there is championship class, and I am sometimes hard on instruction, too;
 Iwakata is with shining eyes when we want to give recognition of roller skating figure skating more.
---
We hate to lose and have a stubborn character…
Thought of repulsion and thanks to mother
"We were in the days of kindergarten student by mother and went to see world meeting of roller skating figure skating. Spangles which spilled out clothes of player dazzled and they were very beautiful and they picked up and gathered. Whether here was my turning point" (laugh)
 It was very childlike episode, but the roller skating life of Iwakata has begun to change from there. When we are in the first grade, we seem to still remember that roller rink was done in Nerima synthesis gymnasium of Tanihara well.
When "it be said, and it is said, "practice" from ogre coach (laugh), at the time of primary schoolchild, mother become dull adversely. It is exercise, and we are strict, and, on Saturday and Sunday, there is that we said, "we already stop" from morning many times without mercy every week. But as, in what did not do so, there were a lot of close friends. It was pleasant to meet by exercise"
 We win the championship at national convention at time in the third year of junior high school. We say that sense of accomplishment and satisfaction are not still forgotten.
"It was said that there was spring from experience of championship, or exercise became very fun"
 We achieve studying in the United States in high school days while we practice for higher level including spin and rotary jump.
"Originally English was favorite subject, but it was quite tough if we lived. It has days to do nothing but roller skating figure skating day in and day out, and it has first experience that coach except mother is accompanied. We think that it was period to reflect feelings to mother calmly while we feel open feeling"
 Jump good at is double axel. Triple Salchow that to turn the back, and what we challenge flings up in front of right leg and does triple jump. Your character explains, "we hate to lose and are stubborn", but may be important nature for athlete.
 National convention is held soon in Nerima synthesis gymnasium (cf. following). It is chance to be imminent, and to see force of refreshing smile and roller skating figure skating and beautiful performance in purity of Iwakata!
●
The 41st whole country free skating competition
 Saturday, March 28, 29th Sunday
 From 1:00 p.m. to sunset
 Nerima synthesis gymnasium roller rink
(1-7-5, Yahara, Nerima-ku)
(March 4, 2015)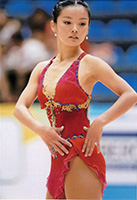 World championships-free competition short program ending (shooting: Raniero Corbelletti)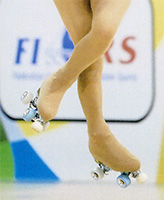 Of four of them called kuwaddo We play a game with roller skate (shooting: Raniero Corbelletti)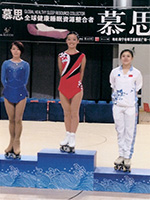 By championship in Asia, We win the championship at synthesis and compulsory figures! (photo courtesy: Iwakata)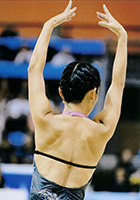 The flexible, powerful muscle beauty (shooting: Raniero Corbelletti)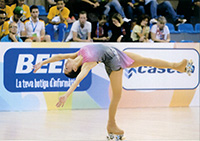 Bold move with high degree of difficulty! (shooting: Raniero Corbelletti)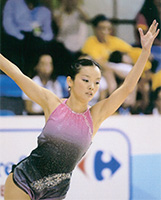 From the child era Most clothes are handmade articles of mother. As for the clothes of the photograph mentioned above! (shooting: Raniero Corbelletti)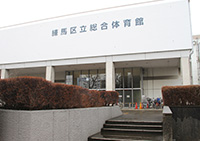 Nerima-ku synthesis gymnasium where we have continued going to since childhood. In the right hand depths roller rink There is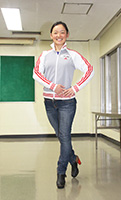 At the age of primary schoolchild to snacks Three cups of Mentaiko rice in no time! It is still with favorite dish
Profile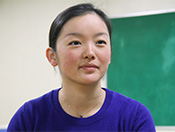 Rieko Iwakata
It was born in iwakatarieko 1987 and is living in Nerima-ku. We win the championship for 13 times of all-Japan roller skating figure skating championship 10 consecutive yearses. Nerima Arty stick roller club belonging. Family where leader, older brother of roller skating figure skating play an active part as roller skating hockey player as for the parents. We start exercise from the coach childhood period of parents. We study in Ohio, the United States for three years of high school. We work part-time now at acceptance duties of Nerima synthesis gymnasium and beer restaurant of local hotel. When fund accumulates, we go to Italy and the United States where roller skating figure skating is prosperous to take lesson once a year. Favorite place in Nerima-ku is row of cherry blossom trees along the Shakujii River. Mount Fuji to look at from that and intersection of Kasugacho. When looked big neatly, in nice feeling.