#102 sculptors, Nihon University art department art subject professor


Junichi Kurakake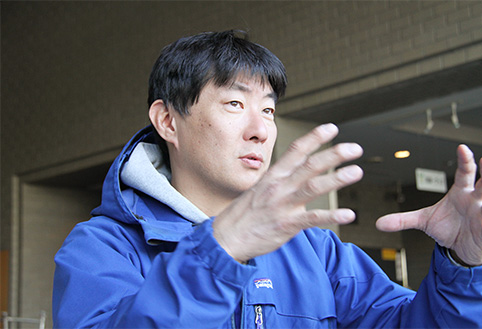 Green Park of Art is renewed
In colorful, pleasant space!
 "Green Park of Art" adjacent to
Nerima Art Museum
(Nakamurabashi Station 3-minute walk) is reopened on April 4, 2015. Sculptures of 20 kinds of 32 which featured the theme of animal are located. We took production conduct of Green Park of Art, and you heard talk from Junichi Kurakake of Nihon University art department art subject professor who was sculptor who dealt with most of sculptures, too.
While "anyone had toiu axis with barrier-free on green tract of land to be able to enjoy, we settled plan. We kept art object of fantastic animals in mind to give colorful, pleasant atmosphere and were particular about strength that children got on and might touch. Bronze, stainless steel, reinforced plastic vary, and material thinks that difference in feel of a material is interesting. We spread natural turf and rubber tip in the ground not to be hurt"
 Coverage day is just day of import of animals. While gorilla and elephant can hang by crane from track, it is installed in each post. Originality is filled with dog and tortoise, bold giraffe, all works which served as pretty mushrooms, bench.
"Huge bear welcomes with signboard of art museum, but it is evergreen plant called Tama Ryu that covers body. By having made the front entrance this time, upbound stairs to art museum became easy to find, too"
 Work of Kurakake called "moving thing" is placed in place where we have finished going up stairs. In this and Director Wakabayashi of Nerima Art Museum "comes on seeing many animals last thing which moves…Saying is animal called oneself, as for seemed to do philosophical implication saying was. As well as figure, it is beauty as we seem to be projected until heart.
During "setting construction, we did attendance many times, but we offered passer-by on this occasion if it was when "we seem to renew" and heard previous reputation. Everybody "is a pleasure!" uniformly Excited!" As he/she tells this, it becomes glad, and, "in fact, it is me that dealt with this work!" (laugh) which has often talked about this unintentionally"
 Everybody, please go out how 1,907 square meters of green tracts of land underwent a complete change by power of art. It is birth of new tourist attraction of Nerima-ku!
---
We like the town of Ekoda with art on day
Extracurricular class to village forest of Niigata…
 It was answer "town of Ekoda with day art that there was since 18 years old all the time" when we visited favorite place in Nerima. We seem to have gone through about 30 years in Ekoda until we are taught after experiencing assistant by student.
"It was provoked during this period by student and went to shop called "Ekoda party". In Ekoda, individual shop is gathered up compactly and seems to be just right.
 It is Kurakake who does not fall into model with easygoing taste, but says that we go to Niigata by car when we find few intervals when we ask how to spend holidays.
"Did you go several hundred times until now? When two of three own children were born, I was in Niigata (laugh). It is opportunity that there is "art festival of the earth" holding in Tokamachi-shi, Niigata and exhibited in 2006. We were with student otachio for two years and, for work production, went"
 "House shedding off the skin" which we announced there is magnificent art work by Kurakake and students. It seemed to become topic very much.
"It was idea to want to let building which became the ruins of heavy snowfall area shed off the skin by sculpture. Wall, floor, pillar, beam, stairs, ceiling of house of about 150 years old carved indoor everywhere with chisel steadily, and they were crowded"
 Heart came to be gradually connected with people of village forest, and people coexisted with nature and seemed to feel "the richness" of human being living on minimum thing from experience.
"What should I do that human being is human and lives happily in the world that technique goes ahead through?…. We want to tell that we had own experience to people of the circumference"
 Let alone class in university, we touch someone's loving place across frame of art in extracurricular class of Kurakake.
(April 1, 2015)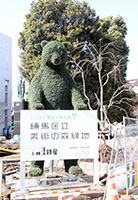 Work which Kurakake dealt with There is huge bear at entrance! (we install at the time of coverage and are constructing)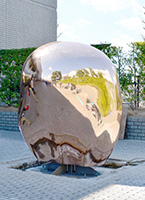 Work "thing which moves" of Kurakake (during setting construction) (photo courtesy: Kurakake)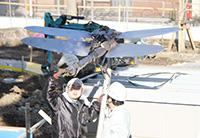 Of stairs of Nerima Art Museum Sculpture of dragonfly in both sides Work of Shoji Uchiyama Akira of assistant (we install at the time of coverage and are constructing)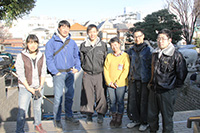 We make works in metal atelier of art on day (photo courtesy: Kurakake)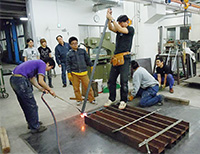 "Family which makes self-renewal," The building is art work. It becomes farmhouse guest house now (photo courtesy: Kurakake)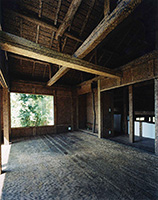 Without fence with student, At any age with "elder brother" We want to love (photo courtesy: Kurakake)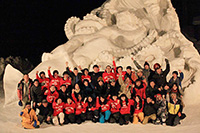 He/she said, "we lay emphasis on activity of art and Tanada preservation of Niigata" hot
Profile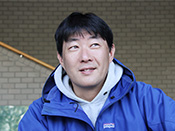 Junichi Kurakake
It was born in Tokyo for kurakakejunichi 1,967 years. We are interested in art under the influence of father who is painter and select course as summer in the third year of high school. It remains as subject assistant after art art research institute completion on day in Nihon University art department (afterward, day art) sculpture specialty entrance to school, 1992 in 1986 and teaches art art subject after experiencing lecturers now on day. We feel charm in warmth being born by adding hand to industrial products called iron and deal with sculpture with iron mainly. We announce work by private exhibition and group exhibition energetically from the time in its twenties. It is opportunity to have exhibited at "geijutsusaietsugosaiyu art Triennale of the earth" for the first time in 2006 and continues interchange with Tokamachi-shi, Niigata including activity to store Tanada.

Nihon University art department