#Singer-songwriter who sings 104 Nerima


Osamu Tani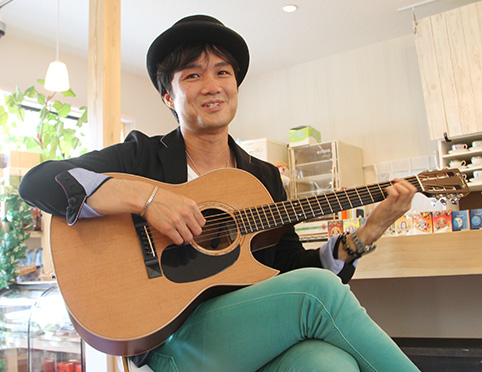 Nerima where I think, "we came home"
Town which can be sent back to oneself natural

 It is in great demand by event of various places throughout Nerima now! Osamu Tani who brings about musical piece about Nerima in catch phrase in "we sing Nerima". It was just ten years ago that we came over to Nerima from Osaka.

"We absolutely succeed!" Although we made a foray, we do not cry and do not fly in this Tokyo (wry smile). Then we listen to 2011 when six years passed, "Senkawa Street" if we sing in live house along Senkawa street while closing eyes, and remembering scene. We made what we felt as human being who came from the outside song obediently, but notice when you should have to know listen to scenery" and

 Therefore days of sales people who distribute sample CD to shop in ward by oneself, and walk. Start from Ekoda, and gradually toward the west. It seemed to take one year until it was called out for the first time "is it Osamu Tani?" and realized that it penetrated.

While "you go many times as there are many shops of personal management, come to hear circumstances of shop. On the contrary, I came to want to support"

 It is neriuta project to have begun there. It is plan to make song to the leading role at resident and place of Nerima including "mother who takes son to and from the Little League of Shakujii Park" "Musashino Academia Musicae before rebuilding". Above all, song of "Ekoda market" which closed curtain in the end of December, 2014 created a big sensation.

As "there were many people who do not know that Ekoda market disappears, it is song which we made with thought to want you to know. December 31, the last live in market had you gather toward the lot and had you shed tears. Through song, we roll up person and become local contribution. It was activity that root-like purpose of "neriuta" was able to achieve

 In the first place where in Nerima will Osamu Tani feel charm as he makes song?

"We are continuing looking for myself. Though it is not reason with something clear, it is easy to live for some reason. After all is it not "person"? Cold images walk Tokyo, but, in koto Nerima, there are my hometown and warmth not to change. We think of "which came back to be" home"


---

There is song which can make romanticist reason
As for the dream, Nerima Cultural Center is full!

 It was to be provoked in the days of high school with opportunity when we wanted to be way of music by close friend, and to have founded band. We make "sinking" though we form original band in university students and find a job as programmer. After having earned fund for one year, we started solo activity in earnest.

As "we decided if 100 people gathered by the autocrat live concert in Osaka to go to Tokyo and achieved the aim, we went to Tokyo"

 In this, we talked about strong-willed will, would there not be objection of family?

As "we did not want to worry yet at the age of Kamigyo, we had secret. If no three "making PV" "containing music for karaoke" come true, to say "debut" to parent. (laugh) which we were surprised at very much when we confided while being able to scratch own music by car"

 Osamu Tani is coach of tennis how! We still tell at tennis school of Tanihara. Athlete + musician has good parenthesis!

"It is switched on with stage and coat and can speak seawife seawife. We are shy and are usually bashful in front of strangers. Is easy to be depressed; and is instability and romanticist slightly. But we think that it is essential quality for artist that there are ups and downs of feelings. Because we can make it into song. Therefore (laugh) which we were depressed, and "lucky ♪" thinks of

 It may be this character reason to feel humanity for singing voice. Finally when we ask about dream in the future?

By "autocrat live, make small hall of Nerima Cultural Center the crowdedness. Coliseum is full someday, too! "terihime festival, Nerima festival, Osamu Tani Festival wants to come to be said to be three major festivals of Nerima". We relay from Nerima Cultural Center if we participate in Red and White Singing Contest! " (laugh)

 Song of Nerima supports the whole country to roar!

(June 3, 2015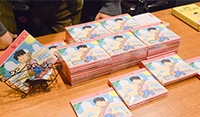 neriutano CD (*) that portrait illustration is mark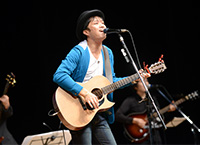 (*) that Nerima Cultural Center autocrat of 2014 looks live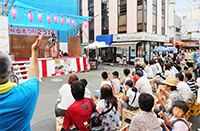 Stage by Sakuradai festival. From store's chairperson in ward Call bigakakaru popular person! (*)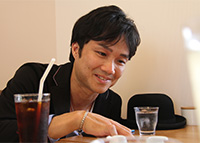 Musician to respect is Tadashi Otawa. "Well thought-out simplicity" But, it is with aim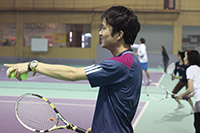 We act as coach Of Santo peer tennis park (*) which we sing theme song in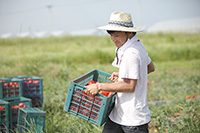 From 2012 approximately every month, In Watari-cho of Miyagi (*) which continues stricken area support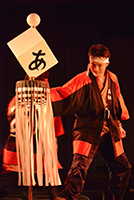 In 2013, Watari-cho The stage which we staged. Performance challenges although being inexperienced. Both performance and tennis digest song It is versatile artist! (*)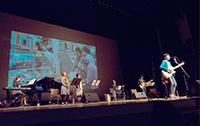 As for "the kneading on fire sentence live of 2015," 555 people are aims! On Saturday, October 31 Scheduled (*)
(*)…Photo courtesy: Osamu Tani
Profile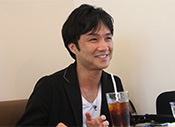 Osamu Tani
It was born in tanisyu 1977 and is from Toyonaka-shi, Osaka. We begin solo activity in 2002 in earnest including band in high school. 2005, Tokyo advance. It is Ekoda to have lived, and it gradually travels Nerima-ku to the west and lives in Oizumigakuen now first. In music about Nerima including "Senkawa Street" "Sakuradai Station stopover" "Tanihara intersection" in topic. Is invited to events such as Nerima family Festival, animation project in Oizumi, and sing, and as for various offers such as songwriting of "do biting mule nekohi (mew P) leading." We hold autocratic live in Nerima Cultural Center once a year. From thought to "want to make stronghold", we perform periodical live (from every month third Friday, 7:00 p.m.) in Sakuradai cafe eight. Miyagi performs stricken area support of Watari-cho. Hobby is Hanshin fan by baseball. We call ourselves "the strongest amateur" and go to batting center of Kasugacho. Like sweets, too, favorite in Nerima is royal tea with milk of cafe, torebon of Ekoda. We write a song well here.