#Representative from 105NPO corporation play native network


Naomi Nakagawa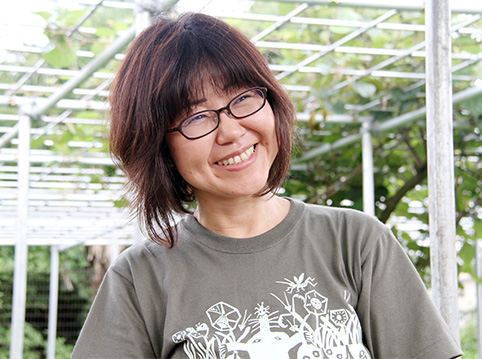 We learn power to live from play
For driving force present impression as mother

 Play park (adventure play ground) begins in metropolitan Hikarigaoka Park, and another 12 years. In the corner, children build a fire and climb a tree and dig hole and…Risky play bioo which is not made develops this in common park.

 "Play native network" where we work on to spread in administration and ward of play park. Popular name: We heard story from representative, Naomi Nakagawa of play native.

"We do difference between study and play who decides "frame". What does play do? Where do you do to? Child decides frame of this. It is connected for power to think about even if that is not ordered and idea that there is not of frame, imagination to spread forever"

 You should let you play at the full blast if you want to make child strong in true meaning smart.

"But, in the present town, there are few play places where we can want to send child to unlike the old days, and there is little that different age plays together. Therefore play is not handed down, too. For example, there is one of TV program "escape" to play so-called ogre, but 300 gather, and "it is the first time such a pleasant thing!" when we do that in play park There is child saying this"

 We are innocent, and idle pleasure is handed down from photograph of children. We asked about opportunity when Nakagawa began play park.

If "sons of primary schoolchild are that in those days because there was not place that witnesses figure which plays a game in park, and can make having been shock, "secret base!" Children play delight if we begin this. Sympathy of parent gathers. So "this is necessary absolutely now!" We thought of this"


---

Forest of child opened in April
Play ground converting together

 Forest of Nerima that opened in place of Hikawadai Station 10-minute walk in April, 2015 Ward child. It is park such as play park where there are muddy play or work during opening of the park. Play tank to run is consortium by three. Play native is one company, too.

"Place where forest of child is the most different from common public park wants to do such a play! Making with voice of children called this ", and turning, and being good". Is there change whenever we come? Professional staff, playreader of play are resident, and it is great thing that there is field"

 Nakagawa who bounces voice that we were excited about. Role of play native here fixes play environment while being concerned with parent and child, and select voice of local inhabitants.

If "there is anything, the person in charge of ward rushes immediately, too. Play tank and administration, children, local protectors, everybody…Park which we match wisdom with voice of, all and make is the whole country, but Nerima unusually thinks that it is in model case"

"Park is one of "town planning". "It is good!" of all local children playing with all one's might in the middle But, it is forest of child that suggests gathering such new "town planning""

 It was Nakagawa full of vitality, but big trouble disturbed physical condition after hands, the childbirth in puberty, and there seemed to be at hot time. Area does not isolate child care family. There are people and place to stay minding child as well as parent. We got such thought from your experience.

 Nakagawa who includes important thing in living while bringing up child, nature, area. From forest and play park of child, we hear cheerful voice of children today.

(July 10, 2015)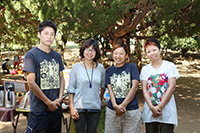 Staff of play native and playreader (*)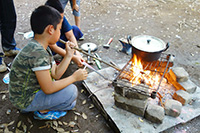 We enjoy open fire with friend in play park! (*)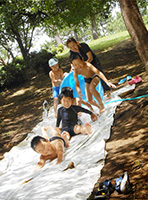 We used slope of park Natural slider! Children are smile (*) of the whole face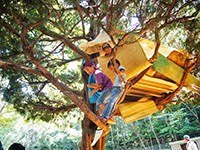 Eyeball of Hikarigaoka play park, the making of secret base on tree! (*)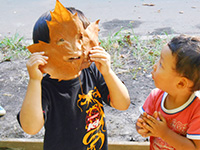 Nakagawa who was attracted by the richness of sensitivity of child. "It is interesting rather than child being pretty for me!" (*)…Photo courtesy: Play native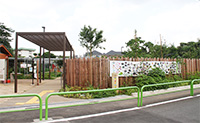 Forest of child in residential area. Touch soil and green, field, Charm big what can be idle freely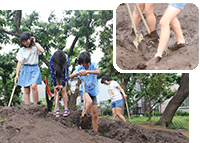 We dig child group, mud of woman of school return, and foot is muddy. We seem to play with all one's might, Somewhat cool!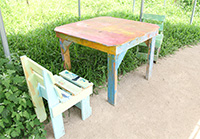 Chair of adult size that we made with children. It is point that is easy to move!
Profile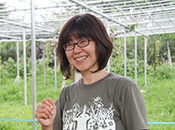 Naomi Nakagawa
Is Nakagawa; see, and was born in 1965. As university graduate, product manager of cosmetics company, we are engaged in plan, development. While we retire taking the opportunity of childbirth and do child care, we are worried about today's area problems that children are brought up and launch "play native network" in 2003 and begin Hikarigaoka hiroppa play park. In 2011 NPO corporation. We are given "offer business subsidy of Nerima-ku of place of outside play" in trust and spread play park in each place in ward. It is start in "ohisamapiyopiyo" supporting beginning the outside play parent and child of infants as Nerima-ku subsidy "offer business of outside play of ground" by April, 2015, administration of "forest of Nerima Ward child" in the trust same month. Hobby is cooking using vegetables of season. It is pleasure that buys fresh vegetables in unmanned direct sale place in edge of the eaves of farmhouse in ward as we do not have time to do dry field farming business now. One son is senior now.

NPO corporation play native network
Forest of Nerima Ward child