#106 boxing former Orient champions, sanhaku gym founder


Hitoshi Misako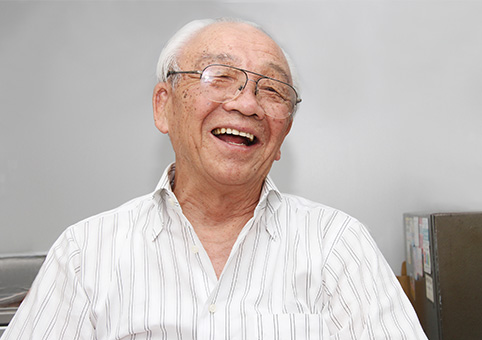 Being able to become champion
Child who can make an effort than motor nerves

 We hear energetic shout from stylish building fitted with glass from Tobu-Nerima Station for several minutes. Exercise scenery that overflowed in heat gets wide when we enter inside. It is one of the most boxing gyms which produced many each generation champions including that Koichi Wajima in Japan.

 sanhakushodaikaicho of 81 years old a year shines twice in seat of the Orient champion and is played an active part for a long time as leader and promoter. With hale and hearty state, he/she looked back on the life of turbulence.

Just after "end of the war in what began boxing. When kendo and the martial arts including judo were prohibited in policy of GHQ. There was excellent dojo studio in hometown of Ehime, and Mr. Noguchi who left Shanghai has begun to tell there boxing. As entertainment was the open time, 50-60 people gathered, too"

"It is pleasant that KO can make big older brothers of body into me by blow (laugh). "nanjai Colla" Further lower small-sized body, and aim at place producing chin by threat in this; and Gahn! We fell down with a slam when we did this"

 We seemed to send postcard of invitation to Misako of Ehime without trainees gathering though Mr. Noguchi who came back to Tokyo in 5 years after the war opened gym in Meguro because it was the meal berunogayattono times. "Do you not come to Tokyo because you make number one in Japan?."

 For curiosity to "be able to go to Tokyo" than boxing in 1950 straight to Tokyo! We stole out of class, and a lot of classmates came for seeing off. It was days to be up at 5:00 a.m., and to make a round trip to Meguro - Gotanda - Shinagawa - Osaki by roadwork while going to university until we became champion in 1,952 years.

"We all learned where was channel. As even water did not have to drink in my times, we do only ugai. But a little until we enter throat we just play ugai" (laugh)

 Misako who talks about trouble at the time in this brightly. We seemed to be desperate rather than "wanting to become number one in Japan" saying "we do not go if there was not absolutely".

In "thinking on seeing today's players, only child whom motor nerves have good do not make an effort. But, unlike amateur, professional is 12 rounds. It is momentum to talk in the latter half. Therefore child who makes an effort with straightness with awkwardness can become champion"


---

As for the thrill that defeats, or is defeated
It is fun of boxing

"After all, the gladdest one having become champion in the active play era" and Misako chewing well turn into leader after the retirement.

"It is really pleasant that player is gradually brought up and sees rising!"

 It brightens face in this. "After all, it answers immediately with Wajima" to remain in impression most while we brought up. Originally Wajima was engineering works worker who worked at construction company next to gym. We looked at gold medalist, Takao Sakurai of the Tokyo Olympics and had crowd of people in front of tasani gym, and there seemed to be sononakano one. What apply for boxer, and enrolled in normally thinks about retirement; at the age of 25.

At "construction site, legs should have had been considerably strengthened. If provide as it is said that want to go for new face war, beat, and there is no enemy in no time in the Orient, and to the world champion…. When we went to Haneda to meet, "thank you!" It is good memory that this was said"

 It is said that hungry mind is fun of boxing as having regained two times of seats of champion even if Wajima loses.

"Good game that defeats, or is defeated that is not poor. Rebellious spirit mind to revenge if we have stolen. Visitor enjoys the thrill. I was scared before game, too. To overcome that, exercise and strategy and "absolutely win! Only as for the spirit called ""

 There are greetings from all players comfortably when we enter sanhaku gym, and scary image of boxing is blown off.

If "boxing does it in Japan, "we inherit teaching called the martial arts" from teacher of the player era and "begin in etiquette and enforce o" which is over on etiquette"

 Saying when hear reason engaged in boxing for a long time more than 60 years, is saying "like!"; smile of the whole face. The smile showed pure pleasure of boxing.

(August 3, 2015)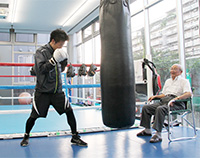 sanhaku gym where about 30 players are registered at led by king of each title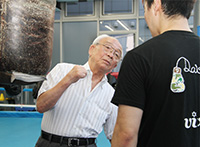 Advice that we throw in practice. To eyes staring at player Gentleness and strictness dwell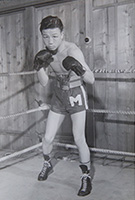 At Noguchi dojo studio Fighting pose (*)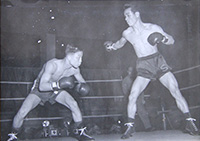 The flyweight division title match Misako (the left) VS P day chapter (*)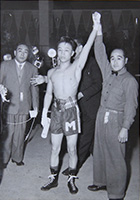 The first champion acquisition, Instant (*) of joy (*)…Photo courtesy: Misako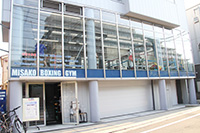 Gym which we refurbished in 2010. By stylish design We win good design prize!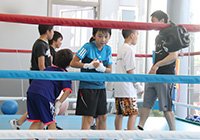 Kids course, In female oriented bokusasaizu, General person goes, too
With power Michiyama, Close Misako. "There is not person who is stronger than you. We seemed to be encouraged saying become world champion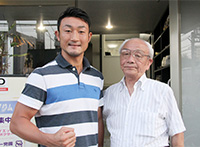 suru Keita Ohara now best recommended Misako. The existing Orient Pacific supermarket lightweight class It is champion!
Profile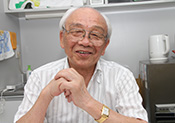 Hitoshi Misako
misakohitoshi 1934, Ehime birth. We go to Tokyo for Nihonichi commencing with boxing in eleventh graders. To just before that the 14th Japanese flyweight division champion who repeats exercises while going to Meiji University, and becomes 20 years old. Afterwards, we win OBF Orient flyweight division champion for second four generations. It rises to the world flyweight division fourth place, but retires in 1958 without being blessed with chances of world title challenge. In 1960, we open boxing gym in Koto-ku and, via Iidabashi, Daisen, Itabashi-ku, move to Kitamachi in 1990. We bring up world champions such as Koichi Wajima, Tadashi Mihara, Tadashi Tomori. We cooperate with Fuji TV and cooperate with world title match holding and play an active part as promoter. TV broadcast of boxing was quite popular and, for the active play era of Wajima, got more than 48% of audience ratings and has shone in president Prize. We successively hold Japanese association of professional boxing's chairperson, association of Japan pro sports inspector. In 1993, we win Minister of Education sports person who has rendered distinguished services Prize. In 2014, we hand over chairpersonship to Kishi of son. Place favorite in Nerima is Johoku-Chuo Park. "Being most suitable to go to make roadwork from gym."