#107 comic artists


Yasumi Yoshizawa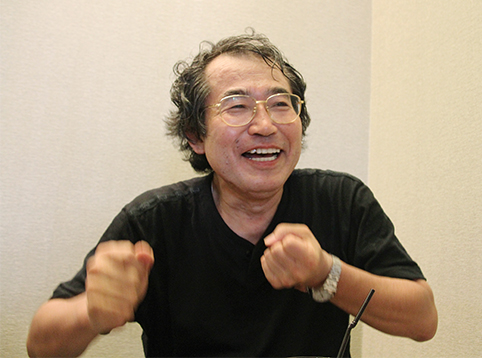 On seeing frog of Shakujii Park
It flashed in pyon good luck!

 "Guts gaeru" which is dramatized in Nippon Television system, and attracts attention again recently. Mr. Yasumi Yoshizawa of author lives on stage of the original in Shakujii Park for half a century. What pyon good luck occurred in was because there were a lot of frogs in Shakujii Park.

"Point that is black if we take a walk…? It was all eyes of frog when we saw well (laugh). Besides, wild chicken beat dog, and old Shakujii Park was great!"

As "we thought to be complete novel of one episode limit, pyon good luck was born for idea that was simple when "interesting if destroyed frog stuck to T-shirt and spoke". When it is dog, it is complicated, but can easily draw frog (laugh). When it is color first that is yellow, and it painted, this is because it was hard to turn out that it is green"

 It was the assistant era of Mr. teacher, Hiroshi Kaizuka that work was created.

When "we finished complete novel steadily and had teacher read, he/she connected with chief editor of "Weekly Jump". Therefore it was said, "we begin serialization if we drew ten and saved" and had you push back when "stop assistant immediately" from teacher

 When is that that, in popular serialization of six years. Excellent characters increased with nature, too.

"We let you thought and appear that Kyoko should make authorized favorite child to Hiroshi. We send Ume of sushi bar and are not enough in those days as sushi was admiration (laugh). Character has begun to move freely afterward"

 Human-nature story to survive only for guts. Would reader be easy to sympathize because it was life-sized feeling? We feel personality that is easy to get close to tone that a shoulder and an elbow of teacher do not set up like work.


---

After serialization in slump….
pyon good luck saved with family

 As for the half life of teacher, we were full of humanity. The origin that wanted to be comic artist dates back to boyhood.

"We were poor in family of mother and child, but mother liked novel and often went to rental bookstore. He/she borrowed comics from me and younger brother incidentally"

 We intended to create comics while working, but it is entered high school after graduation from a junior high school by backer of mother. In newspaper club, we carry out plan to collect data on comic artist of Tokyo! We hit Fujio Akatsuka, eminent writers such as Shotaro Ishinomori directly.

In "the tolerant times, address, phone number of teacher were published in comics magazine. It was opportunity that we met Mr. Kaizuka and was able to become assistant then. We were just blessed with relationships when we thought"

 And it is serialization of "guts gaeru". Animation begins in the second year, too, and goods are selling like hot cakes, yearly income to what 10 times!

 You turn on telephone and air conditioner in house, and can employ assistant. We purchased single house at marriage, 24 years old at 23 years old and were blessed with two children and were the wind…. After serialization, we fall into slump. It was pressurized with expectation to the next product and did not seem to be able to describe at all after all.

"We can never go to workshop while having seven serialization and five assistants and just disappear. Only 30,000 yen lasts, and go around mah-jongg saloon. We intended to return if we lost, but we continued winning whenever we said so and were life to sleep on couches of sauna"

 Two months later, wife accepts teacher who returned in state of the bottom without blaming. It is divorced, and wife declares, "I work" adversely although naturally she prepared. After that, more than 28 years, we worked as nurse and supported teacher.

 As for having done part-time jobs such as the teacher, guard. Meanwhile, pyon good luck is appointed in CM and drama, and boom recurs!

"We were able to send two children to university thanks to grace. pyon good luck always helps strangely when we were in trouble!"

 Days that it is pleasant that teacher sketches with grandchild currently and plays together, and is unbearable. After all, it was favorite Shakujii Park of teacher that became amusement place!

(September 1, 2015)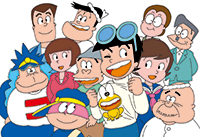 (C) Yasumi Yoshizawa/office Yasui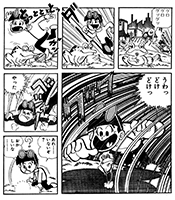 Comics are announced from Weekly Jump, 1970 through 1976 (C) Yasumi Yoshizawa/office Yasui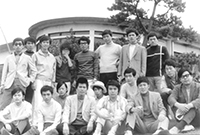 The assistant era of Mr. Kaizuka. As for Mr. Yoshizawa, the back row is the fourth from the right (photo courtesy: office Yasui)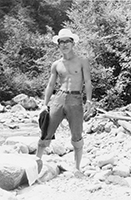 When we lived in Yamanashi (photo courtesy: office Yasui)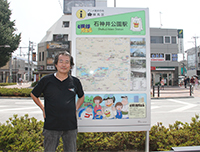 At the station square of Shakujii Park, Of "guts gaeru" There is sightseeing sign! Under grandchild and walk, "We drew jiijiga!" We seemed to be glad that this was said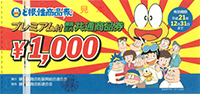 4 times in 2009 through 2010, By nickname of "guts gift certificate" Gift certificate common throughout Nerima-ku with premium We were designed by this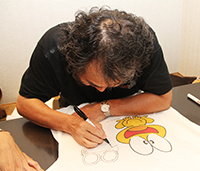 Teacher who is signing. Hiroshi describes from glasses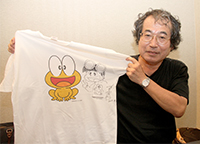 T-shirt autographed at Nerima Station north exit "Coconeri" the third floor industry, sightseeing information corner We display!
Profile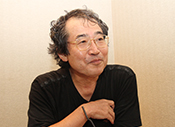 Yasumi Yoshizawa
Yoshizawa and corner 1950, Yamanashi-shi, Yamanashi birth. We begin to create comics from primary schoolchild and decide to become comic artist in junior high students. We go to meet comic artist of Tokyo by plan of newspaper club in high school days and meet Mr. Hiroshi Kaizuka. It is provoked by Mr. Kaizuka and works as parttimer of assistant in summer vacation in the third year of high school. After that graduates by relationship, officially to assistant. It is "(laugh) which was two and a half years, underling". Complete novel that described in that, and saved on page 15 "guts gaeru." Serialization begins and the close was anxious about at first, too, but is gradually popular. It further caught fire in making into anime and grew up in national comics. We get marriage, one man girl in early 20s. Yu Otsuki Yuko that the eldest daughter plays an active part as comic artist, illustrator. Since Kamigyo, it is resident in Shakujii. Favorite place, "after all, is Shakujii Park! We like going around by morning walk. When hear about the future, "when old and entrust wife it is to defectiveness old man" (laugh)