#108 natural hot spring Hisamatsu hot water second generation storekeepers


Yukio Kazama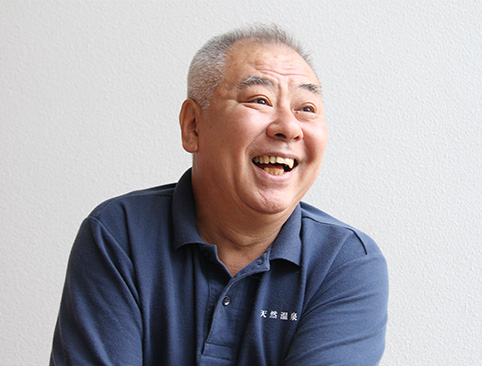 From the small 4, we broke firewood!
Daily life scenery of public bath of Showa…

 The appearance that is modern in open mark that put white tile and glass together. Though there is neither chimney nor noren, it is respected public bath, public bath here. Hisamatsu hot water which dug natural hot spring in 2014, and was reborn. However, it was so-called the public bath called chimney on heavy tiled roof in old days.

From "fourth grader, we helped with wood-splitting. Of course there is not chain saw, is each one axes ax. It was fun. But we might sit down on turn stand we did not calm down at all and were ashamed" (laugh)

"Of course family enters large communal bath after hours. Because we do not use bath of house at all whether it has been broken" (laugh)

 It is Yukio Kazama of the second generation that recites such an episode. Talk comes lively in bathhouse Nara!

"The 30, Showa generation at the time of founding is the public bath heyday. As baths have not spread yet at standard home, come so that visitor cannot enter. When we wash more and more and appear more and more rather than soaking slowly, it is busy. Without enough carane (faucet) of washing space, it was scene which we often offered to each other"

In "the around 40s of the second baby boom of the Showa era, there was maid other than clerk. While mother washes, we wipe child and help put on clothes and take care"

 Scene of Showa not to be seen now rises from mouth of Kazama.


---

We rebuild in few public bath "like" public bath,
Place of turnout revives!

 The number of public baths of Nerima-ku decreases sharply to 27 houses and a one-third from 88 houses now. Chimney inclines by great earthquake disaster of 2011, and crisis of business closing visits Hisamatsu bath. Therefore it was existence of the eldest son that let you decide rebuilding.

"Four children are all men. We thought that one will inherit, but the eldest son says, "we do it". Then we decided rebuilding. As late father was still fine, there was thinking to want to show new bath early"

 However, unlike long ago, it is the times with bath in 98% of houses. In thinking to be by few value and healing in house bath on rebuilding, and digging hot spring. We faced with hot spring when we crossed and dug tower of 30m that was higher than chimney 1,500m!

"Spring quality is ingredient of sodium that is salt. We realized that it was the sea for old days. If oil flows we were able to become oil magnate of Nerima" (laugh)

 It was quality of being "fault, a public bath" right out that was particular.

"Will the present appearance be like art museum or library? We did not want to do like public bath and did not ask design architect who was specialized in public bath. As design of place equipped with a water supply was difficult, there was anxiety, too, but left when "do to like"

 We introduce projection mapping into wall surface. When is taken up in each media by those novelty, and it is a lot; visit of 700-800 a day!

"We were glad with one of regular for the heyday. Everybody came and, from small child to student, couple of school return, grandfather grandmother, remembered the old days"

 Reaction hatoiuto of visitor who entered hot spring,

"Pain of knee and waist took its ease, or cured atopy improved, or sweat will have various impressions, too. There is visitor who likes house, and moved in to neighborhood!"

 We have already surpassed level of public bath? It was "just public bath, feeling called ground of local community" that were at the root of omoi breath and Kazama in this.

"We hear case that staying alone old man dies now in bath well. But public bath is saved immediately if there is anything. It is the times of public bath if we live long"

 Smile of dynamic Kazama gave spirit to. "Natural hot spring Hisamatsu hot water" that heart and soul warm, once is new famous place of Nerima that wants to be visited.

(October 1, 2015)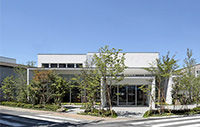 The appearance of Hisamatsu hot water which we renewed in 2014 (photo courtesy: Hisamatsu hot water)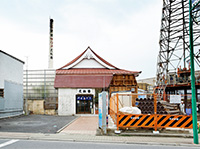 The Hisamatsu hot water appearance of 2012. We seem to dig hot spring (photo courtesy: Hisamatsu hot water)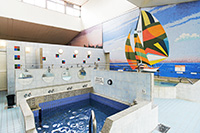 Before rebuilding, fresco of bathhouse turns paint picture or tile picture several times, too (photo courtesy: Hisamatsu hot water)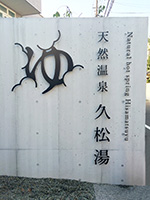 After the renewal, As for the signboard which treated steam Modern!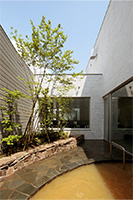 Spring quality is the same as Arima Onsen. When, in the open-air bath, here is Nerima Feeling of freedom that seems to forget to say! (photo courtesy: Hisamatsu hot water)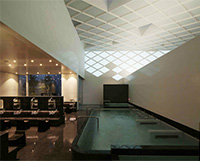 After the renewal Not public bath picture direction of light, Projection mapping! (photo courtesy: Hisamatsu hot water)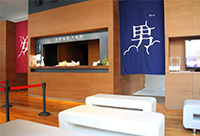 It is said that we want to make "place of local community" Hot thought to inherit from predecessors in the family line. Some sofa was placed From thought in the relaxing space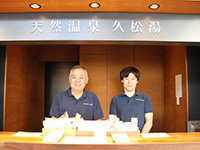 We are training ourselves as the third generation Eldest son, Takayuki of four brothers
Profile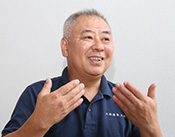 Yukio Kazama
In kazamayukio 1957, we are born and raised in Sakuradai, Nerima-ku. In land which we inherited from ancestors for 420 years, father opened public bath in 1956 (before half a year when Yukio is born). After having served office worker for five years, Yukio begins to work with predecessors in the family line. Sisters shop was in Hibarigaoka, and younger brother and his wife inherited there at the same time. We examine rebuilding after building (pot replace repair) in several degrees in 2011. In May, 2014, it is reopened as "natural hot spring Hisamatsu hot water". We act as branch manager in Nerima-ku public bath association. All the member bathhouses become Nerima-ku emergency water supply facility at the time of disaster. Johoku-Chuo Park that favorite place often goes by dog walking in Nerima. When we crossed group and baseball team of Nerima-ku public bath association, Hikarigaoka Park used.

Natural hot spring, Hisamatsu hot water
(from the Seibu Ikebukuro Line "Sakuradai Station" north exit a 5-minute walk)
As for the details, please see homepage.