#109 bakery Mother Goose representative directors


Hitomi Hagiwara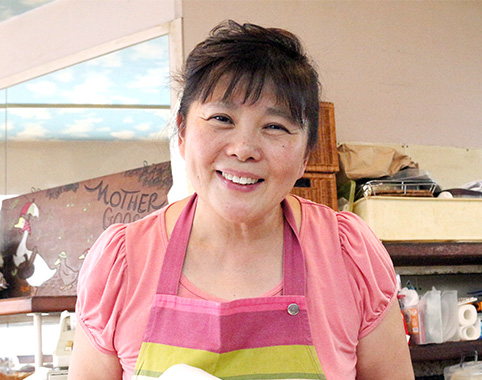 We began in sales of large cart
It is well-established bakery of the first century from founding!

As "bread is still too stylish and we know nobody and did not buy at the time of founding of 1916 (Taisho 5), we hear that grandfather peddled in large cart"

 It is Hitomi Hagiwara for the third generation that is grandchild of the founder that recites episode that long-established store bun Mother Goose of Ekoda founded at the time. Store's name at the time was "Hagiwara Bakery", and founding ground was Sugamo.

 It is immediate 1947 (Showa 22) after the war that we set up shop in Ekoda. Is in charge of school lunch 30 elementary and junior high schools in Nerima-ku or more, and produce bread of 40,000 meals a day, shop is big sale! In fact, was Nerima-born reader brought up with bread of Mother Goose?…?

"Grandfather was people who could make even soba with skillful person deliciously if even Japanese sweets was powder thing. Father of the second generation gave bakery restaurant to Ikebukuro sunshine city and was person with business power"

 It was eyes which talked about the old days happily, but there were twists and turns before we inherited shop. Girlhood when we were loved as one daughter….

As "parent was not at home all the time, we were lonely in child feeling. But we can meet parent if we go to shop. Therefore we would feel, "food makes people happy" somewhere while we saw smile of visitor

 But we did not seem to intend to do unexpectedness and unexpectedness, work of bread. At first, we become banker and service industry wants to do it and graduates from hotel sightseeing subject of Toyo University and finds a job to Hotel Metropolitan of Ikebukuro for three and a half years. We moved to insurance company taking the opportunity of childbirth and served for ten years.

"We went to school of bread. When "should go 1st", is deceived by father; and half a year (laugh)

 Therefore thought to "want to finally inherit shop where we came over to with much effort" arises and reaches in now. But previous experience was not useless. It is sales which learned service that learned money that we learned in bank at hotel in insurance company…All are made use of in the current management.


---

Passion to bread swells out
People want to do town well brightly, too!

"Bread boom comes from the around 1980s? Baker was able to do it very much in Ekoda. Bread of hardware system is popular, too, but, in the house, there is much simple, soft bread got close to from the old days, and easy-to-eat one is feature from baby to the elderly now"

 Allergy-adaptive bread wholesaling in nursery school in ward does not seem to employ egg and dairy product at all. On the other hand, bread which is full of 80-100 kinds of variety is displayed at store. It is craftsman of 40s-70s that keeps the taste and is full of veterans from 20 through 30!

"The making of bread begins at midnight 2:00 in shift. We share with person to train, person letting you ferment and person baking. Bread is mysterious thing, and there is sense of "pinch" to be able to make only to craftsman from the old days. We cannot readily imitate that. In what can make our sweet food, brown rice bun, brown sugar steamed bread, there is only another one"

 It does not stay about own shop that eyes devote themselves. From thought "that both people and town want to do well brightly!", we work on activity of mall and Nerima-ku mall alliance fair positively. Acting power to go so that we suggest when we want you to put flyer to rack of each station of Seibu Line at event, and oneself negotiates called "we wait seminar nerima!"

 As for the active eyes, enthusiasm toward the 100th anniversary of shop is plentiful, too!

"We have study and passion to bread highly deeply and want to provide idea that we made use of baker's dough in to the maximum more and more from now on!"

 New bread that traditional bread is produced from now on seems to make us happy both.

(November 2, 2015)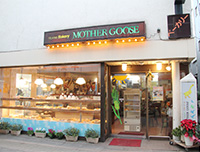 Shop of Ekoda Existence such as symbol!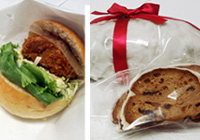 With the best meat rice with hashed beef Collaboration bread Ekoda minced meat (the left) Of classic German cake Stollen (the right) (photo courtesy: Mother Goose)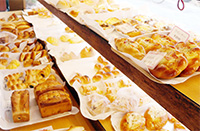 When it is a lot, 100 kinds of bread lines in store!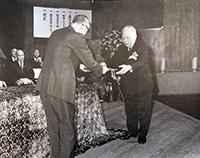 Kenichi (the photograph right) of the founder. Is popular, as for the member of a ward assembly We served (photo courtesy: Mother Goose)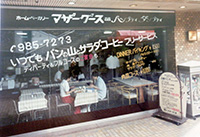 As for Eiichi of father, bakery restaurant opens a store in Ikebukuro sunshine city for ten years, too. Buffet of bread rare in those days (photo courtesy: Mother Goose)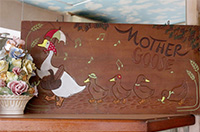 In 1983, we change our name in Mother Goose. For British tradition nursery rhyme which Shuntaro Tanikawa translated It is influenced naming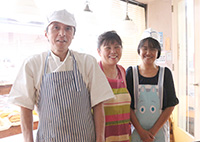 Craftsmen who already look like family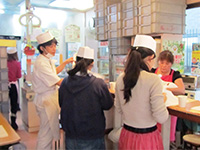 State of "we wait seminar nerima." Course to make bread together It is very popular every time!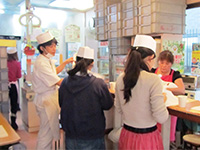 Like bread hot from the oven We are gentle softly Eyes of warm personality!
Profile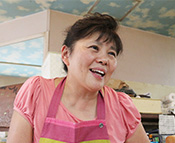 Hitomi Hagiwara
We tear off and, in straw eyes 1960, are born and raised in Ekoda. It is President for the third generation to have grandfather, Eiichi of the second generation to father in Kenichi who founded Hagiwara Bakery (forerunner of Mother Goose) in 1916. Via bank, hotel, insurance, we stand in shop with father from 30 generations. We deliver sandwich and hors d'oeuvre to school, hospital, nursing facility, government office and are wholesaling bread and croissant, allergy-adaptive bread now in nursery school in ward. We work on mall activity positively and are engaged earnestly as director of Sakaemachi high street mall promotion association, Nerima merchant society member recently. "We wait, and mini-course that shopkeeper becomes lecturer participates in seminar nerima" from the first time. Two children. Place favorite in Nerima is cityscape of mall. We love walking and to eat. It is good for holiday and looks around the food section of "box of culture" = department store and seems to have possibilities to make use in hint for making bread.

Mother Goose
29-2, Sakaecho, Nerima-ku
Telephone 03-3994-2121