#113 Japan women's judo Olympics medalists


Yoko Tanabe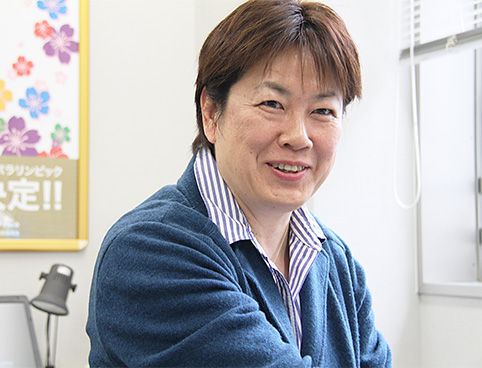 Through regret "of" 12 seconds
Again to the Olympics final

 We participate in three times of Olympics and win two silver, medal of one copper! Yoko Tanabe who became pioneer of women's judo is living in Nerima-ku. Is good at sports since childhood, dream of elementary school days right out "Olympian." It was class of physical education what for the third year of high school that we began judo.

"Anyway, it is pleasant to learn the first skill. We put on obi in judo batter and felt charm that was mysterious for to say that we stood on tatami mat barefoot"

 Tanabe who has begun to go to scheme way hall when we became university student. We hear that women's judo becomes official event of the Olympics and say that self-image that we added the Japanese flag to floated at that time.

If "can go for the Olympics, put the shoulder to the wheel saying let's try seriously!", to wonderful all-star representative. By Seoul Olympics of 1988 when women's judo became demonstration competition, we win bronze medal. We keenly realized that there was pressure peculiar to the Olympics, and soul caught fire saying "let's aim at four years later!". From Barcelona of 1992 women's judo in official event. Tanabe advances until the final.

"Full de war came until last 30 seconds and already hung "body drop" (we drop sea bream) to provide the skill once. Though it did not become for point, it is superior in this, as we won. "We can win for "12 seconds more if we look at clock as it was" if we protect!" We have thought of this. We felt 12 seconds to be very long, and, in the last last, the skill was hung in the other party with buzzer"

 As a result of judgment, we are defeated. It was 12 seconds when weakness of men Tal who began defense distributed the light and shade. Memory that returned to waiting room received a shock as there was not and, after 3-month rest, decided retirement. There was nothing to do after the retirement and seemed to be life to be up at pleasure, and to eat. When we thought, "human being do not be corrupt", we were invited whether you did not learn coach studies in graduate school.

 Tanabe who restarted exercise with student in graduate school. When sense returned, we know the world championship holding in Japan. Therefore we reflected own defeat once again.

"Return needed energy, and it was scary "to have possibilities to lose again" above all. Still notice that you have still left undone to oneself. We did not want to do only regret"

 Return that we pass through blank. We continued winning while commenting, "contents were not good" and won by the world championship and obtained ticket of representative again. Atlanta Olympics of 1996 that we reached. We are hurt just before that and it was lacking in exercise, but confidence "that body does not forget" supports Tanabe and wins and advances to the next around of and invites the final.

"We were tense very much on the morning of the day, but are very comfortable when this thinks that it is strain to be able to taste only at the Olympics. In addition, we appreciated what we were able to taste and let you soak into health not to forget throughout the life"

 The skill that ran is returned, and result is defeated. But satisfaction remained saying "we were able to fight without protecting".

"We were able to entirely go up winners' platform with different feeling with four years ago. Tanabe who laughs for fine weather saying we were able to go to the next step because we were able to experience two silver. In dignified personality that only person who got over vexation and pain and regret had, we felt what true strength, genuine coolness were.


---

What brought up medalist
It was general gymnasium and dishes of mother

 Tanabe belongs to the Japanese Olympic Committee now. We regard something as the Olympics and are in a position to tell.

"We learn the Olympics from various experience not simple competition and promote growth as people. It is human being education through sports"

 As for being called by special lecturer in elementary school of local Nerima. In December, 2015, we fly away vice-principal in special class of wind elementary school of municipal Hikarigaoka spring and cheer very much! Sports environment of Nerima that, by the way, we looked at from Tanabe that "was glad that we had you feel the Olympics of far-off existence close?"

From "the player era, we use general gymnasium of Tanihara, but it is very good that facilities are substantial! It seems to be reason of trainer, machine which is the same as first-class gym. From in those days general member "last game, see tayo" "with effort!" It is voice okakerarunogaureshikatta in this. It was important time when everyday contact could be relieved. We really thank"

 As it had this time in Nerima to have been able to win medal? It is not dream that future Olympian is born again from Nerima!

(March 1, 2016)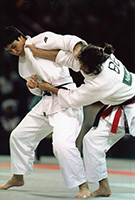 State (photo courtesy: Tanabe) of competition of Atlanta Olympics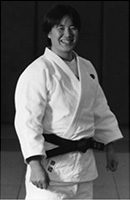 Tanabe dressed in judo batter (photo courtesy: Tanabe)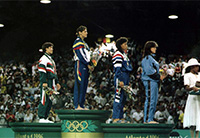 State (photo courtesy: Tanabe) of commendation ceremony of Atlanta Olympics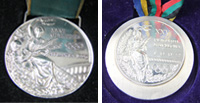 Real silver medal! Unify size at all meetings, pure silver, Characteristic of host country is reflected on design
We intended for 5.6 years student of wind elementary school of municipal Hikarigaoka spring State of special class (December, 2015)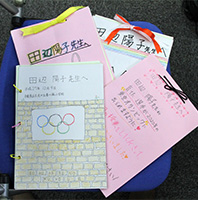 After special class From student of each class to Tanabe Feedback was sent (December, 2015)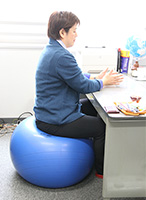 Surprisingly, chair for job of Tanabe is balance ball. Human trunk is forged, It is effective for concentration up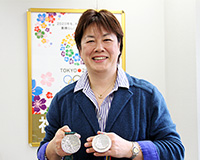 Since childhood From dishes to snacks, it is all It seemed to be handicraft of mother. It is source of stubborn body of Tanabe!
Profile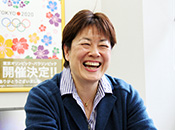 Yoko Tanabe
We are born in tanabeyoko Shinjuku-ku and move to Kotake-machi, Nerima-ku in fourth graders. The present is residence in ward, too. In valley, basketball, girls including the land of all-round sports, we meet judo in twelfth graders. In 1988, we shine with silver medal of twice by Seoul Olympics in bronze medal, Barcelona of 1992 and Atlanta of 1996. Majority holds an additional post of Manager of Japanese Olympic Committee discussion committee member, athlete specialty vice-section, Director of ALL JAPAN JUDO FEDERATION, athlete chairperson now while we serve Associate Professor at Nihon University law department. Place favorite in Nerima is Hikarigaoka Park. We still enjoy walk and jogging well. Take favorite shop; dishes, congratulating words *ka. Memory that it has good that we go for the player era, and grandmother cooked onigiri.