#114 white waterfall drapery son of a wealthy man and young proprietress


Mikio Shirataki, Ayumi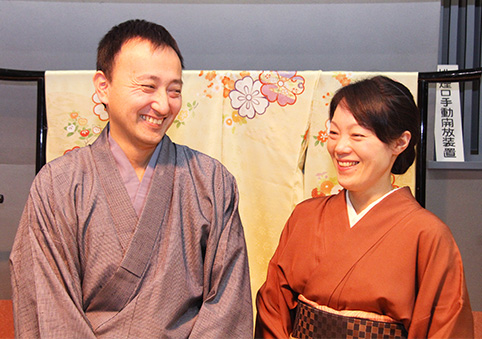 Well-established drapery in business for 160 years
We settle in area and send Japanese culture!
 Founding of store specializing in fabrics for kimono "white waterfall" is 1853 of last years of Edo era. Having been continued since year same as Kurofune visit to a shore led by what Perry, it is the biggest shop dealing in kimono fabrics in Tokyo. It seems to be difficult to approach? But, in fact, it is community-based and is shop which contributes to development of culture. We heard story from Mikio Shirataki of son of a wealthy man, Ayumi of young proprietress.
As "visit place of "
nerimanoneri walk
" holding in Nerima-ku Tourism Association, we cooperate. Person who is not interested in kimono has you enter as one of course, and there seems to be fresh surprise (son of a wealthy man)
"We held "the first child tea party" in September, 2015 and began attempt to report tradition happily. We showed tea-serving manners in yukata and were popular to be easy to be familiar with children (young proprietress)
 In addition, we hold "white waterfall culture lesson" for about 30 years. Local as the place of dispatch of Japanese culture, through lessons such as dressing, tea ceremony, flower arrangement, come saying "we are glad if even a little has you have opportunity to touch kimono".
 Now that traditional shop dealing in kimono fabrics decreased, distant place called Fukuoka and Hokkaido reaches visitor who can come, and there seems to be request of makeover among them saying "we want to wear kimono of keepsake of grandmother".
Even if "shop is old unties, it is newbie still more for around 160 years, and (laugh) and son of a wealthy man do not break modest posture as there are many old families lasting 300-400 years around here".
---
Because "we want to value tradition"
We make up our mind to succeed business
 We called about having been made up the mind that young couple inherited business.
"In fact, we were not interested in kimono even if we became member of society since childhood. About work about architecture, we took projects of new house (son of a wealthy man)
 Afterwards, we became independent or inherited business, or time to stand in forked road came.
"Software called hardware and kimono called town. When oneself might do expression in part to want to value tradition though it was different, we decided to inherit house. Though there was image of "shop dealing in kimono fabrics = living in comfort", too, but was totally different when entered; (laugh) (son of a wealthy man)
 Young proprietress was younger student of technical school and was pro-construction designer in the same way.
From "thought that we wanted to leave environment that was good for the next generation for, we dealt with scenery designs such as parks. In fact, we know that his parents' house is well-established shop dealing in kimono fabrics after marriage was decided…. We were really surprised (young proprietress)
 When it came for greetings of marriage, it is said that it is by "help of shop from president if we get married" and does not seem to consider * to be troubled.
When "kimono was the same as what I wanted to do in meaning called thing which you should leave in the next generation, we understood. But as we lived a life that we had little prospect of getting married with kimono, we started first from place that learned dressing with student (young proprietress)
"We wear kimono in most cases now on day of special fine weather. Therefore maid of that we want to wear does the best. We keep in mind so that it is at special time not to disappoint expectation for the kimono before we leave after entering shop (son of a wealthy man)
That it is days to face pressure only in long-established store saying "we feel heaviness of working in this ground which spread out from generation to generation so as to pass through year." Still we seem to be able to pass through the gate casually without becoming diffident for founding several years simply because there are two people.
(April 5, 2016)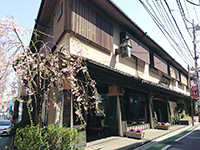 The appearance of white waterfall drapery (photo courtesy: white waterfall drapery)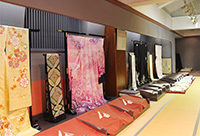 It was correct in shop in season Kimono is displayed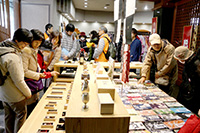 State of "nerimanoneri walk"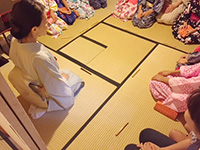 We show tea-serving manners with yukata! One scene of "child tea party." As the place of dispatch of Japanese culture Young proprietress who wants to make local contribution (photo courtesy: white waterfall drapery)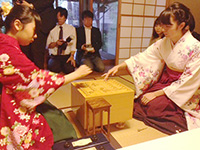 "Ayumi Shirataki cup" began with shogi enthusiast of father of son of a wealthy man. In the white waterfall drapery (photo courtesy: white waterfall drapery)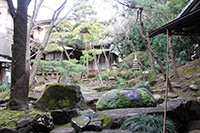 It is over 100 years years old Japanese garden where pine and ume tree are
In in front of store of the early period of Taisho era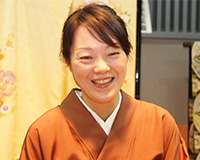 Young proprietress of gentle smile We have two children It is mother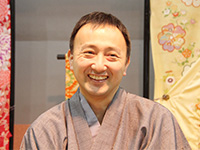 Saying "we keep sincere correspondence in mind to customer," Son of a wealthy man full of faithfulness
Profile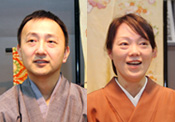 Mikio Shirataki, Ayumi
It was born in Nerima-ku for shiratakimikio 1,973 years. We are born as the fourth generation, white waterfall five excellent no child of white waterfall drapery. Find a job in design company after pro-construction technical school graduation, to landscape designer. We retire in 2003 and begin business as young gentleman. Grant apartment house with memory that favorite place was idle in Nerima when it was small.

Ayumi Shirataki
shiratakiayumi 1977, Suginami-ku birth. Younger student of technical school same as Mikio. After employment taking the opportunity of marriage to young proprietress. We did not know the world of kimono, but it is said, "dressing is fun!" now. Shop favorite in Nerima is Christie Toshimaen store, da Aoki tapposuto.

White waterfall drapery