#117 nursery staff/dozono kaidaihyo


Takeko Ishikura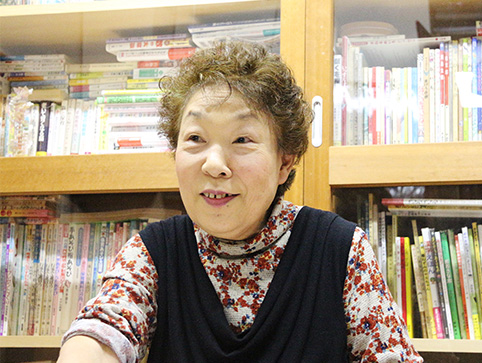 The infants period is base of the life
From play, let's remind of instinct

 Takeko Ishikura of nursery staff got close to "itchan" around hometown, Nerima Station by child and moms. We ran "kodomonoietetotetote" which kept home of single house in residential area as base of "dozono society" at infant classroom and 1:00, and raised. We are leaving open now as place of exchange of moms and circle activity.

 When we hear from coverage…. In the first floor, bookshelf of all over the wall and genuine article-oriented toy and musical instrument were clogged up and, as amusement place of child, were good space of comfort happily as talking shop of moms.

 One room on the second floor was Ninja Yashiki House which we remodeled for childcare at one time! We climb a tree and hide and are full of devices which shoji, blowgun dart and child throwing throwing knife are pleased with.

"Here, we do not use words of prohibition. When we put snake of toy in place that does not want you to touch and tell that it is when "we do not touch as there is snake", children think, too. It is the most important to bring up power to grow up by oneself of infants. We want human being rich smart who acquires wisdom and physical strength than knowledge, and can live anywhere to bring up"

 Ishikura who increases power of child while playing from experience of longtime childcare. There is security to let you think, "we want to leave child domooitchanni". We say that then crisis management capability is not brought up Look before you leap though there are many people who do not let child do dangerous thing.

 Baby noticed that there was not tree which acorn without park where reliable shitepichapicha could play with water became in area and launched "fair of the making of park" in 2007 and went in petition. However, by being large-scale, do not readily advance as expected….

 It is power of Ishikura that is not depressed there. We can do something about playing in the water! It is plan by "water Festival" to bring extra-large pool into Toyotama Sakura Park in this, and to catch loach and crawfish with its hand. At very popular event, we came to count the seventh in 2016.

It "is debatable question that is too clean. The reason why baby has anything is that we take various germs in body and become strong. Moms are convinced that they say that it is, "medicine for disinfection is scarier"

 In gathering all parent and child whom it becomes often talked by mom during child care when in park and was concerned with, and holding fun fair (2001). That becomes "dozono society" and we free home some Ishikura and continue working.


---

Pubertal hard experience…
We got power to live from child

 Ishikura who still continues activity and study of childcare so that we are moved by something who became 72 years old. There was hard experience in the days of the past in the root.

"Gentle mother died at the age of 15 years old and spent hard puberty. We became adult, and it was the most destiny to have been called out to work by chance in nursery school"

 Time to spend with children is happy, and if "do this, is pleased?" Thinking "what shall do tomorrow?" in purpose of life. Oneself whom we worried about got power to live from children…Ishikura who looks so back.

 About raising many events and groups, and having run "is volunteer, and do, and end is not good if I die. We hand to hand of person in succession to thought saying we must entrust young person.

 We take office as director of small nursery school from November, 2016. Therefore Ishikura recited philosophy about childcare. We seemed to reconfirm importance to convey that childcare for the infants period laid the foundation of the future life on seeing moms who came for visit making tears.

"We think that "motivation" is the most important as human being. In philosophy to support oneself, each one wants you to find. Ishikura says, at first, it is necessary to become adult had a crush on by child if we want to bring up child who can believe the future.

 It will be "aim that we make place to stay, nucleus of town such as saying communities with the old days" in future. Activity of Ishikura continues still more while relating area to childcare for soft heart.

(December 26, 2016)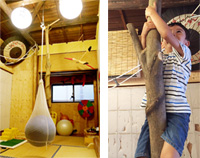 In "room of ninja" on the second floor We climb a tree and hang and, Children play absorbedly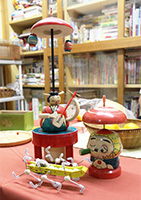 Toy, musical instrument, picture book or children's book with warmth of tree… Space on the first floor is attractive, too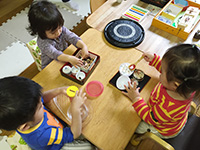 We pick up beans and sort out and. Infant classroom is particular about a small number of people Ascertain the next stage We prepare teaching tools. For the making of base of sense, language, number It is connected (photo courtesy: Ishikura)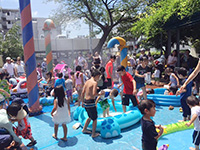 State of "water festival" holding at Toyotama Sakura Park. In spite of being play instinct as human being We say that we want you to regain (photo courtesy: Ishikura)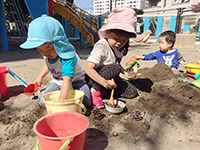 Children crazy about sandbox play (photo courtesy: Ishikura)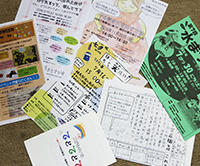 Event that we dealt with cannot know number. Led by child area and person We tie
We launched from 2011 "Nerima child shotengai." To generation young now of executive committee We leave administration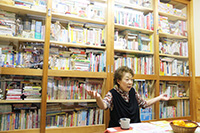 Bookshelf of all over the wall is the best part! Thought of Ishikura on childcare It seems to be clogged up
Profile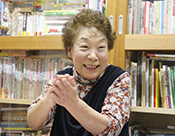 Takeko Ishikura
It was born in 1944. We are from Fukagawa, Koutou-ku. We move to Nerima at the age of 18. We learn architecture for school days and acquire the teaching profession. After having done company work, we change our job in neighboring nursery school. We know pleasure to spend with child there and we acquire national qualification at 27 years old and turn into nursery staff. We leave job of nursery staff for childbirth and care once, but voice of childcare professional appears at 58 years old from ward. We noticed importance of town planning and launched "dozono society" "meeting of the making of park" and we kept "dozono meeting" which was based in home in administration mother's body at infant classroom, 1:00 and launched some groups to connect town and child care including childcare "kodomonoietetotetote" "iku chiaino private elementary school of the Edo period" "Nerima child shotengai" with afterwards. We take office as director of small nursery school from November, 2016.

Nerima child shotengai