#118 comic story tellers


Sanyuutei Miruku
We meet woman to have a crush on for the first time,
We achieve apprenticeship of comic story teller!

 Days when resident two eyes, Sanyuutei Miruku in ward works hard at vigorous study to establish own rakugo. In purpose to learn that is ecological in venue of "the sixth nerima, Eco's tile fair" that it was held in October, 2016 from rakugo, program shows "we consent and consent". We created gaiety to venue for light voice, rakugo of light rhythm.

It "is about the beginning that we do rakugo on the cause of blue sky, mini-stage of truck. Mostly beautiful rukusan to tell with (laugh) which was able to have a valuable experience because we do in the room and carefree smile.

 There are extremely few women in the world of rakugo, and there is not 10% of the whole, too. After all, what kind of opportunity did it aim at comic story teller in to be interested most? Thing called this. At first, we asked from there.

"We graduate from university, and father was pleased to find a job in a certain IT company, too, but cannot be readily familiar with company's custom…. Friend of entertainment enthusiast took to variety hall of Shinjuku Suehiro bower with him/her for a change in such a case. We read rakugo for the first time, but we were stuck in key point and laughed at geragera. Then it is variety hall commute from morning to evening on holiday"

 In such an occasion, we say that we found aim of the life to listen to stage of Sanyutei Karuta (karuta) teacher.

"Song ru multi-teacher stood up straight and danced "that chap". On seeing the graciousness, "smart dana is cool!" We thought of this. We decide to become pupil of song ru multi-teacher immediately. At first, we left company to drive oneself"

 Then-26-year-old beautiful rukusan. What should I do to become pupil?…. We wrote resume with knowing nothing and, with suit worn for a job interview or important occasion, seemed to knock on the door of song ru multi-teacher.

"Song ru multi-teacher took me to cafe with him/her when we said that please give me on pupil and "rakugo was not the world of woman, stop it, was persuaded with old man". Still it is said that we recognize if we can persuade parent when we hang on and we bring father from hometown and persuade. Father said to me, "do that you wanted to do it" in front of teacher, too

 We went ahead through one step to comic story teller, but visitor at the time often had indecent thing that we booed as requested only by woman appearing. Nature readily sits down in such a case as it is said that we handled stage without losing beautiful rukusanha jeering!


---

"Person as for the art"…Manners
Importance of life is told

 The strict world of seniority that rakugo advances to opening act, the second, star performer. Meanwhile, we have been expelled by one sudden whim.

"We begin with cleaning of house of teacher in the morning while it is probation and opening act and perform in dressing room and do mekuriyao teapots. In our school, opening act is given priority to attention than rakugo particularly, and lesson is second. Therefore it was basic that learned while muttering during cleaning. We have played truant, and this comes out to teacher only once…. We went to apologize with head as Buddhist priest"

 What kind of person are beautiful rukusannitotte, song ru multi-teacher?

As "I was brought up in motherless family, we feel like true mother. Existence that we shout to train heart and get angry at. "Person as for the art" how are manners and life important? When we just go for rakugo and reach customer. Teacher reason even if "there is type similar to oneself to a little fair sex comic story tellers, there is no help for it. Establish own individuality", and it means

 You jump into rakugo world, and ten years passed, but please tell the future prospects.

"Story nidekirujanaidesuka, rakugo that such a gloomy thing is well acquainted with in a childhood that were poverty in one parent. Therefore we love. (laugh) that it wants to be to cool comic story teller who is good at lower story if we become grandmother"

 We lived in Nerima, and, for more than ten years, there were Oizumi rakugo society and IMA variety hall, local connection including Eco's tile fair, too and talked about ambition saying "oneself hosted someday and wants to open variety hall in hometown". We are looking forward to the day!

(February 21, 2017)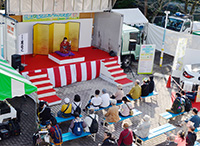 Work out ☆Of eco-sponsorship
"The sixth nerima, Eco's tile fair"
On outdoor truck stage
We show rakugo! October, 2016
(photo courtesy
works out ☆ Eco Nerima-ku global warming measures area meeting
)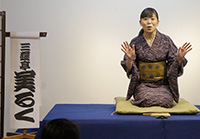 In "sugamo sitting variety hall" of Sugamo
We appear regularly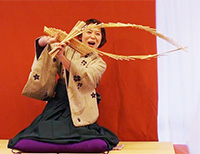 We perform glass bead bamboo blind brilliantly in *rokukiseki
(photo courtesy: Sanyuutei Miruku)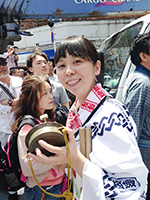 We participate in Sanja matsuri by musical accompaniment.
Smart!
(photo courtesy: Sanyuutei Miruku)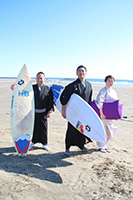 Surfing department visit of association of rakugo!
The sea, surfboard, kimono
Mismatch (laugh)
(photo courtesy: Sanyuutei Miruku)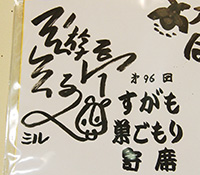 Beautiful rukusanno signature.
Beef is trademark only to milk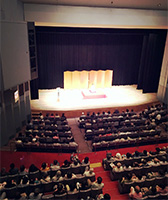 State of IMA variety hall
(photo courtesy: Sanyuutei Miruku)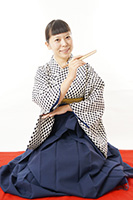 "There is not boyfriend ⁉︎.
We want to go to hot spring from that,
Saying want to drink liquor; beautiful rukusan.
There does not seem to be marriage talk yet (laugh)
(photo courtesy: Sanyuutei Miruku)
Profile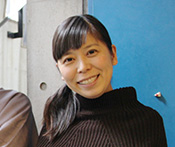 Sanyuutei Miruku
sanyuuteimiruku (as for the real name Miwa Takahashi). In 1979, Shirako-machi, Chosei-gun, Chiba native place, business is farmhouse. We graduate from Kogakuin University and are living in Nerima-ku after employment. When it becomes faintheartedness without being able to be familiar with environment of major company, friend invites to Shinjuku Suehiro bower and roars with laughter in the first variety hall and fits in into rakugo. Company does variety hall commute afterward on off day. We become a disciple of Sanyutei Karuta and it is opening act (as for the opening act name "the song ru beauty") and, in November, 2011, we are promoted to two eyes and, in June, 2007, change our name with "beautiful ruku". We like play such as boy and squadron thing, and current hobby is active with tennis, snowboarding, motorcycle since childhood, too!
Homepage
Twitter account @beco_milk0923
Facebook